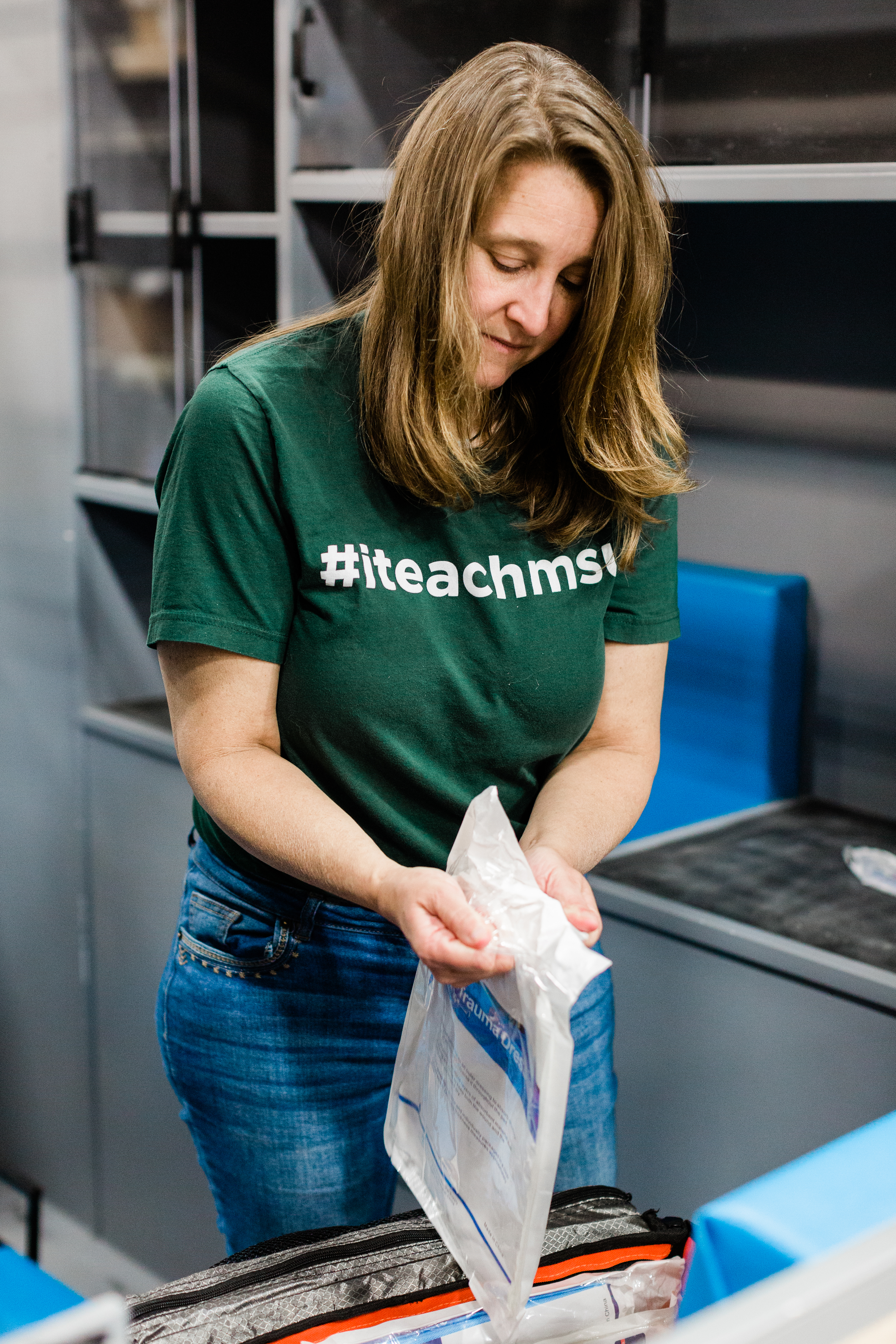 Packaging at MSU isn't only about teaching students at one of the top schools of its kind in the nation. It's also about working to help save lives.
Laura Bix, assistant dean for teaching, learning and academic analytics in the College of Agriculture and Natural Resources and School of Packaging professor, has been conducting critical research on various types of packaging – particularly in the medical industry.
Her research focuses on labeling for over-the-counter medications. Truncating the warning label and placing the information on the front of the package – a concept proven to be effective at garnering attention to nutrition information in food – is currently being tested by her team.
"The real magic in what we do is that not many people are looking at the packaging, and so there's a lot of potential to make real progress," Bix explained. "Just putting some purposeful thought to it, I know we can make a difference."
Her research also looks at reducing the unintentional ingestion of medications by examining the way child-resistant packages are designed. Most recently, her team studied medical packaging used in ambulances. This work suggests that design needs to consider how the space constraints within the ambulance force paramedics to behave in potentially problematic ways.
For instance, paramedics sometimes might have only one hand available to open packaging that was designed for two hands. This may force the use of trauma shears and/or teeth, which may cause contamination or delay treatment.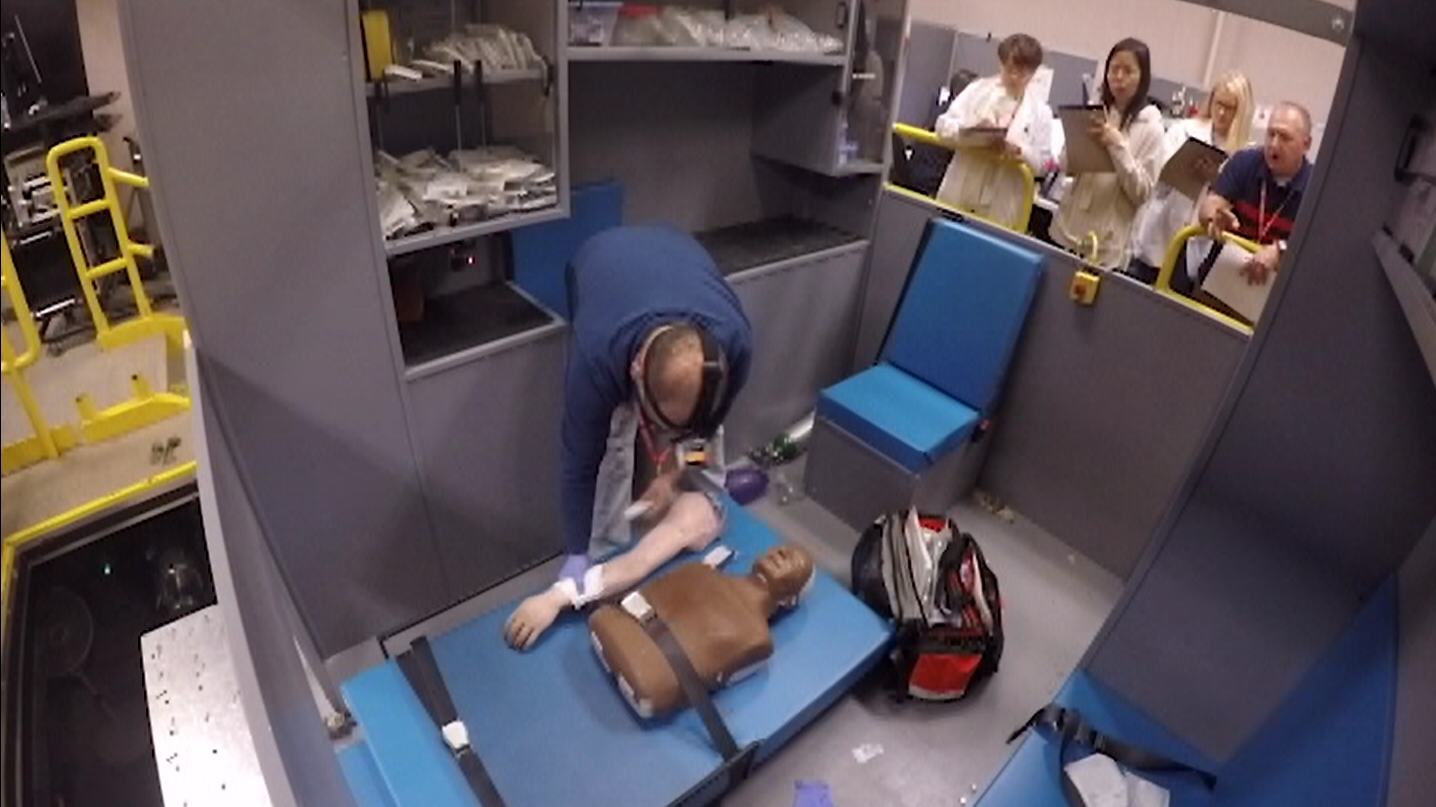 "For me, the beauty is that there are wicked problems that lots of people are looking at. Medication errors, unintentional ingestion of household chemicals and drugs, healthcare-associated infections – are all big problems. There's not going to be one silver bullet, but packaging is one potential route to alleviate some of the problems of healthcare in unexpected ways that many aren't thinking about," Bix said.
Bix partnered with Adient Technologies, of Plymouth, Michigan, to replicate both the motion and the environment of the ambulance. They recruited paramedics to perform procedures on mannequins provided by the MSU Learning and Assessment Center (LAC). Researchers characterized how the paramedics identified products and opened the packages while the table simulated the motion of the ambulance. Some scenarios included running IVs and intubating patients.
"Out of the nine simulations that we ran, we saw that at least two of the paramedics used their teeth to open products, potentially contaminating the sterile barrier," Bix said. "They have a 'can do' attitude, and their objective is to stabilize patients and get them, quickly, to the safety of the hospital.
"Our hypothesis is that we, in the packaging industry, aren't building safety into the system when we don't consider the context that providers have to use these products in. This work is about creating a safer system by building products that work better in all contexts of care."
Bix has an impact not only on research and students but also on inspiring gifts to the College of Agriculture and Natural Resources (CANR).
She recently met with 1970 MSU School of Packaging alumnus Charles "Chuck" Frasier, of Fort Lauderdale, Florida. She talked with him and his wife, Jackie, about the collaborative efforts involved in the ambulance study. The Frasiers were so inspired that they gave the $1.5 million gift to kick-start a
fundraising campaign to renovate the packaging building.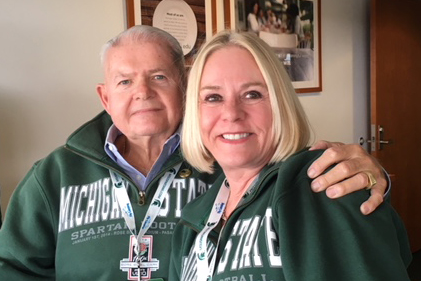 The new atrium in the School of Packaging building will be named in honor of the couple. They have committed another $1.5 million to endow a professorship through an estate gift.
"To attract the next generation of faculty and students, it is imperative that our academic spaces and laboratories reflect what we are – the top school in packaging," said Ron Hendrick, CANR dean.
The MSU School of Packaging was the first school of its kind in the United States and is the largest program in the country. It is the only school that offers a doctoral program, and more than half of all packaging engineers employed in the United States are Spartans. Preparing the next generation of packaging leaders will require top-notch research facilities and spaces that promote teamwork.
Pending MSU Board of Trustees approval, a $7.5 million renovation has been proposed for the packaging building, which was last updated in 1986. The renovation will:
Replace stadium-style lecture halls with multifunctional spaces where students can reconfigure the furniture to work in groups or gather after classes to interact with industry leaders.
Provide community environments for graduate students to interact while working.
Offer world-class research laboratories.
Create study spaces where students can plug in and recharge electronic devices.
Learn more about the School of Packaging building renovation. For more information on supporting the School of Packaging or other priorities, contact CANR External Relations.
Related Article
This article was published in In the Field, a yearly magazine produced by the College of Agriculture and Natural Resources at Michigan State University. To view past issues of In the Field, visit www.canr.msu.edu/inthefield. For more information, email Holly Whetstone, editor, at whetst11@msu.edu or call 517-355-0123.