Pet treats and chews
Licensing, labeling and processing needs for pet treats and chews.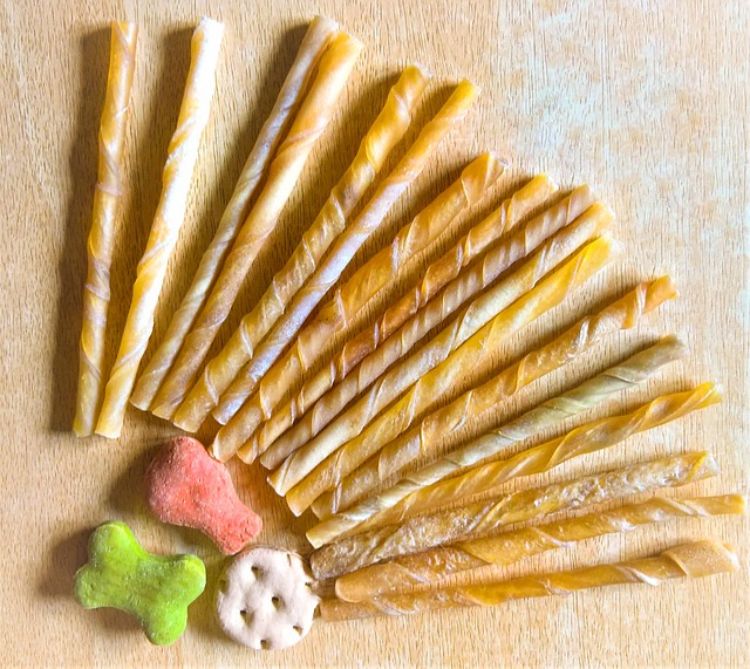 Are you making your own treats or chews and considering selling them to other pet lovers? This article will help you determine what products need licensing, how their labels need to be created, and what you need to do to legally sell them.
Unlike food products for humans, home kitchens are acceptable for licensed production. The food processing must be safe using the "Good Manufacturing Practices (GMP's)" by The Association of American Feed Control Officials (AAFCO).
Chews are a single ingredient product with no additions, such as bones with no added fillings to the cavity area of a bone. These products are meant to be chewed, not ingested, and must have no nutritional claims on the label. Examples of chews are pizzles, chicken feet, pig ears, hoofs, antlers, split bones, and similar items.
Chews need no licensing. The labeling of chews should list the following:
Title is as a chew (not a pet treat)
Directions for use
Species intended for (if it is species specific)
Ingredient list
Net weight in Imperial and Metric
Address of corporation
Pet treats are defined by AAFCO as "a food provided occasionally for enjoyment, training, entertainment, or other purposes not generally intended or represented to be a complete feed or supplement." Treats are considered ingestible items such as baked grains, vegetables, cooked or dehydrated fish meat and bone, lamb heart, pork heart, lungs, and any type of organ tissue (these also have a nutritive value).
Pet treats must be licensed. See the following steps that should be followed in order to both prepare for licensing, file the license, and report on sales.
Step 1: Label development
See the AAFCO Labeling & Labeling Requirements page and the Michigan Department of Agriculture and Rural Development (MDARD) labeling page for more information. Below is a guide to developing your label:
Ingredient list creation: Build your list of ingredients for each product.
Ingredients acceptability check: Use yourAAFCO Official Publication that each ingredient is acceptable.
Guaranteed analysis by lab: Have a lab provide you the following guarantees in the following order:
Crude protein (min)
Crude fat (min)
Crude fiber (max)
Moisture (max)
Here is an MDARD list of known laboratories that can be contracted to do the guaranteed analysis for each product.
Note: You can give the values some wiggle room on the guaranteed analysis. The minimum values should be set below the laboratory result. The maximum values should be set above the laboratory result. For instance, if your lab result showed a crude protein of 18.0 for your pet treat, you could list crude protein lower on the label at 17.0 to give yourself some wiggle room. If your lab results showed a 2.5 crude fiber, you could list 3.0 on your label to give you some wiggle room.
Step 2: Corporate structure establishment
Obtain an assumed name (Doing Business As or DBA) with your county or file for an Incorporation with the State of MI Department of Licensing and Regulatory Affairs (LARA). There are advantages and disadvantages to the different ways your business is legally organized. See this resource to learn more.
Step 3: MDARD license application
Complete a Commercial Feed Manufacturer/Distributor License application form. The license fee is a "flat fee," and you may have multiple products under each license. MDARD asks that a company send copies of label proofs with the license application so that they may review those for approval. If newer products are added later, you may submit those labels for review without a fee. The fee for an animal feed license (pet treat license) is $25 for firms that sell in packages of 5 pounds or less (this is typical for a smaller dog treat company) or $100 if any package is over 5 pounds. The annual license covers the time period of July 1 to June 30.
Annual tonnage report
After the first year, MDARD will send a renewal license form and an "animal feed tonnage fee report form" to each firm. The animal feed tonnage is $.30 per ton distributed in Michigan per that license year. There is a minimum tonnage fee of $50 that is due, and smaller "treat" firms fall into this category. Firms would have to produce over 166 tons of feed to go over the minimal fee that is due.
See previously published Michigan State University Extension article, "Animal feed and pet food or treat products" for additional information.
The Michigan State University (MSU) Extension Product Center provides business counseling and helps entrepreneurs launch new food products. One specialized service provided is the development of Nutrition Facts labels. Food businesses may contact the Product Center for assistance with labeling.