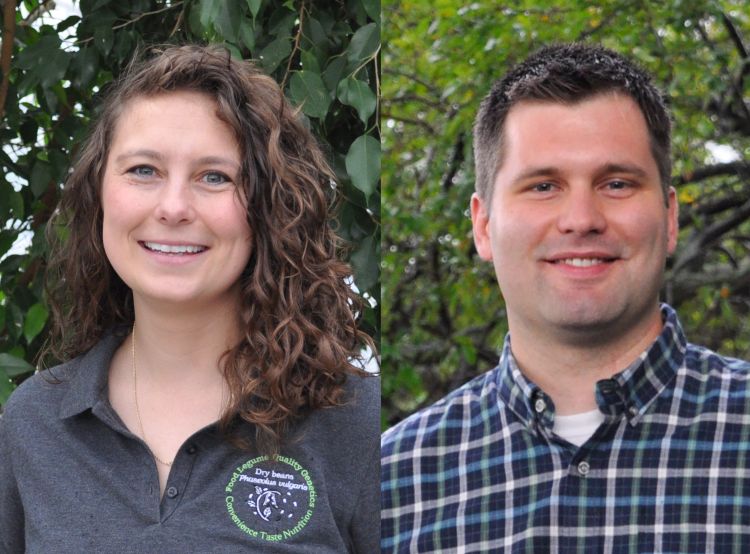 Two postdoctoral researchers in the Michigan State University (MSU) Department of Plant, Soil and Microbial Sciences (PSM) have received fellowships from the U.S. Department of Agriculture's National Institute of Food and Agriculture (NIFA).
Miranda Haus and Andrew Wiersma, two of seven MSU postdocs to earn fellowships in 2019, have each been awarded a two-year, $160,000 grant to further their research programs. Each year, NIFA grants fellowships to postdoctoral researchers across the country who are addressing current and future agricultural challenges.
Haus is exploring the relationship between dry bean root architecture and seed mineral nutrition. Dry beans are a staple food crop for millions of people around the world, and Haus is examining how to develop a more sustainable, fruitful crop.
"The aim of my fellowship is roots as a potential resource for climate-resilient breeding strategies because few studies have asked if changes in root architecture are related to plant mineral acquisition and seed nutrition," Haus said. "Root systems with better nutrient acquisition require less fertilizer, are more resilient and have more nutritious seeds."
Haus credits her mentors, Robin Buell and Karen Cichy, for supporting her before and during the duration of the fellowship. Buell is a University Distinguished Professor in the MSU Department of Plant Biology, and Cichy is an associate adjunct professor in PSM.
"My mentors have been wonderful and have helped so much," Haus said. "Being awarded independent funding provides the opportunity to develop the foundations of an independent research program.
"Additionally, I will have more exposure as a scientist to disseminate my ideas and network with dry bean researchers and stakeholders locally and globally. The fellowship also recognized me as a leader in agriculture, which is especially important for underrepresented researchers in applied agriculture."
Wiersma's research is focused on using genomic data to accelerate dry bean resistance gene discovery, improve breeding efficiency and developing disease resistant varieties. He explained that extraordinary genetic diversity exists within the common bean gene pool, and now genomics will can assist in cataloging and using that diversity more effectively.
"Due to the difficulty of integrating multiple characteristics into a single variety, plant breeders are always looking for more efficient approaches to streamline the process," Wiersma said. "With the rise of next-generation DNA sequencing technology, decreasing sequencing costs and improved accessibility of large multidimensional datasets, plant breeding has quickly transitioned to the genomics era. As a result, the role of plant breeders and their respective skill sets are quickly evolving to take advantage of genomic data."
Throughout the term of the fellowship, Wiersma is excited to develop his genomics-based plant breeding skills. Additionally, he will help create curriculum for an advanced plant breeding course at MSU and lead high school honors students interested in research.
Wiersma also cites Buell as a mentor, in addition to renowned MSU dry bean breeder James Kelly.
"I would like to specifically acknowledge the integral role that my colleagues in the MSU Plant Resilience Institute have played in helping me secure this fellowship," Wiersma said. "They have given me the opportunity to be surrounded by a diverse group of scientists who are all dedicated to improving plant resilience for a changing climate. By uniting individuals from wide-ranging scientific disciplines, we can address new challenges with innovative solutions."