MSU researcher Joseph Hill will study molecular-level tree growth as part of his two-year, $161,000 fellowship from the National Institute of Food and Agriculture through the U.S. Department of Agriculture.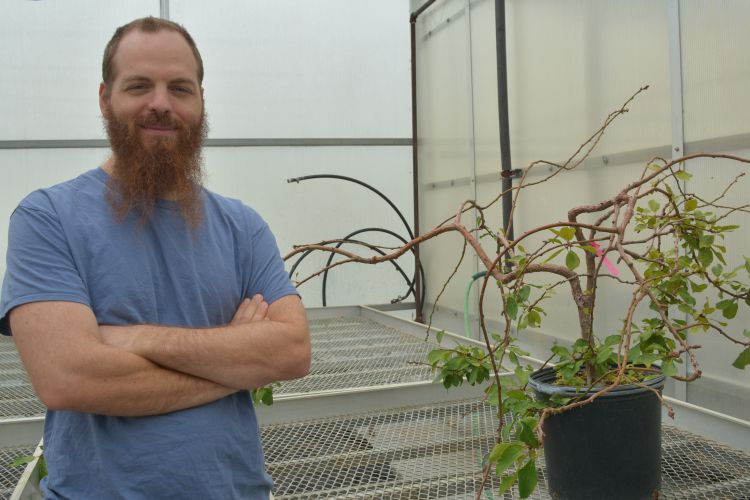 Michigan State University (MSU) Department of Horticulture postdoctoral researcher Joseph Hill is the recipient of a two-year grant of $161,000 from the National Institute of Food and Agriculture (NIFA), part of the U.S. Department of Agriculture, to support his research on molecular-level tree architecture that could lead to improvements in fruit tree-growing methods.
Hill will continue work as a research associate with MSU horticulture assistant professor Courtney Hollender and the Hollender Lab. He will study how trees control aspects of their growth and the molecular basis of plant growth and architecture by the TAC1 and LAZY1 genes. Hill's research will also identify other genes and proteins that are involved in tree growth and branch angle.
"For tree fruit production, a significant amount of cost and labor goes into controlling growth to boost production and harvest efficiency," Hill. "Many orchard growers, especially those who've tried to modernize their production, maintain their trees with a small stature in high-density plantings and sometimes utilize trellis systems."
As a test case, Hill will work with apple trees to study how engineering differences in TAC1 and LAZY1 gene expression controls branch angle in a model fruit tree through those gene pathways. Determining the extent TAC1 and LAZY1 can control apple branch growth is necessary to integrate with grower practices to help boost fruit crop yield.
"On the molecular level, changes in gene expression or protein dynamics that are related to TAC1 and LAZY1 directly lead to the modification of branch angle," Hill said. "If we can control the magnitude and orientation of tree branching, we may be able to breed or engineer trees that more naturally conform to the modern high-density or trellised systems, significantly lowering grower costs."
Hill plans to use some findings during his fellowship, especially the identification of other genes or proteins involved in TAC1- and LAZY1-dependent architecture control, to transition into a faculty position and establish a lab studying the molecular basis of plant growth and form.
His fellowship runs from May 2019 through May 2021.
NIFA awards fellowships annually to postdoctoral researchers around the country to help develop the next generation of research, education and extension professionals supporting current and future agricultural challenges. MSU received seven of 71 total fellowships awarded in 2019 by NIFA.