The Department of Agricultural, Food, and Resource Economics hosted a group of prospective graduate students from March 21 - 22, 2019, with a reception and day of presentations and meetings with current faculty members and students.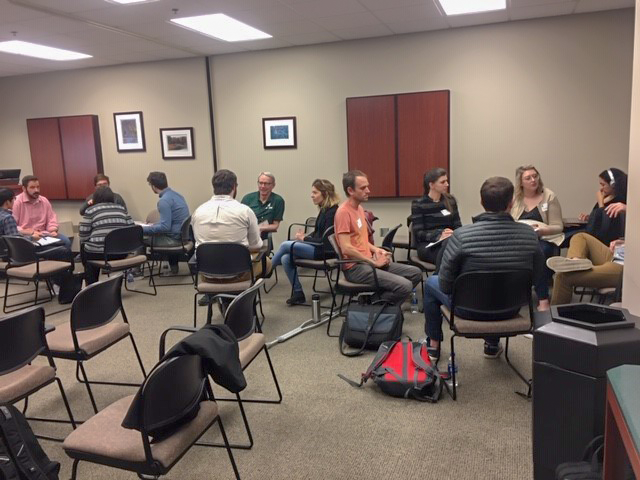 "Prospective students were able to get an in-depth look at some current research and connect with faculty and current graduate students during breaks, lunch, and at the reception on Thursday night," said AFRE Graduate Program Director, Bob Myers. "It is a great way to showcase our program and its values to prospective students."
The Department hosted eight prospective students, and gave them a chance to interact with faculty members and current students, as well as attend lunch and an evening reception.
Simone Faas, a current AFRE Master's student, and the Graduate Student Organization's social chair, had an integral part in planning events centered around the prospective student visit.
"I remember when I was considering MSU as an accepted prospective student, the visit was an extremely important aspect of my decision-making process," said Faas. "I wanted to be sure that I was going somewhere I felt comfortable with the people and the surroundings, and that the current students seemed to be having an overall positive experience."
"The years you spend in graduate school are often a time when your professional and academic life is intensely integrated with your personal and social life, so I was happy to feel this was a place where I could work well with people and also have good friends," continued Faas. "And that has definitely proven to be true for me, and I'm really grateful for it, and I wanted to help the prospective students see that. I hope the students who visited also felt that way and will decide to join us in the fall!"
Learn more about AFRE's graduate programs.