Q&A with FIM Senior Jillian Jacobs
Jillian Jacobs is a senior majoring in Food Industry Management and was recently awarded one of AFRE's "Outstanding Senior" awards.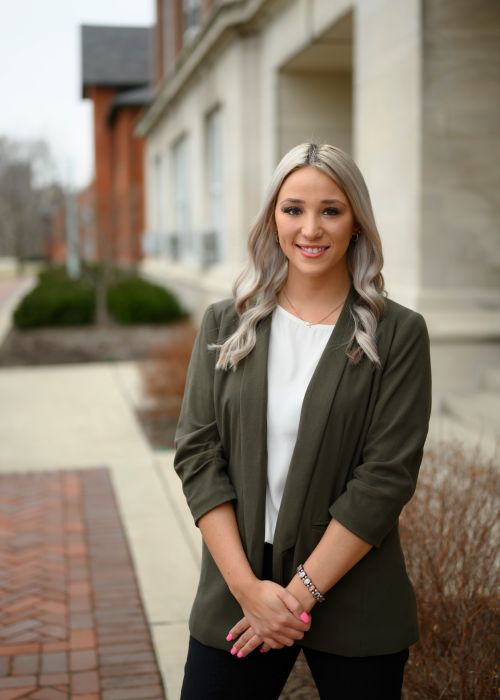 1. What is your hometown?
Highland, MI
2. Why did you decide to become an FIM Major?
When I transferred to MSU I originally wanted to major in Supply Chain Management. I was advised to apply to FIM and transfer after a couple semesters as classes are fairly similar. As time went on, I noticed how much I enjoyed learning about the agriculture and food industry.
3. What is your favorite thing about the FIM Major?
My favorite thing about the FIM major is how important it is in our world. We all need food to survive. Being a student in FIM is really special because you get the opportunity to build relationships with peers and professors. Our classes are set up in a way to truly prepare us for the working world. Professors are always willing to help and really want their students to succeed.
4. What was your favorite class?
One of my favorite classes has been ABM 203 (Data Analysis Agri-Food System) with Dr. Mason-Wardell. I was nervous going into ABM 203 because excel can be intimidating. Dr. Mason-Wardell did a great job teaching the class and she really made sure that we understood the topics we were learning. Excel is an extremely useful tool, so I enjoyed learning how to use it before I got a job. FIM 460 (Retail Information Systems) with Professor Knudson was my other favorite class. Professor Knudson gave us assignments that required us to go out to food companies. The assignments were helpful because it connected what we were learning in class to real companies.
5. What are your plans after graduation?
Upon graduation from MSU, I will begin my professional career working as an assistant store manager by starting in the LE management trainee program at Kroger Co. of Michigan. I have also considered obtaining my masters post-graduation, but with clarifying guidance, I have decided to work to see what my real interests are. Once I know the best fit, I will work towards getting my masters while working in a full-time position. Michigan State University and my excellent Professors have set me up with knowledge and skills that will lead me to a meaningful and fulfilling career.