Radical Plants receives Product Innovation Award
A business pivot success story during COVID-19.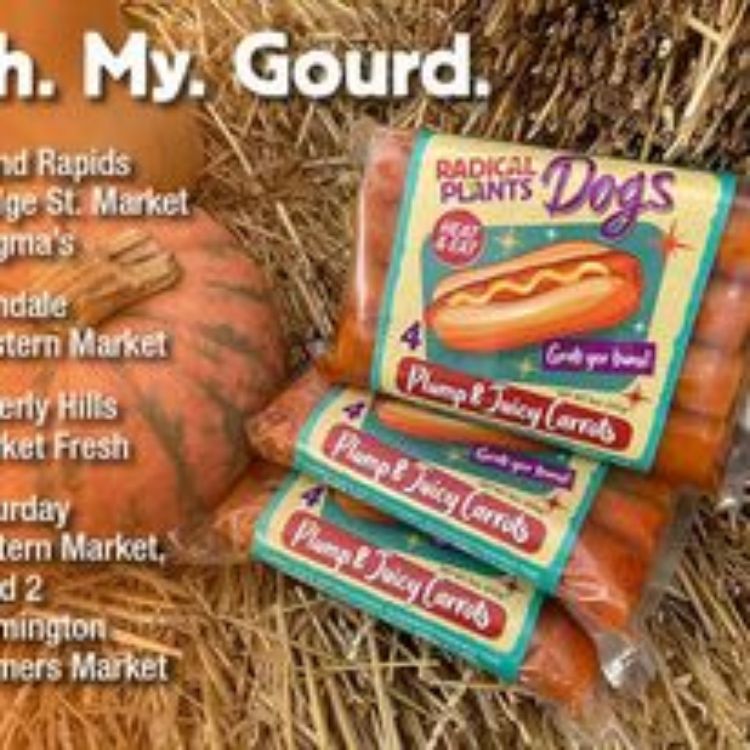 Radical Plants recently received the 2020 Product Innovation Award from the Michigan State University Product Center. The award, presented at the Cook, Share & Prosper online summit, recognizes an MSU Product Center client who demonstrates excellence in new product development.
Melissa Heath, owner of Radical Plants in Mt. Clemens, launched her new product in June 2020 called Carrot Dogs. Radical Plants Carrot Dogs are par-cooked, marinated carrots that taste like hot dogs. "Grill 'em, sautee 'em, microwave 'em, even cook them on a stick and over a campfire. When carrot dogs are dressed like a traditional hot dog, they taste just as good and are so much healthier!" says Heath.
Radical Plants is a vegan company created to provide plant-based eaters with healthy, tasty food. When COVID-19 hit Radical Plants bottom line, just like it did so many other specialty food processors, Heath knew she had to come up with a way to pivot her business. Her first strategy was to launch an e-commerce campaign to market her current soy based vegan product, SuperDip. She knew that she needed a new product in a different food category to reach other customers that value better health. Her new product, Carrot Dogs, is a product that does just that. "Although there are meat substitute hot dogs on the market already, no one does it with as few, and as natural ingredients as Radical Plants does," says Heath.
Heath's immediate jump into action to pivot her business is typical of how she operates as a business owner. Long before COVID-19, Heath always worked on her business, not just in her business. She already made a major improvement to her company branding a couple of years ago and has started to unveil the next generation of Radical Plant products.
As she launched the Carrot Dog at the Eastern Market in Detroit and the Farmington Farmers Market, Heath found the response from customers to be fun and rewarding. Some had heard of a meat substitute hot dog but most had not. For those who had heard of it, she found that they bought the Carrot Dog because they valued plant-based food and wanted to try her product. However, for those who never heard of a meat substitute or at least a meatless hotdog, she found they bought it out of disbelief and curiosity. "Customers have shared their excitement about the cleaner ingredient list of Carrot Dogs," says Heath. "It's been very good for our egos."
Although it has only been a few months since the launch of Carrot Dogs, Heath said sales have been encouraging. In addition to selling at farmers markets, Carrot Dogs are now being sold in a few of the 20+ stores where her SuperDip is sold. Heath is confident that, as Radical Plants streamlines its sales system, the list of stores carrying Carrot Dogs will continue to grow. Carrot Dogs have already become the biggest seller on the Radical Plants e-commerce site.
In A year of innovation in meat substitutes & eggs, 2019, Mintel, a leading research company, affirms that consumers concerned about climate change and health are the driving force for meat substitute innovations. Messaging that speaks to this audience, according to Mintel, is 1) an appeal to flexitarians who are looking to reduce their meat consumption and 2) emphasizing the reduced carbon footprint of a plant-based diet over an animal-based diet.
Many food and agricultural businesses across Michigan have been working long hours adapting to the pandemic to survive. The MSU Product Center team feels many businesses deserve recognition for their hard work and creativity during this difficult time. Four awards were granted by the MSU Product Center this month. Award winners include: Coveyou Scenic Farm Market in Petoskey for Best COVID-19 Pivot; Radical Plants, LLC based in Mt. Clemens for New Product Development; InBooze Cocktail Kits for the 2020 Minority Business Award, and Harwood Gold based in Charlevoix received the Innovation in Marketing Award.
Michigan State University Extension and the Michigan State University Product Center assist entrepreneurs and businesses to develop products and services in the food and agriculture markets. Its team of experts consults with clients on a one-on-one basis, helping new entrepreneurs navigate from concept development to launch and beyond. The MSU Product Center also offers specialized services such as labeling, packaging, and nutritional analysis. If you are interested in business counseling from the MSU Product Center, please visit our website at www.canr.msu.edu/productcenter or call (517) 432-8750.