Raising the Food Stakes
What do Red Haven peaches, baked beans, cold milk, potato chips ahave in common? Sure, they're the makings of a tasty summer barbecue, but that's not it. Hint: Think your favorite college mascot. That's right. Sparty.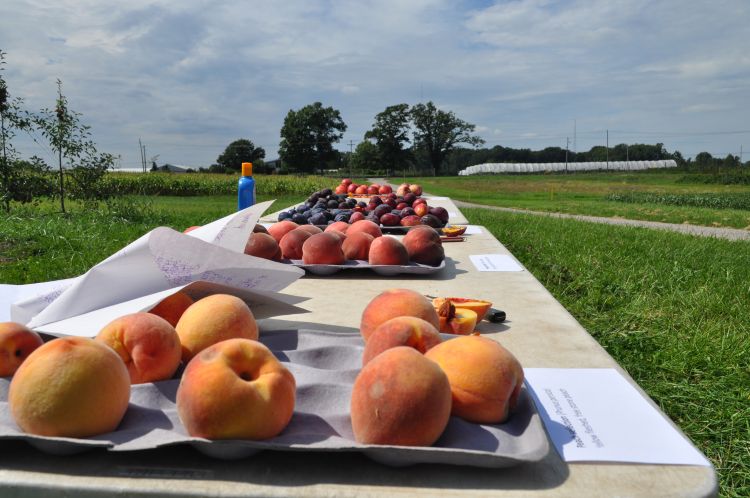 Research Center Network Equips Michigan Farmers with Competitive Edge
What do Red Haven peaches, baked beans, cold milk, potato chips ahave in common? Sure, they're the makings of a tasty summer barbecue, but that's not it. Hint: Think your favorite college mascot. That's right, Sparty.
These are a few of the nearly 100 agricultural commodities studied at MSU AgBioResearch centers located throughout Michigan. They focus on discovering advancements to keep food safe and nutritious, keep costs affordable to the consumer, help growers stay profitable, and protect the environment.
In 1899, the original research center in Michigan was created in Chatham now called the Upper Peninsula Research and Extension Center. Since then, more facilities have been constructed in locations around the state to meet nearby agricultural needs.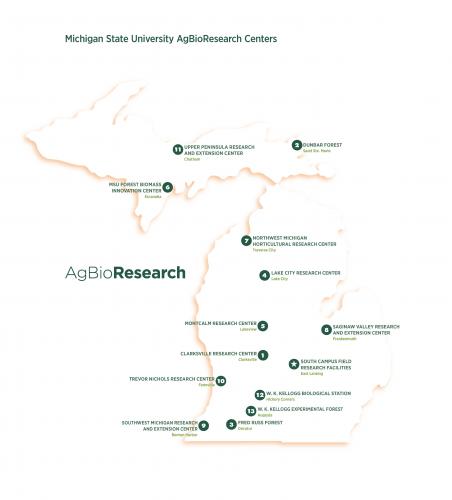 "The facilities have long played a key role in pioneering agricultural techniques that have become essential tools in most fields," said Douglas Buhler, AgBioResearch director. "Whether testing the efficacy of a new biological pest control, evaluating the productivity of multiple crops or testing novel livestock management techniques, researchers at the centers have the freedom and resources to shoulder the risks inherent in pursuing the next agricultural breakthrough."
Providing cutting-edge and relevant research to meet the evolving needs of each of these commodity groups would be impossible without the special relationship between industry and the university. Feedback from growers and producers played a crucial role in ensuring that research remains focused on the issues that they face daily in the field, and financial contributions made by commodity groups have helped further the programs.
For instance, the Michigan Potato Industry Commission partnered with MSU in 1999 to construct a permanent facility at the Montcalm Research Center in Lakeview where new techniques for potato storage could be tested before being adopted by growers. Dedicated in 2000 to the memory of CANR professor B.F. Cargill, the storage facility remains in operation today as not only an effective research tool but a symbol of the long-standing partnership between MSU and the agricultural community.
And this year, a new education and conference center was built at the Saginaw Valley Research and Extension Center (SVREC) in Frankenmuth, MI thanks to a $1 million-plus contribution from numerous agriculture industry groups and Michigan businesses. The facility will enable the center to expand its outreach efforts, particularly as they relate to Michigan's economically important dry bean and sugar beet industries.
"SVREC has served an important role in the Michigan sugar beet industry," said Ray VanDriessche, director of community and government relations for Michigan Sugar Company. "The cooperative working relationship between MSU and groups like Michigan Sugar Company and the Michigan Bean Commission has produced research that has allowed Michigan growers to be national leaders in a variety of commodities, and the new facility will allow us to strengthen that leadership."
Joe Cramer, who is the executive director of the Michigan Bean Commission, concurred.
"Michigan's bean growers are known as the leaders when it comes to producing and supplying domestic and international markets with the highest quality, safest beans," Cramer said. "Research and education are fundamental to maintaining and improving on the good work that has put us in the market-leading position. The addition of an education center to the ideally located Saginaw Valley research facility will pay dividends for years to come."
LEARN MORE
This article was published in In the Field, a yearly magazine produced by the College of Agriculture and Natural Resources at Michigan State University. To view past issues of In the Field, visit www.canr.msu.edu/inthefield. For more information, email Holly Whetstone, editor, at whetst11@msu.edu or call 517-355-0123.