Recycling used produce containers
Despite seeming to make economic and ecological sense, there are potential issues that make reusing single use fruit and vegetable boxes and bins for other produce sales a food safety risk.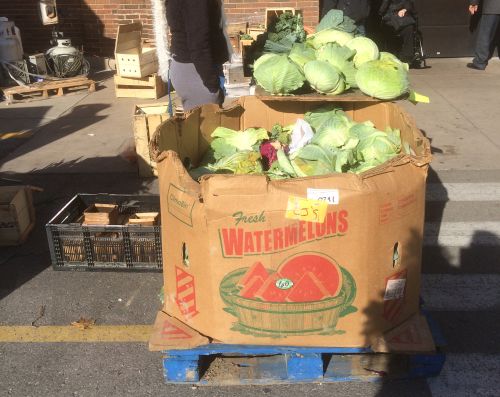 For a small or mid-sized fruit and vegetable grower, reusing produce containers designed for single use, like waxed boxes and cardboard bins, sounds like a good idea both economically and ecologically. Unfortunately, there are potential issues that make reuse a food safety risk. Here are four issues that revolve around traceability, storage between uses, and the law.
Recall confusion
Tracing a container of fruits and vegetables from the point of sale back to the farm is extremely important in the event of a product recall. When products are recalled, there may or may not be something contaminating a particular container of produce. Used boxes can cause confusion in different ways, making tracing product and performing a recall difficult or impossible.
One scenario is that a grower may obtain a used box from a grocery store or warehouse. The box may have had produce in it that was part of that recall, but the grower may not know or even be able to find out the information about the history of the box.
Another scenario could be that a grower may need to recall their own produce. Whether the container is refilled with the same kind of produce that was in the container before or a different product, original markings on the box confound efforts to figure out where the recalled produce is when it's in a reused box.
In Michigan, all food is regulated under the Michigan Food Law. The food law regulates labeling of food items that enter commerce. It turns out that reusing boxes that are labeled for one type of produce item that are used for a completely different produce item is a violation of the labeling requirements under the food law.
Storage and transport issues
The process of collecting and storing boxes for reuse can also introduce significant risk. Many times, boxes are collected from multiple locations, and the storage conditions or use prior to pick up are variable and often unknowable. If a box was off the farm, it could have been used to store something by the buyer that could leave contamination in the box once it is returned to the farm. Because a grower does not always have control over these other locations, the potential for contamination on these boxes is high. Even on the farm, growers might keep the clean, new boxes in a nice storage area and treat the used boxes less carefully. Each of these little potential ways for a box to get dirty add up.
Pesticide tolerances
Pesticide use is a fact of life in growing commercial produce. Not all pesticides are allowed on all crops. In some cases, there may be a zero tolerance of pesticide residue on one type of crop. Pesticide residue from the first crop could persist on reused packing materials. If those packing materials are reused for a crop that has a zero tolerance of the pesticide, it could lead to a recall.
Switching to covered produce
Not all produce is the same under the law. If the product that was originally in a box was not regulated under the Food Safety Modernization Act (FSMA) Produce Safety Rule (PSR) and the product that the box was reused for is regulated under the FSMA PSR, there are issues. The FSMA PSR mandates that when a container goes from an unregulated product to a regulated one, the surface most likely must be cleaned and sanitized. As you might expect, waxed boxes and cardboard bins cannot be cleaned and sanitized. This makes the reuse of boxes like this challenging under the FSMA PSR.
It is best to either have cleanable, reusable bins and lugs or invest in single use materials. If you have specific questions about the produce rule or have difficulty tailoring GAPs to your farm, contact the Michigan State University Extension Agrifood Safety Work Group at gaps@msu.edu or 517-788-4292.
Funding for this article was made possible, in part, by the Food and Drug Administration through grant PAR-16-137. The views expressed in the written materials do not necessarily reflect the official policies if the Department of Health and Human Services; nor does any mention of trade names, commercial practices or organization imply endorsement by the United States Government.