Researcher Q&A: Nikki Rothwell
Learn about Nikki Rothwell, the center coordinator of the Northwest Michigan Horticultural Research Center.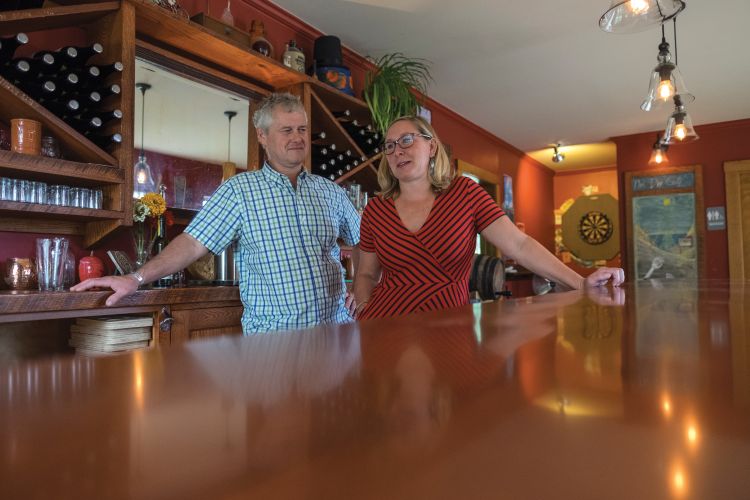 With more than 200 wineries and nearly 15,000 acres of sprawling vineyards in Michigan, wine lovers have oodles of options — particularly in the northwest region of the state. But for those looking for a fermented alcoholic beverage of a different sort, especially one made from locally grown apples, Tandem Ciders has it covered.
Nikki Rothwell, coordinator of the Northwest Michigan Horticultural Research Center (NWMHRC) at Michigan State University (MSU), and her husband, Dan Young, opened the cidery in fall 2008. A tandem bicycle trip Rothwell and Young took in England inspired the name of the business located just north of Suttons Bay, Michigan. The rest is the product of hard work.

The couple met while Rothwell was earning her doctorate from the University of Massachusetts Amherst and Young owned a microbrewery in the area. Young's interest in English beer led the pair to make the cycling voyage, where they tasted several brews throughout their stay. Dissatisfied with their experience, the drink of choice quickly changed.

"Many of the beers were warm and flat, so we started drinking more ciders," Rothwell said. "Dan was interested in brewing beer, but it got us thinking about whether cider would be an option. When we decided to move to Michigan, we saw there were tons of apples, but not much cider. It's been an exciting ride ever since."

Today, Tandem Ciders serves a devoted community of friends, family and cider connoisseurs, including regulars who visit daily. While several tasting rooms shut down in the winter, Tandem Ciders remains open year-round. Movie nights and euchre tournaments fill the barn-shaped building with laughter and camaraderie — the couple's ambition all along.

"It's really about the community," Rothwell said. "Dan is an innovator in that he had the foresight to see that these local ingredients, especially for cider, would be a great selling point, even before that movement has taken hold all over the country. Now most wineries around here have some sort of cider available, too. We're really grateful for all of the support we've had, and I hope our customers get as much enjoyment out of it as we do."

As center coordinator at the NWMHRC, Rothwell works with a community as well — a group of growers who rely on research to aid in the decision-making process. From pest management strategies to extension information, Rothwell said she relishes the chance to help the agriculture industry.

"I'm lucky that I got to come home to Michigan, and I get to work at a place like MSU that's so supportive," Rothwell said. "We have a strong backing from growers who are really invested in our research. We are in a position to assist them because of MSU's commitment and the industry's support, and as an extension professional, you can't ask for more."

Name: Nikki Rothwell

Title: Center Coordinator, NWMHRC; MSU Extension Specialist

Joined MSU: September 2004

Education:Ph.D., Entomology, University of Massachusetts Amherst; M.S., Entomology, Michigan State University; B.A., Biology, Western Michigan University

Hometown: Kingsley, Michigan

Muse (person who has most influenced and/or inspired me): My grandmother was tough. She was a first-generation American from Germany. I love that she was a strong woman.

Favorite food: Homemade pizza. Every Friday night is pizza night, and people stop by to enjoy it with my family.

Best song for a wedding/party: "You Shook Me All Night Long" by AC/DC

Book I'd recommend: "Balzac and the Little Chinese Seamstress" by Dai Sijie

On my bucket list: I'd like to own a small apartment in New York City. I love it, and I'd like to be able to visit whenever.

Favorite vacation: After the cherry harvest each year, I go to Lake Michigan with my family, usually to the Harbor Springs area.

On a Saturday afternoon, you'll likely find me: Gardening or preparing to entertain. My husband and I love to have people over to our home, and I love cooking.

A major research breakthrough I'd like to see in the next decade: A long-term management plan to deal with spotted wing drosophila.

Family: My husband is Dan Young, and we have a 4-year-old daughter, Sadie.

Person (living or dead) with whom I'd most like to have dinner: Julia Child (chef) and Jim Harrison (author and poet from Michigan). I feel like that would be a very interesting duo to chat over dinner.

Best part of my job is: Building relationships with growers. We are able to respond to their needs, and they support us so much.

If I wasn't a researcher, I'd be a: A chef. I enjoy trying new things, and that would be a different challenge each day.

Something many people don't know about me is: When I was younger, I wanted to be in the Rockettes.

Words of advice to a young scientist: Find a passion and stick to it. Scientific breakthroughs don't happen overnight, but if you work at it you can have a big impact.

I went into this field of study because: I worked at the NWMHRC when I was 21. I thought it was the coolest job. I told my boss at the time, Gary Thornton, that I'd have his job someday. Little did I know that it would come true when I came back to MSU in 2004, and then I became the center coordinator after that. This job allows me to help people, which is our main objective as extension professionals.
This article was published in Futures, a magazine produced twice per year by Michigan State University AgBioResearch. To view past issues of Futures, visit www.futuresmagazine.msu.edu. For more information, email Holly Whetstone, editor, at whetst11@msu.edu or call 517-355-0123.