Riker's Dog Treats: a Michigan success story
Riker's Dog Treats shares its story of how love for the cherished family dog turned into a successful Michigan business.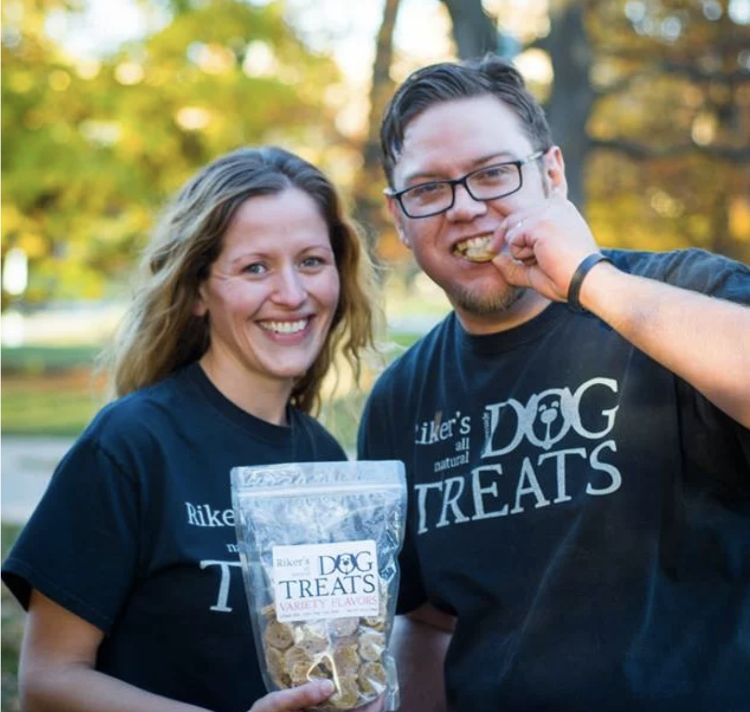 Riker's Dog Treats in Bath Township has been owned and operated by Adam and Leslie Cowell, a husband-and-wife business team, since 2014. Leslie founded the business after her loyal four-legged family member, Riker.
Riker's Dog Treats products was born when Leslie began experimenting with ingredients to help Riker whose digestive system wasn't tolerating the impurities found in other packaged treats. Her healthy homemade, all-natural diet extended the years Riker spent with them and led to the business it is today.
Riker's Dog Treats products include treats, bones, training treats, fully licensed hemp bites, bulk treats, food toppers for younger and older dogs, as well as seasonal treats. All of the products use seven ingredients or less and never use preservatives, coloring, or artificial flavors. The treats are all wheat free, corn free and soy free. There's even a grain-free option for those with a severe allergy. Each treat is handmade in the U.S. and always baked in small batches using wholesome ingredients sourced from North America.
Riker's Dog Treats began in the family kitchen, but it didn't stay there long. Soon, the Cowells were renovating a small space into a bakery to absorb the first wave of company growth. Fast forward to today where Adam and Leslie have recently grown their operation by adding over 500 square feet to the production and shipping areas, enabling them to make considerably more product and using pallets to ship in higher quantities. The operation now resembles a true commercial bakery with a dough sheeter, larger mixer, large convection ovens, and several industrial grade dehydrators. The company has hired and is currently training its first set of employees – a baker and a packager – to further expand the business to meet customer demand.
Riker's Dog Treats has hit a homerun in marketing, too. They have partnered with the Okemos Chick-fil-A that purchases treats at cost and hands them out to drive-thru customers with a dog in their car. Each sample package of treats has a code on it to help Adam and Leslie track how much market exposure this method generates for the company. They have also partnered with Michigan dog clothing and accessories store, Four Black Paws, and Puerto Rican company, Island Tails, who buys treats in bulk to give as a complimentary treat with every order.
With Riker's Dog Treats being sold in several independent retail locations as well as Whole Foods Markets, Soldan's Pet Supplies, Premier Pet Supply, and Meijer Capital City Market and Woodward Corner Market, it is well on its way to becoming a family name brand in Michigan homes.
Want to try Riker's Dog Treats? You can win a bag of treats by videoing yourself eating a treat and posting it using #RikersChallenge.
Michigan State University Extension Educators and Innovation Counselors at the Michigan State University Product Center assist businesses and farms in the establishment of good practices and in producing safe food products. Visit the MSU Product Center website for further information and assistance with employee communications. Click the 'become a client' button to work one-on-one with a local innovation counselor.