Save the Date - Michigan Environmental Justice Summit
Save the Date - Michigan Environmental Justice Summit
September 1, 2014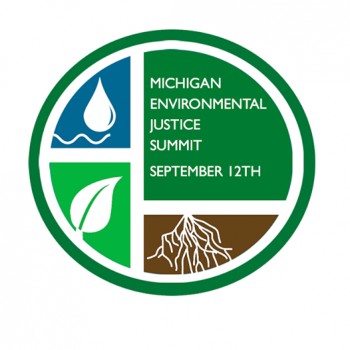 Save the Date – Michigan Environmental Justice Summit
Unfinished Business: Environmental Justice in Michigan
20th Anniversary of the Executive Order 12898
50th Anniversary of Civil Rights Act

September 12th, 2014, Lansing, MI

Union Baptist Missionary Church / 500 S Martin Luther King Jr BlvdThe Michigan Environmental Justice Coalition (MEJC) is convening a summit to bring together groups and individuals from throughout the state who seek to achieve a clean, healthy and safe environment for Michiganders by working with all residents to hold public and private institutions accountable to the communities for whom they serve and in which they operate.

The planning organizations include member organizations of MEJC: Detroiters Working for Environmental Justice; East Michigan Environmental Action Council; Ecology Center; Green Door Initiative; Michigan Environmental Council; NAACP of Southeastern Michigan; National Wildlife Federation; Sierra Club Environmental Justice Program; Michigan State University; Southwest Detroit Community Benefits Coalition; Urban Regeneration LLC; Zero Waste Detroit; and the University of Michigan in collaboration with the Sustainable Michigan Endowed Project; Idle No More Michigan; and West Michigan Environmental Action Council.

Friday September 12th Preliminary Draft Schedule
10:00 Opening Ceremonies
10:15-12:00 Overviews of the History of EJ movements in Michigan; the current EJ policy in Michigan; the Michigan EJ Coalition; and connections between EJ in Michigan and across the globe
12:00-1:30 Lunch Presentation –Michigan's role in the history of EJ and Federal EJ policy (lunch provided)
1:45-3:00 State Agency Panel: Members of state agencies describe what actions they have taken to
3:00-5:00 Open poster session for EJ Organizations and filmed group discussion by poster presenters on Michigan EJ Coalition; and connections between EJ in Michigan and across the globeaddress EJ, and discussion with audienceon the work of their organizations

If you are interested in attending, have any questions, or are interested in participating in the summit or planning process, please contact Kyle Whyte, kylewhyte [at] gmail.com.