School of Packaging's Aaron Tucker receives 2021 MSU Outstanding Established Advisor Award
Aaron Tucker, undergraduate advisor in the MSU School of Packaging, was awarded the 2021 MSU Outstanding Established Advisor Award for his sustained commitment to academic advising.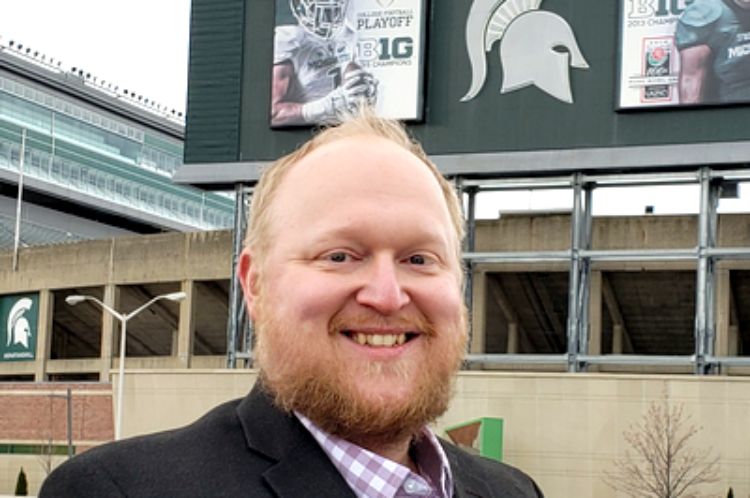 Aaron Tucker, undergraduate advisor in the Michigan State University School of Packaging, received the 2021 MSU Outstanding Established Advisor Award. His strong commitment and excellence in supporting undergraduate students pursuing a degree in the College of Agriculture and Natural Resources School of Packaging earned him the award.
"I am grateful to those who nominated me for this award and recognition, but this is truly a team effort," Tucker said. "As I look back at my experience as a student at Michigan State University, I looked for guidance from my advisors, instructors and administrators. Now, I strive to make sure each student feels like a valued member of our Packaging and Spartan family. I look forward to meeting and knowing our students and seeing their success in their academic and personal lives!"
Matt Daum, Ph.D., School of Packaging director and professor, nominated Tucker for the award.
"Mr. Tucker is an example of the rare combination of professional drive, ability to turn ideas into action and genuine care for others," Daum said. "His commitment to the School of Packaging and the field of academic advising is top-rate. He consistently and creatively empowers students to develop and succeed, and he cares for students in a tangible, relatable way. Mr. Tucker is a top performer in our unit and is beloved by students and faculty."
Tucker advises undergraduate students majoring or exploring the bachelor's degree in packaging in MSU's School of Packaging. Tucker began his journey as the School of Packaging's academic advising specialist in summer 2018.
Tucker earned his bachelor's degree in communication from the MSU College of Communication Arts and Sciences in 2010. He prides himself being a first-generation college student who experienced a non-traditional undergraduate experience. In 2011, Aaron began his professional career as an academic advisor with the Neighborhood Student Success Collaborative (NSSC) formerly the Undergraduate University Division (UUD) with Michigan State University. During his time with NSSC, he worked with freshmen and sophomore students not admitted to a college, students in academic distress, first-generation and Pell grant eligible students, students exploring majors, minors and other programs.
In 2016, Tucker earned his master's degree in higher, adult and lifelong education from the College of Education at Michigan State University.
Academic advisors are known for their accessibility and availability for students, but according to Daum, Tucker consistently takes this responsibility to new levels. Tucker puts forth extra effort to meet with students and make himself available to counsel and advise students. For example, during the COVID work-from-home period, Tucker seamlessly moved all his advising to Zoom and increased his availability throughout weekday evenings and weekends. Open houses, webinars and other student communications were offered at multiple time slots to accommodate the highest percentage of our students.
"Mr. Tucker has a well-deserved reputation as a compassionate advocate for our students," Daum added. "He often interacts at a personal level with students and has a tremendous capability to be empathetic, especially when considering intersectional dynamics. Mr. Tucker advises the whole student and creates a warm and welcoming environment, problem solving with students for their success."
Examples of Tucker's improvements and commitment to student success include:
Conceptualized, implemented and currently provides administrative leadership for our Packaging Help Room, which provides tutoring help in calculus, physics and chemistry, especially for students lacking background in these required courses.
Identified an opportunity for a dual-enrollment degree that would benefit students and the School, and so proposed and worked with faculty to create and implement our first "4+1" degree, which allows non-packaging students to dual enroll their senior year in our master's program and complete a master's degree along with their undergraduate degree in a total of 5 years.
Took on expanded responsibilities to advise our Plan B Master's students (non-thesis) and Online master's students.
Serves as a key member of the School of Packaging Scholarship committee that distributes approximately $125K per year to our students.
Before joining the School of Packaging, Mr. Tucker led a team that created SIA (Spartan Inventory Assessment), a tool that helped standardize a method for guiding undecided undergraduates towards compatible majors.
Served as the inaugural chair of the School of Packaging's committee on Diversity, Equity and Inclusion. As this chair, he actively worked to incorporate the committee (ad hoc at the time) into the existing bylaws of the department, making sure that student voices would be codified significantly into the structure of the newly formed group. He has also served as a champion to uplift voices from underserved populations with advocacy for, planning and promotion of campuswide events (When they see us- January 22, 2021) as well as local events (Packaging while Black April 6, 2021). He is passionate about the inclusion of differing perspectives and using the privilege that he has to enable and empower underserved populations.
"CANR and Packaging are so lucky to have you, Aaron," says Kelly Millenbah, Ph.D., CANR interim dean. "Thank you for all you do to support our students and make their college experience an excellent one. A huge congratulations on your Outstanding Established Advisor Award!"
Tucker will be recognized during an awards ceremony to be held Feb. 3, 2021, from 3 to 5 p.m.