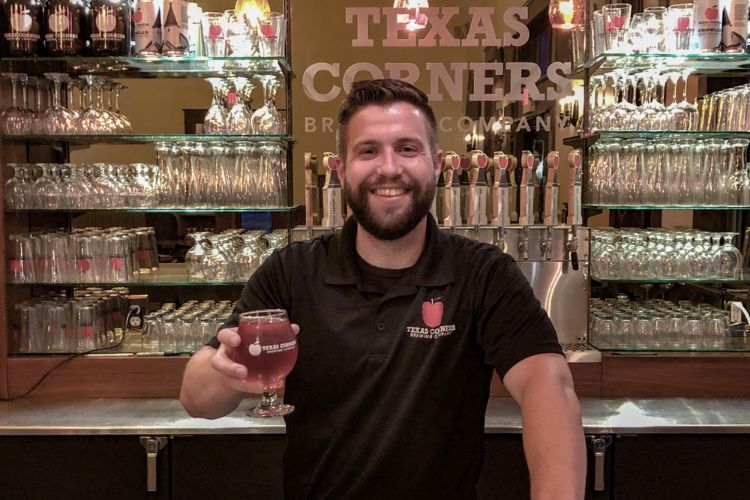 Agribusiness Management alumnus Andrew Schultz loved growing up as a third-generation fruit farmer in southwest Michigan. As a Spartan studying agribusiness, he gained knowledge of and passion for the food industry, and after graduation in 2011, he gained valuable experience at one of the world's largest food companies — Nestle. So when his family decided they wanted to start a restaurant and brewery in 2015, Schultz was able to dive right in, and today, he's the General Manager of Texas Corners Brewing Company in Texas Corners, Michigan.
"I had the opportunity to run a new business from the ground up when my family wanted to open a restaurant and microbrewery," said Schultz. "It meant a pay cut and didn't exactly make sense on paper, but the opportunity to start something from the ground up and build a business was a pretty amazing possibility."
Now more than three years after starting Texas Corners Brewing, Schultz and his family are running a successful family food business, have won several awards and recognitions, and have been featured in numerous local and state-wide articles. Excited to be a part of the growing and fast paced craft beer market, Schultz commented, "I've always loved food and find the whole idea of farming and the agri-food supply chain fascinating. People eat every day, and food and beer bring people together — it's a job and industry that unites people, regardless of backgrounds or viewpoints."
AFRE Roots
Invited to return to MSUAFRE this year to speak to a students about family businesses in their Labor and Personnel Management in the Agri-Food System course, Schultz "couldn't be more honored." As a Spartan, a professional with experience ranging from a global corporation to a family farm, Schultz was a knowledgeable and useful resource to the class.
"I received a thank you note from the students afterward and realized how much of an impact my presentation had," said Schultz. "These students are at such a pivotal moment, and I think for someone who has been in their shoes to answer their questions was refreshing and useful for them."
While he was a student on campus, Schultz was grateful for speakers and visitors to his classes and career events — it was at a career fair that he made connections and landed first his internship at Nestle, which led to his full-time job after graduation.
"AFRE does a great job of bringing in career and industry professionals to make sure students are successful in finding jobs before they even graduate, said Schultz. "My biggest advice to students is to network with fellow students and businesses while everyone is still at the same place. Go to campus events, shake hands, hand out business cards and resumes, and show your interest in finding a career in your field. It will never be easier to make the right connections and possibly find your first job out of college while you are still at college."
The Business of Brewing
Running a brewery is probably one of the most coveted jobs in the industry, especially around young people, and Schultz reports it has its perks. "I do get to occasionally drink beer or hard cider as part of my job, but at the end of the day, we're running a business." Schultz is in charge of the marketing, finance, and human resource responsibilities at the brewery, as well as the day-to-day operations, forecasting beer and hard cider production, managing cash flow, and ensuring a great customer experience.
With a goal of continuing to grow an increasingly successful food business with his family, Schultz relies on the foundation he built at MSU and AFRE to help him build something impactful.
"Our family business started over 65 years ago when my grandfather purchased 80 acres of farmland after World War II. He left a legacy of a substantially larger farm and a new farm market to my dad," Schultz said.
"We now have a microbrewery and restaurant, and my goal is to continue carrying that torch and growing the family business into something bigger and better for the next generations of my family and the community that supports us."