Professor Scott Swinton talks precision technologies and how farmers throughout the region are adopting them.
Farmers in the Eastern Corn Belt are raising their use of precision technologies and custom hiring to new levels. These are two key, preliminary findings from a 2017 survey of corn-soybean farmers launched by professors Scott Swinton (AFRE) and Sandy Marquart-Pyatt (Sociology).
The Crop Management and Stewardship Practices survey went to a stratified sample of corn-soybean farmers in agricultural counties in Illinois, Indiana, Michigan, and Ohio. The survey achieved a 31% raw response rate, with 22% usable records. The youngest farmer responding was 20 years old; the oldest was 98.
Precision Technology Adoption
More farms use precision technologies now than at the beginning of the decade. Just over 30% of farms in Illinois and Indiana adopted variable rate technologies or yield mapping in 2010, according to the USDA Economic Research Service. In Ohio, 25% of farms had adopted these technologies. Now just six years later, the CMSP survey finds that 65% of respondents report using at least one variable rate technology; 46% of respondent farms use yield maps.
Soil fertility management is farmers' favorite precision agriculture technology. Three quarters of farmers who responded to the survey used soil nutrient maps on at least part of their land in 2016 (see chart).
A common use of those nutrient maps is to guide variable rate application of phosphorus (P) and potassium (K), used by over half of respondents. Far fewer (only about a quarter) apply nitrogen using variable rate technology. But about half of farmers are considering variable rate nitrogen applications in the future.
Gathering timely data to guide variable rate nitrogen application can be challenging. Aerial monitoring via satellites or drones is one approach. Few farmers reported using aerial monitoring at present. Likewise, less than 20% of respondents used variable rate seeding in 2016. But many farmers are considering both aerial crop monitoring and variable rate seeding.
Custom Hiring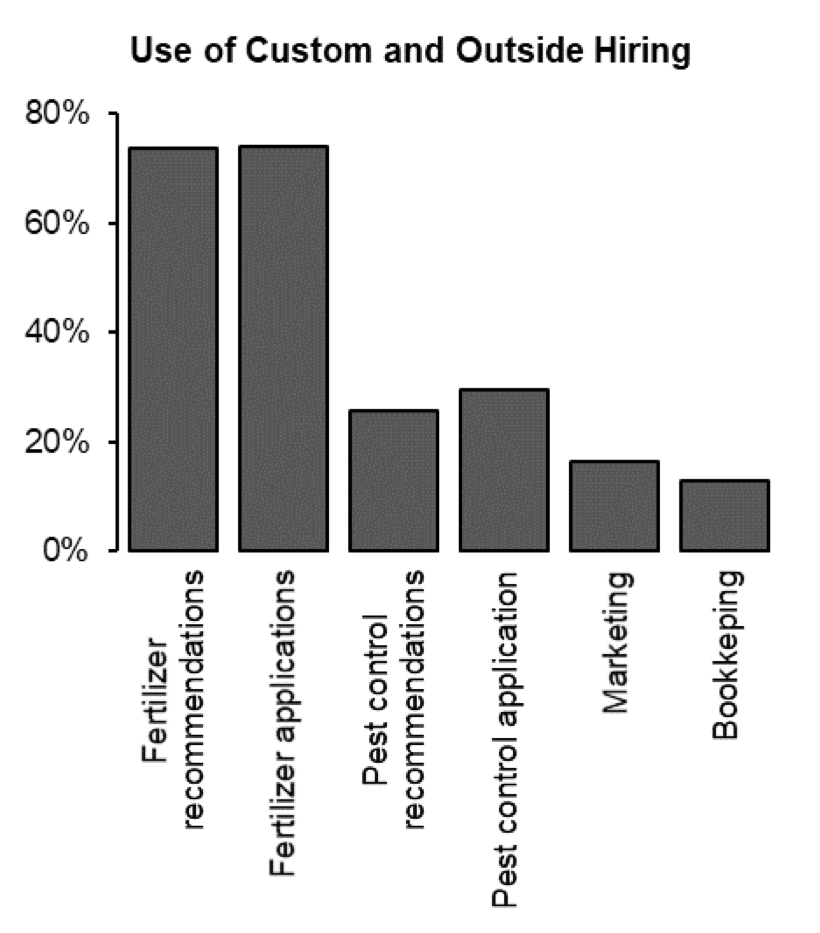 Roughly three-quarters of farms custom hired services for fertilizer recommendations and fertilizer applications. Many of these operations use precision technologies. About the same number of farms that use nutrient mapping are hiring fertilizer recommendations. More farms (76%) hire fertilizer application than use variable rate P and K, but there is a heavy overlap. Of farms that apply P and K at variable rates, 85% hire custom applicators for fertilizer.
Outsourcing pest management is much less common than nutrient management. Only about a quarter of growers responded that they custom hire either pest control recommendations or applications. Likewise, business tasks are mainly completed on-farm. Less than a fifth of farms hire specialists for commodity marketing and even less for accounting and bookkeeping.
This research was conducted through the KBS-LTER long-term ecological research project on row crop ecosystems, funded by the National Science Foundation (DEB 1027253). In order to understand how farmers adapt and change over time, the researchers intend to return to the same farmers with follow-on surveys. The 2017 results have stimulated research by four graduate students, including AFRE Ph.D student Braeden Van Deynze, who plans to investigate the rising trend in custom hiring.