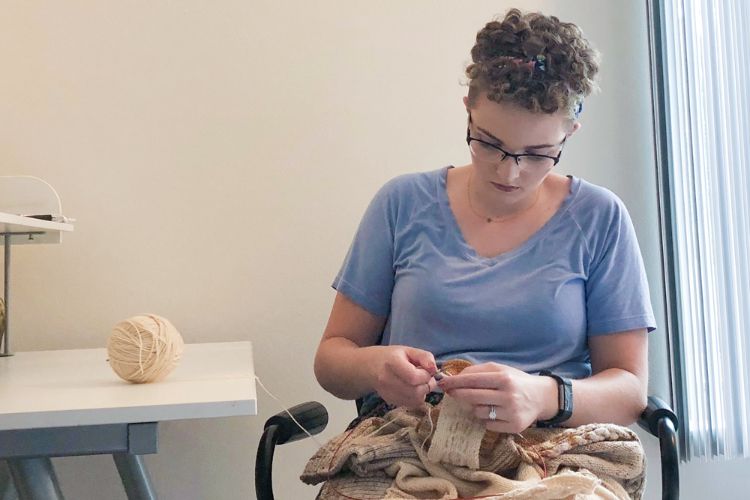 Kelsey Hopkins knits. And as a first year PhD student in the Department of Agriculture, Food, and Resource Economics, she hopes to use her passion for fabrics — and opportunities for research — to create more sustainable clothing practices in Michigan.
"I'm so excited to start my research into making American's clothing consumption less damaging to our natural resources," said Hopkins. "And the department of AFRE and programs like SMEP will be great support through my process."
Hopkins is a part of the Sustainable Michigan Endowed Project (SMEP) at Michigan State University, which serves as a catalyst and convener of interdisciplinary discussions and research around sustainability topics.
"It's a group of students and professors who all have research interests that in some way pertain to sustainability, whether it's in the classical sense, like recycling and green energy, or in a more comprehensive sense, like philosophical issues around sustainability, financial sustainability, and community history," said Hopkins. "We use our interdisciplinary training to explore any and all issues in sustainability from angles that may not have been tried before."
As an introduction to the program, all incoming SMEP graduate students partake in a tour of Michigan-based sustainable organizations and learn about their situations first hand. One day, they learned about various crop experiments at the KBS LTER Center and heard from extension specialists. Another day they visited Battle Creek Farmers Market to support local farmers and then went to Tillers International Museum, where they learned about the technological progression of agriculture and how specialists there problem-solve agricultural issues in developing economies. The group went to the Gilmore Car Museum, where they talked about the history of automobiles in the economy, both in Michigan and the rest of the U.S., and stopped by Bell's Brewery for a tour and learned about their efforts to brew a more sustainable beer by recycling water and sourcing their ingredients from U.S. producers. Their last stop of the day was at Food Dance in Kalamazoo, to learn about and experience a local farm-to-table style eatery.
"By learning about experimental sustainable farming methods and international agricultural development techniques, I was able to see how the work done at MSU and in the state of Michigan is vital to solving some of the sustainability problems facing our world," said Hopkins.
With the groundwork set and classes started, Hopkins is eager to apply her previous experience to exploring the recent market changes in wool production and consumption, with some possible Michigan farm visits.
"I hope that I can develop a strong area of research into wool and other fiber markets and perhaps encourage sustainable practices in those fields," said Hopkins. "Eventually I'd like to work with local fiber producers while teaching and researching, to really make a difference on multiple levels."
Learn more about SMEP and MSU's sustainability initiatives.