Smitley Recognized for Support of Michigan Golf Industry
Dave Smitley is recognized for his support of the Golf Industry in Michigan.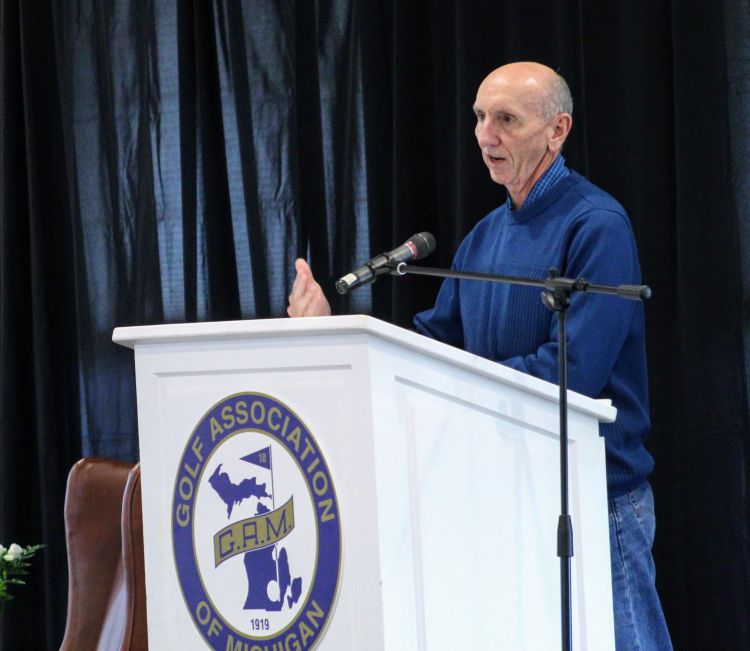 Dave Smitley, PhD of the MSU Department of Entomology, was recognized for his service to the golf industry by the Golf Association of Michigan at their annual meeting on May 4, 2022. Smitley is a key part of the MSU "Turf Team"which collaborates on research, teaching and Extension to provide the Turf Industry (includes golf, landscape, horticulture and athletic fields) with valuable resources to improve their businesses and the environment. Other members of the team include Jim Crumb, Joe Vargas, Kevin Frank, Trey Rodgers, Emily Merewitz-Holm, Dave Gilstrap and Tom Nikolai.
Smitley's research focuses on identifying insect pest problems and researching the best management practices to address them. He also provides extension recommendations for growers. Smitley plans to retire next year.
Entomology Chair Hannah Burrack explained that "Dave Smitley has built strong relationships with the turf industry throughout his time at MSU Entomology, as this honor further illustrates. His deep expertise in pest management, ecology in ornamental systems, and insect pathology will be missed in our department as he makes this transition to the next phase of his career, and we're glad we get to keep him around a little while longer!"
Carey Mitchelson, Executive Director of the Michigan Turf Grass Foundation said, "The Foundation would like to congratulate Dr. Smitley on his service to the Turf Industry and his work on behalf of Michigan State University and the Entomology Department. He will certainly be missed by all those who he has worked with so diligently, but the Foundation wishes him well as he enjoys his well-deserved retirement."