Southeast Michigan vegetable update – Aug. 7, 2019
Recent rainfall favors disease development.
Weather
The last week brought some humid weather as well as sporadic rainfall. I got some reports of isolated hale. We've been stuck in a Northwestern airflow that has cut us off from the Gulf of Mexico, hence it's been cooler and drier in the last week. The short-term outlook calls for more of the same, with another air mass of similar origin moving through tonight. This will likely bring some rain. This air will sit over the area for a while, limiting our chances for rain.
Crop report
Some pepper and tomato plantings are showing signs of virus infection. These often start in the greenhouse. Ornamental plants in the greenhouse harbor viruses, which can affect a wide array of plants and be vectored by aphids or thrips. Depending on the virus, plants can be impacted in a variety of ways. Symptoms like distorted, twisted leaves and stunting can be a sign of a virus or of herbicide drift. If you see distinct ringed spots on the leaves or fruit, that is indicative of virus infection. After plants are showing these symptoms, nothing can be done, but more careful management of next year's transplants will prevent it in the future.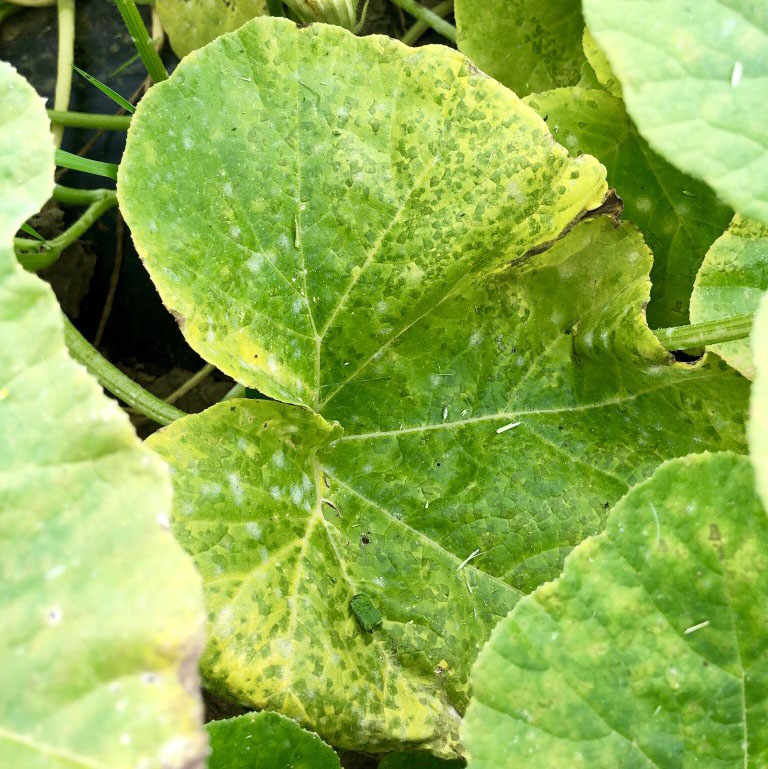 In pumpkins and winter squash, downy mildew has been found on hard squash in Pennsylvania and Tennessee. Downy mildew is a complex disease with many strains. We see a strain that impacts cucumbers and melons every year in Michigan, while the strain that impacts pumpkins and winter squash is much less common here. Keep an eye out for symptoms like those pictured when scouting.
Many pumpkin plantings still have a ways to go. Staying on top of powdery mildew sprays will help protect the leaves, so the plants have energy and the developing fruit are protected from the sun.
Sweet corn harvest is ongoing. Still getting lots of reports of worms in corn, see last week's write up on them for more information. Corn earworm trap catch in Lenawee County (six moths per night) suggest that a four-to-five-day spray interval is appropriate. You can stretch this a little bit if field corn in your area is silking.
In terms of western bean cutworm, my traps in Lenawee, Monroe and Washtenaw County caught 36, 54 and 58 moths respectively. We may be in peak, but across the state western bean cutworm trap catches are lower than in previous years. What does this mean for management? While corn earworm has been amplified by field corn, western bean cutworm has good potential to be mopped up by field corn. Some areas have a lot of pre-tassel corn, which is where this pest lays its eggs. As always, scout for eggs before deciding to spray for western bean cutworm. The threshold for fresh market corn is one egg mass per 100 plants. If you are spraying for corn earworm at least weekly as silks emerge, those sprays will mop up western bean cutworm. For information on scouting and egg identification, see "Scout sweet corn for western bean cutworms" and "Western Bean Cutworm Egg Mass Identification."
In tomatoes, tomato hornworm is out and feeding. Processing tomato growers are gearing up for ethrel sprays. There are reports of corn earworm feeding on tomatoes in Ontario.
Reach out
Contact me at schuhmar@msu.edu or 517-264-5309 to schedule a farm visit or ask a question.
Meetings
Hotels are starting to fill up, so start making accommodations to attend the 2019 Great Lakes Fruit, Vegetable, and Farm Market EXPO Dec. 10-12 in Grand Rapids, Michigan. We have great speakers coming in from across the country to address the production, labor and marketing issues affecting Michigan vegetable growers.
There will be a twilight meeting focused on soil health and cover crops in Monroe County on Aug. 26. For more information, see the event page for Kick Your Soil Health Up A Notch: A Twilight Meeting.
Interested in drainage? A wide array of drainage related topics will be covered at a two-day event in Riga, Michigan, Sept. 12 and 13. For more information and registration, see "Attend the farm drainage field day on Sept. 12-13, 2019."
Did you find this article useful?
---
You Might Also Be Interested In