Southwest Michigan fruit update – July 28, 2020
Summer fruit harvest continues. Spotted wing Drosophila numbers are rapidly increasing.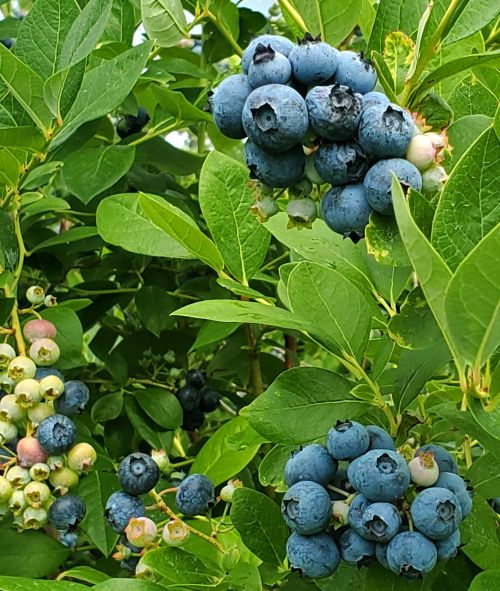 Weather
Last week was another humid week. Most days had highs in the mid 80s. Sunday, July 26, was the hottest day of the week with highs in the mid-90s and lows early Monday morning in the mid-70s. No rain was recorded for much of the area. This next week will be cooler, with highs in the upper 70s for much of the week. The only chance of rain for the week will come on Wednesday.
With the warm week, we picked up an average number of growing degree days (GDD) last week: 228 GDD base 42 and 171 GDD base 50, respectively 33 and 24 per day.
Southwest Michigan GDD summary from March 1 - July 26, 2020

Station

GDD 42 F

GDD 45 F

GDD 50 F

Benton Harbor (SWMRC)

2457

2142

1664

Lawton (Lawton)

2438

2120

1637

Fennville (TNRC)

2263

1955

1490

Average for the SW region

2418

2102

1624

Average last week

2190

1896

1453
Tree fruit
Rainfall for the month of July is about 1 inch short of normal in some areas, putting trees on sandy sites into some stress. Oriental fruit moth flight for the first half of July was relatively high for some area orchards and larvae from this population will be looking for fruit to enter. Codling moth and obliquebanded leafroller flights are continuing. Lesser and greater peach borer flights appear to be in decline. Brown marmorated stink bug adults from the summer generation generally start appearing in the first week of August in the Berrien County area. Leaf samples for foliar tissue analysis should be collected from mid-July to mid-August.
In peaches and nectarines, Redhaven harvest is about one week away in central Berrien County. Adequate soil moisture is important to achieve fruit size. Brown rot is becoming more common on split pits and fruit damaged by insects. X-disease symptoms are showing up on leaves. Oriental fruit moth larvae entries into fruit are being seen now. Leaf drop and fruit marking due to bacterial spot is showing up on susceptible varieties. Fruit speckles due to bacterial spot is common on varieties with fruit resistance but poorer leaf resistance to this disease.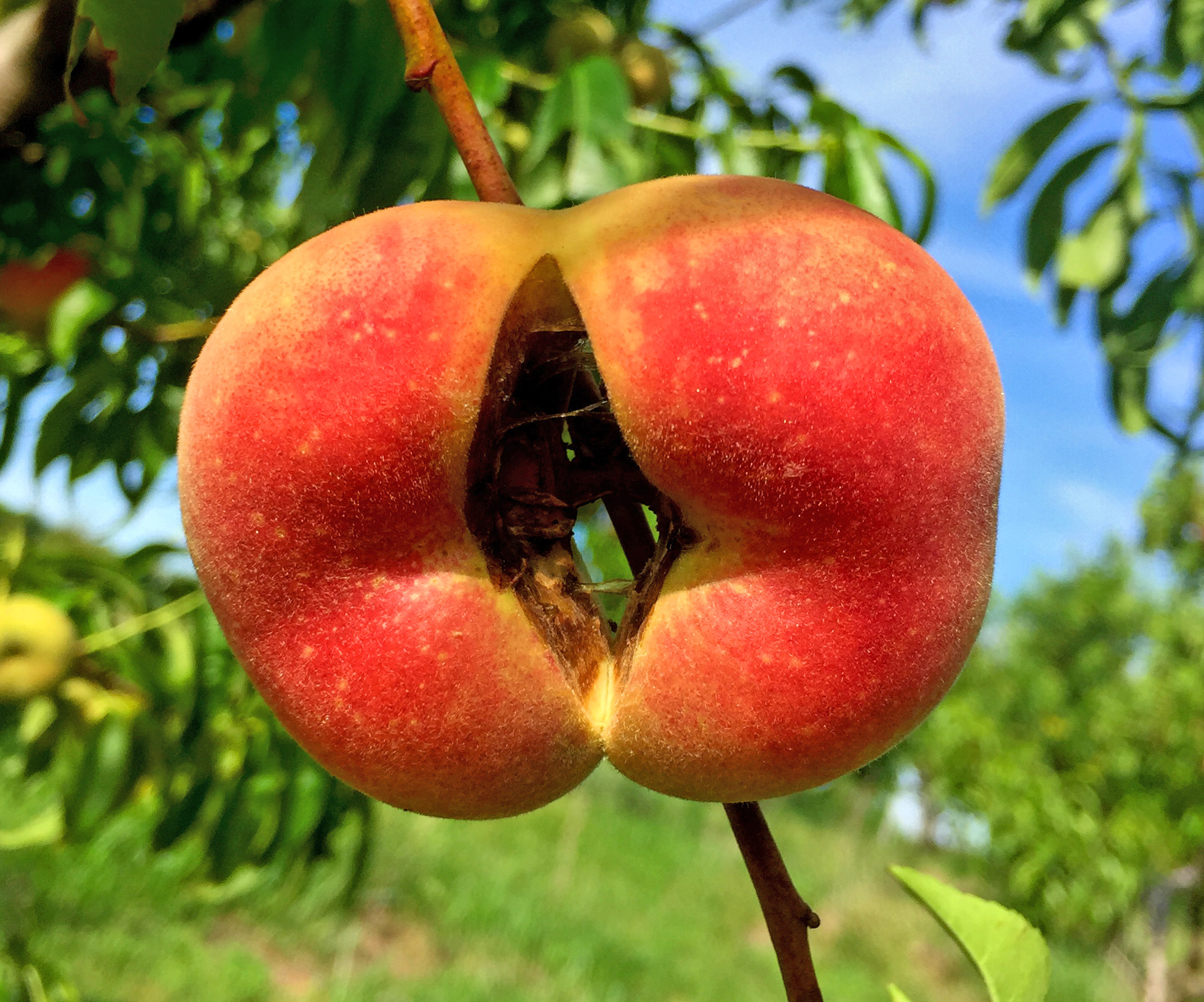 In cherries, sweet and tart cherry harvests are complete. Cherry leaf spot symptoms are common in the tops of many trees. To prepare the trees for the winter and next year's crop, continue protecting the leaves from cherry leaf spot. See: Low spray programs for tart cherry.
In plums, Shiro harvest should start this week. Most European plums have turned blue. Brown rot is showing up on fruit damaged by insects. Plums held on the tree until soft ripe are susceptible to spotted wing drosophila attack.
Apple fruit are 2-plus inches in diameter. The sooty blotch and flyspeck model predicts that infections of these diseases are likely established in orchards and need ongoing treatment, with reapplication when rain has likely reduced coverage. Apple maggot emergence is increasing. Traps should be placed to monitor susceptible sites. Potato leafhopper and green aphid populations are building on tender leaf tissue. Codling moth and oriental fruit moth entries into fruit are showing up now.
In pears, Bartlett fruit are large enough to be susceptible to codling moth damage. Like apples, pears should be protected against sooty blotch and fly speck. Pear psylla continue to become easier to find. Russeting of fruit and leaves is showing up in some orchards, probably due to slight chemical phytotoxicity during recent hot weather.
Small fruit
Spotted wing Drosophila (SWD) numbers are rising in southwest Michigan with cooler, humid weather. We expect SWD numbers will climb quickly with ripe berries in the woods as well as abundant blueberries and raspberries. Leaf samples for foliar tissue analysis should be collected from mid-July to mid-August.
Most grapes are at berry touch or bunch closing. Some early hybrids such as Marquette are beginning veraison. The disease focus is on preventing downy mildew and powdery mildew infections. Choose fungicides carefully to control both diseases. Downy mildew favors wet conditions and we are starting to get heavy dews in the morning. Scout for downy mildew on the leaves and protect the leaves from infection. Downy mildew can spread rapidly with these heavy dews and defoliate the vines in August.
Powdery mildew prefers high humidity and warm weather. Powdery mildew seems to be widespread this year. As clusters close, remember botrytis bunch rot. To reduce this disease at harvest, good fungicide coverage is needed inside clusters now.
Japanese beetle damage is continuing to increase. In recent years, Japanese beetle populations are not usually large enough to cause economic damage to healthy productive vines, but damage can cause significant stress to young vines. Grape berry moth larvae are being found. Maintain good insecticide coverage for the remainder of the season for this pest. For information on what to use and when, see: Mid-season management of grape berry moth.
Blueberry harvest is continuing. Harvest has ended for many early varieties. Machine harvest of Bluecrop is common. Jersey harvest is underway as well and Elliott fruit is beginning to color. The hot, dry weather has stressed the plants. Phomopsis cane collapse continues. Growers struggled to maintain their irrigation under these hot, dry conditions. Fruit size has been generally good but later harvesting berries are smaller, especially in non- or poorly irrigated fields. The heat seems to have accelerated ripening. Anthracnose is common. For fungicide recommendations, see: Blueberry growers need to focus on Anthracnose fruit rot as bloom ends.
Few blueberry maggots are being caught. Since most growers maintain tight coverage for SWD, blueberry maggot has become an occasional pest. Many fields of processing berries will not be harvested due to low prices. These abandoned fields serve as SWD nurseries increasing the numbers of flies around sprayed fields. SWD numbers are climbing quickly now.
In strawberries, new growth continues in renovated fields. Maintain protection against potato leafhopper and leaf spot diseases.
Bramble harvest of summer red raspberry is winding down in the heat. Blackberry harvest is getting underway. SWD is the major insect pest of brambles and can destroy the crop quickly. Treat SWD as a disease and focus on keeping it out rather than letting this pest become established. Pick ripe fruit frequently so that ripe fruit are not available to the pest for long.
Currants harvest is ending.
Cranberry have small fruit.
Upcoming meetings
This year's Viticulture Field Day has moved online. Instead of a full day program, the event will include five days of lunchtime webinars highlighting one MSU researcher's viticulture work. The event will be held July 27-31 from 12-12:45 p.m. each day. View event details and registration information.
Related resources