Southwest Michigan fruit update – June 30, 2020
The warm, dry week has moved many fruits. Early color can be seen on cherries and many small fruits.
Weather
The weather continues to be warm. Last week the highs were in the upper 80s. A cold front on Friday night, June 26, brought strong storms with heavy rain and high winds. Damage from the high winds was common. Rainfall totals from these storms ranged from 0.5 to 1.4 inches. Heavier rains fell in portions of Michigan north of the region.
Hot temperatures will continue this week with highs near 90 every day. There is only a chance of rain and it will likely be spotty. This heat will use up all the moisture from the recent rains and soils are very dry. Under these hot, dry conditions, plants will be using a fifth of an inch of water a day or more. Growers with irrigation should be irrigating.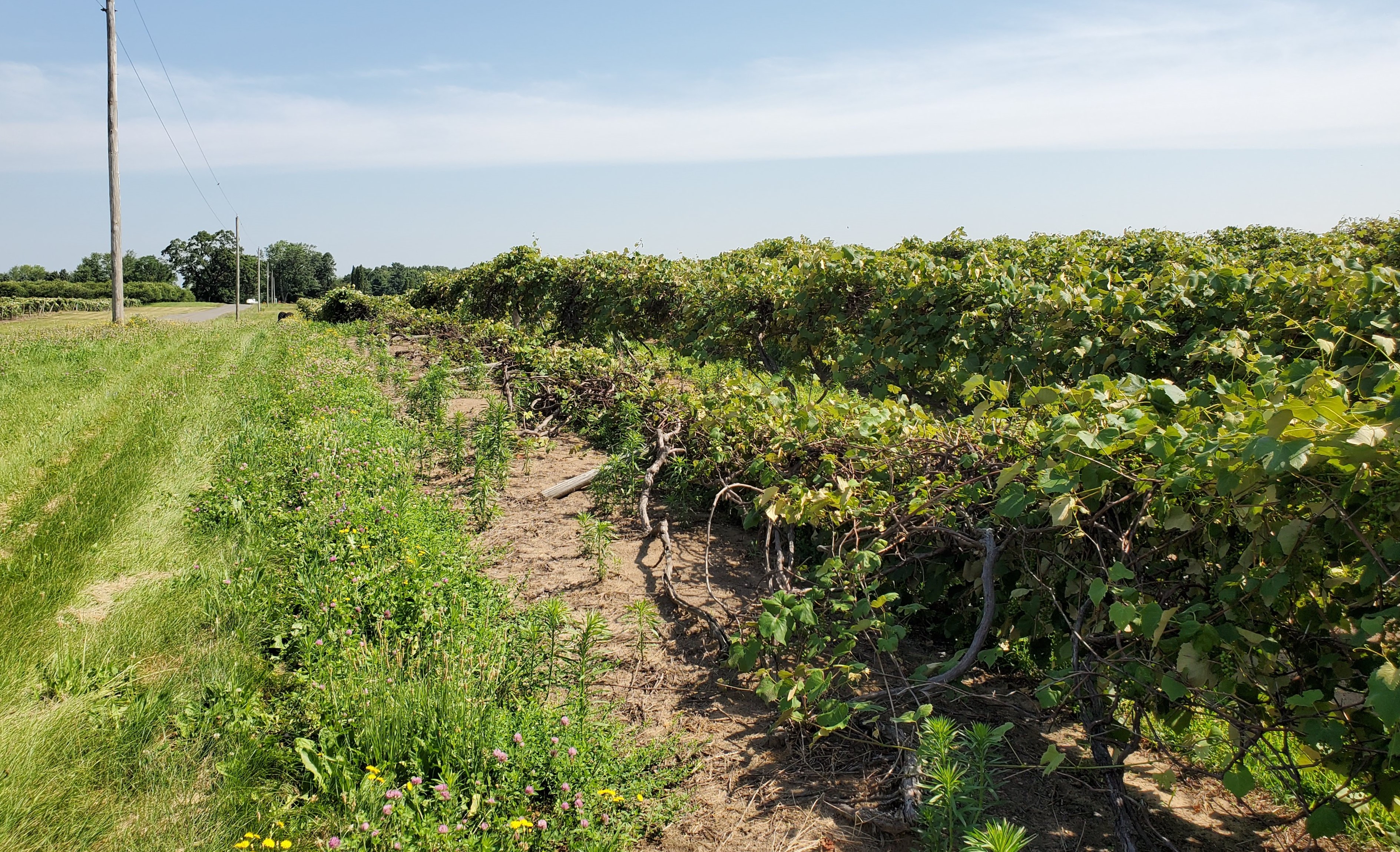 With the warm week, we picked up a lot of growing degree days (GDD) last week: 195 GDD base 42 and 140 GDD base 50, respectively 28 and 20 per day.
Southwest Michigan GDD summary from March 1 - June 28, 2020

Station

GDD 42 F

GDD 45 F

GDD 50 F

Benton Harbor (SWMRC)

1517

1286

947

Lawton (Lawton)

1511

1277

935

Fennville (TNRC)

1365

1141

816

Average for the SW region

1492

1260

922

Average last week

1297

1086

783
Tree fruit
The second flight of oriental fruit moth has started. Codling moth, San Jose scale and obliquebanded leafroller flights are declining. Lesser peach borer flight appears to be in decline.
Peaches and nectarines are averaging 1.75 inches in diameter with pits now hard. The estimated harvest date for Red Haven in central Berrien County for 2020 is Aug. 4. Early season varieties such as PF-1 and Desiree are expected to start to ripen in the first week of July. Both lesser and greater peach tree borer adult moths are being caught. Oriental fruit moth flagging of terminal growth is becoming easier to find but still rare.
In cherries, sweet cherries are being harvested. Tart cherries are red and harvest should begin next week. The crop is so light, many growers will not be harvesting tart cherries. Brown rot has been seen in sweet cherries. Sweet cherries are always susceptible to brown rot. Brown rot management is important when warm temperatures and rain occur together. Cherry leaf spot symptoms are common in some sites. Regardless of the crop load, growers need to protect the leaves from cherry leaf spot. See "Low spray programs for tart cherry." Spotted wing Drosophila (SWD) are being caught in area traps. The numbers are still low, but watch for a possible sharp increase in population especially in areas with a light crop and no insecticide treatment where the pest population can build rapidly.
In plums, European (Stanley) and Japanese (Shiro) plums are approximately 1 inch in diameter in central Berrien County. Crop potential is generally better for European plums than Japanese types. The beginning of summer plum harvest is about two weeks away. The need for black knot treatment is decreasing as shoot growth stops. Bacterial spot symptoms on fruit continue to expand.
Apple fruit range from 30 to 45 millimeters in diameter. Fire blight symptoms are rare. Friday's storm was a trauma blight event and many growers applied sprays after the storms. With the current warm temperatures symptoms from this event could show up by early July. Susceptibility to powdery mildew decreases as terminal growth slows. Scab symptoms are very common on unprotected crabapples. The sooty blotch and flyspeck model on Michigan State University Enviroweather predicts when symptoms will appear. There is a lot of variation between sites and growers should check several sites to assess their risk. Some sites have less than 100 hours of wetness and others almost 250. NAA treatment to enhance return bloom generally should start approximately five weeks after full bloom, with two additional spray treatments at seven and nine weeks after full bloom.
Enviroweather also predicts the apple maggot emergence window will open soon. Traps should be placed to monitor susceptible sites. Potato leafhopper and green aphid populations are building on tender leaf tissue.
In pears, Bartlett fruit are approximately 1.5 inches in diameter. Pear scab and watching for fire blight symptoms are the primary disease concerns now. Pear psylla are becoming easier to find. Removing watersprouts at this time will help to remove places for psylla to multiply.
Small fruit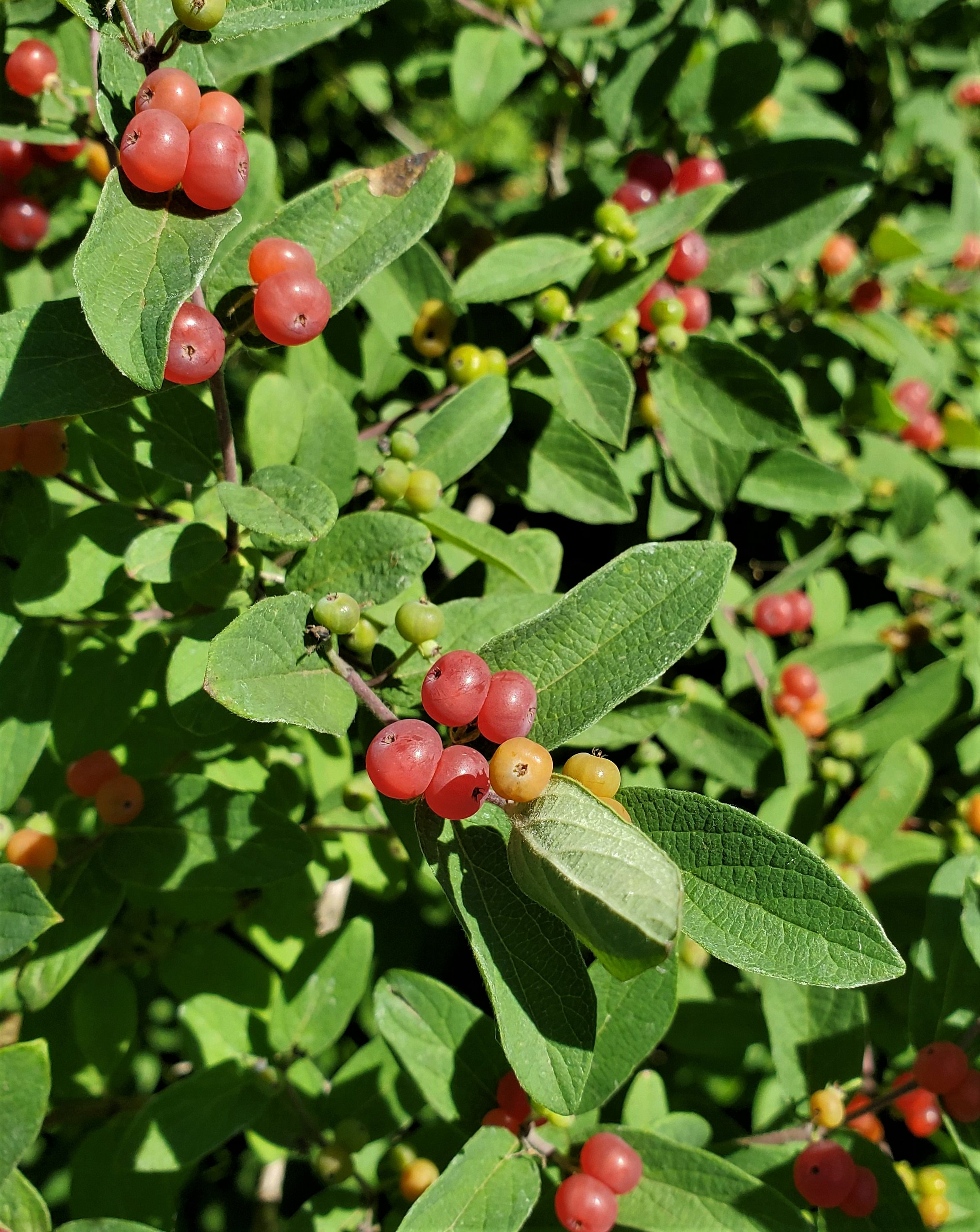 Spotted wing Drosophila (SWD) is being trapped in southwest Michigan. SWD numbers vary a lot with some reporting large numbers and others only a few. We expect that SWD numbers will climb quickly with ripe strawberries, black raspberries and wild fruit ripening such as Bush Honeysuckle (Lonicera).
In grapes, Vinifera bloom has ended. Juice grapes and early hybrids are at buckshot berry. We are nearing the end of the window for controlling black rot and phomopsis. The disease focus shifts to downy mildew and powdery mildew infections. Downy mildew has been reported this year but powdery has not. Choose fungicides carefully to control both diseases. Downy mildew favors wet conditions especially heavy dews in the morning. Powdery mildew favors high humidity and warm weather.
Grape berry moth catches have been extremely high in some areas. With the challenges controlling the pest last year and the high catches this year, focus on controlling this pest. Using a general date of June 2-4 for biofix grape berry moth egg laying should begin about July 5, so controls should be applied next week. Growers have been combing shoots in juice grapes to pull down the running brush on the trellis and position the shoots perpendicular to the trellis. This window is rapidly closing as the tendrils are becoming stiff and tight. Growers have also started leaf pulling on vinifera grapes. This allows for better spray penetration and more light to reach the clusters.
Blueberries are at green berry. Early varieties such as Bluetta and Duke have ripe berries, and harvest is underway in early sites. It is easy to see the cold spots in fields where the bushes have very few leaves. Sudden death of shoots, where the leaves dry out and do not fall as the shoot collapses and dies are due to phomopsis. There are no effective sprays to stop this shoot collapse at this late timing. Shoot growth has stopped, and the few actively growing shoots are wilting in the heat.
Growers will need to irrigate with the hot, dry conditions forecast for this week. Growers with overhead irrigation should focus on protection against anthracnose. See "Blueberry growers need to focus on Anthracnose fruit rot as bloom ends." Consider irrigating at night when the temperatures are cooler rather than the day, so the wetting periods occur during cooler periods. Use systemic fungicides, which are absorbed into the fruit to reduce fungicide wash off from sprinkler applications.
Cranberry and cherry fruitworm flights and egglaying are ending. Biofix was Monday, June 1, for both these insects. Growers can use the predictive tool on Enviroweather to time their fruitworm control sprays. See "Fruitworm control in blueberries for 2020." There are some leafroller larvae and other insects out but generally not in numbers that need control. Blueberry maggot were trapped at the Trevor Nichols Research Center but since most growers maintain a strict coverage for SWD this has become a minor pest. SWD numbers vary a lot with some reporting large numbers and others only a few. We expect that SWD numbers will climb quickly as wild fruit such as Bush Honeysuckle (Lonicera) ripen.
Strawberry harvest is ending. The heat ripened the fruit quickly, so harvest was fast. Growers are beginning renovation, mowing their fields. You can spray 2,4-D herbicides before or after mowing depending on weed pressure. The rows should be narrowed, and the middles tilled before applying residual soil herbicides to control germinating weeds. For more information on renovation, see "Renovate perennial strawberry fields to maximize yield next year."
Bramble fruit is coloring, and ripe fruit are being harvested. SWD in the major insect pest of brambles and can destroy the crop quickly. Treat SWD as a disease and focus on keeping it out rather than letting this pest become established. Pick ripe fruit frequently so that ripe fruit is not available to the pest for very long.
Currants are ripening. Champagne variety harvest has begun.
Related resources