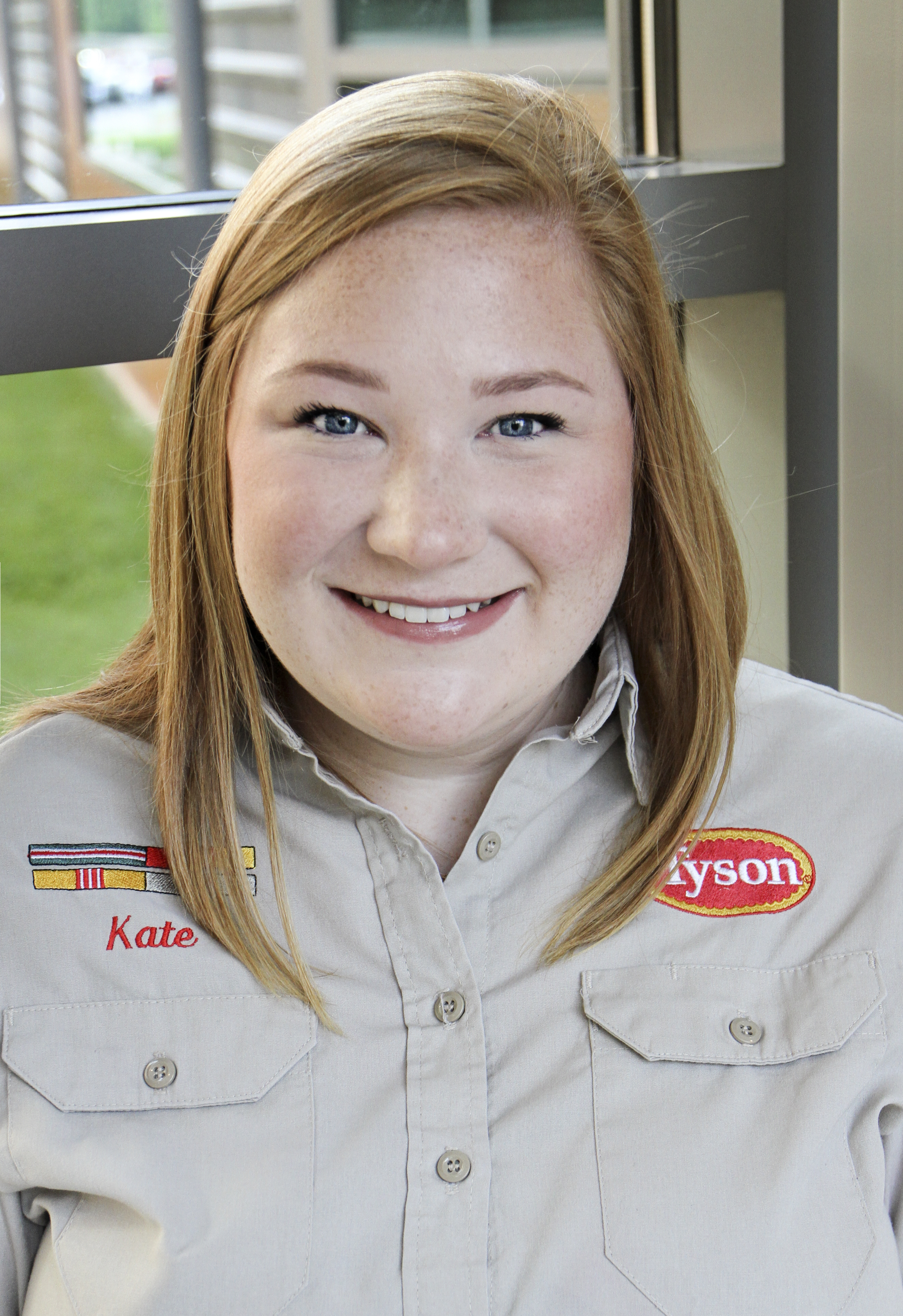 As she's risen up through the ranks at Tyson Foods, Food Industry Management alumna Kate Taylor has had one central mission — "I want to instill passion in others for the jobs we're doing here."
Originally from East Lansing, Taylor currently serves as a Senior Training Specialist of Health & Safety in Springdale, AR for Tyson Foods, a Fortune 100 company and number one on Fortune magazine's list of the World's Most Admired Companies in food production. After attending their Operations Summit as a student at Michigan State University, she was offered a position as an Operations Associate, and started her path within the company.
"I didn't always want to work in the food industry," said Taylor. "During my junior year, I wanted to pursue a career in workplace safety after my job with RHS Health and Safety led me to an internship with Walt Disney Parks & Resorts. But after taking FIM classes, I realized I could go in any direction I wanted within the food industry, not just glued down to one role."
That realization has taken Taylor through several roles at Tyson, including Food Safety Quality Assurance Supervisor, Assistant Recruiter, and her current role in health and safety.
"My different roles have taught me a lot, but my time in FIM and AFRE really did prepare me for the majority of them," said Taylor. "I not only got a deeper look into the food industry, but I gained interview skills, resume building, business etiquette — you name it! I'm so grateful to have had Larry Zink and ABM 210, as well as the great advice and counsel from Ruthi Bloomfield. The faculty and staff really set me on the right path before and after graduation."
Since starting at Tyson in 2016, Taylor has developed a passion for teaching, exciting, and motivating others within the company, and has become an advocate for health, safety, and engagement during the work day.
"Since I'm training team members in safety culture, I hope at least one of my impacts is keeping them safe at work," said Taylor. "But if there is one way to make my mark at Tyson, I hope it would be to instill passion for the jobs we do here. We feed the world, and I think that is quite a privilege."
While Taylor continues to work toward bettering health and safety practices at Tyson, she'll also begin a Master of Science program in Management, Strategy and Leadership in the Eli Broad College of Business in Summer, 2019.
"Don't get so wrapped up in titles, because you might miss out on something you really enjoy doing," said Taylor. "I never imagined myself working in a chicken plant or having a passion for poultry, and if I wouldn't have taken the chance and gone out of my comfort zone, I wouldn't have been exposed to the hands-on, fast-paced world of Tyson, where I have learned SO much, made best friends, and had tons of fun along the way."
Learn more about Kate Taylor and other AFRE alumni.