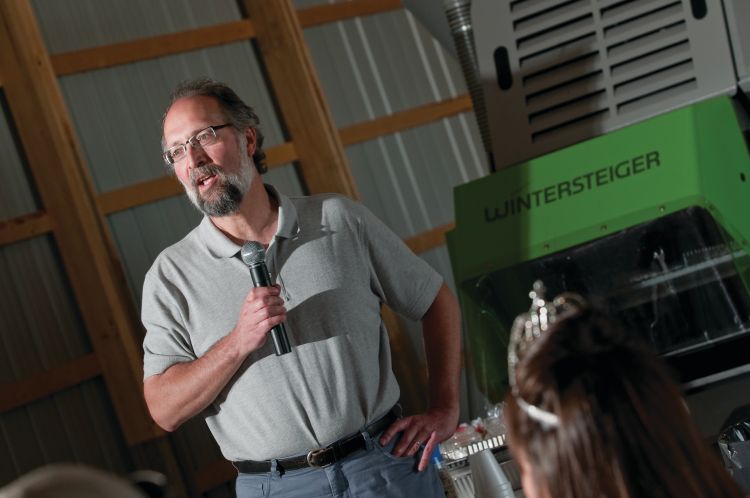 Tree fruits, like many other specialty crops, do not typically generate much private-sector support for research and outreach. But that doesn't mean they're not big business.
In Michigan alone, apples are the largest and most lucrative fruit crop, surpassing even cherries, which bring in nearly $100 million annually. Other tree fruits, particularly peaches and plums, have smaller footprints around the Great Lakes State, but certainly contribute to Michigan's great diversity in agriculture.
These fruit industries, all heavily reliant on public and industry support, faced critical needs several years ago when Michigan faced economic challenges. Collectively, they banded together along with Michigan State University (MSU) – one of its principal partners, to find a solution to keep the tree fruit industry competitive and sustainable.
Meeting the research infrastructure needs
Years of declining funding had manifested itself in numerous ways at MSU, especially in terms of research infrastructure. MSU has four off-campus facilities across the state that host tree fruit research: the Clarksville Research Center in Clarksville, the Northwest Michigan Horticulture Research Center in Traverse City, the Southwest Michigan Research and Extension Center in Benton Harbor, and the Trevor Nichols Research Center in Fennville.
A 2013 committee assembled by MSU AgBioResearch conducted a study that showed a correlation between the substantial decrease in funding for the MSU research centers and major needs for both infrastructure and staff.
"The study really opened our eyes to the fact that we had to find a new way of doing things if we wanted to maintain a strong industry," said Jim Nugent, a cherry grower and owner of Sunblossom Orchards in Leelanau County. "That means investing as an industry in research and extension."
Another member of the committee — Phil Korson, president of the Cherry Marketing Institute — saw an opportunity to bring together tree fruit commodities for a common cause.
"Because the four research centers already cover the four primary tree fruit crops — apples, cherries, peaches and plums — there was an obvious connection that brought the groups together," Korson said. "The timing was right, in that the State of Michigan has been very supportive of agriculture."
Several groups, including the Michigan Apple Committee, the Cherry Marketing Institute, the Michigan State Horticultural Society and the Michigan Agricultural Cooperative Marketing Association, recommended that growers band together to form a larger tree fruit organization.
After gaining the support of growers, the Michigan Tree Fruit Commission (MTFC) was born.
Paving the way for a brighter future
The MTFC was established in 2014 under Public Act 232, the same legislation that permits other commodity organizations to form and solicit grower funding for marketing activities. The commission consists of nine growers and has a five-year term before another vote by growers is required to continue operations.
Grower dollars have been matched by the State of Michigan, and thus far equate to $2.9 million. Korson said a unique benefit of the MTFC is that partners have agreed to perform administrative functions at no cost to the commission. Therefore, no formal support staff is needed.
"Having the administrative portion of the commission covered by the commodity organizations and MSU is of enormous benefit," Korson said. "It means that all of the money goes directly to the program for things like infrastructure, equipment and professional development."
Nugent is chair of the MTFC, and the commodity organizations handle many administrative tasks. MSU has provided services from financial management to communications and on-site research center oversight for new infrastructure and equipment. In addition to funds for meeting core MTFC objectives, growers and organizations have donated time and resources.
"We've had a great, collaborative experience so far and not just in terms of big-picture needs," Nugent said. "We have requirements outside of research projects — maintenance pesticides and everyday equipment. Items like that have been contributed, and that exemplifies the tremendous enthusiasm the commission has generated."
Faculty and staff positions at MSU have been filled with assistance from the MTFC, in the form of helping with funding for needed equipment and initial support. Two new faculty members in the Department of Horticulture, Todd Einhorn and Courtney Hollender, were hired in 2016. David Jones, an MSU Extension educator in western Michigan, and Marisol Quintanilla, a nematologist in the Department of Entomology, have joined the university as well.
"We're grateful to the commission's partners for entrusting MSU with the responsibility of delivering research and extension information to growers," said Doug Buhler, the director of MSU AgBioResearch. "Grower contributions to our research facilities underscore the important relationship that has developed over time. In just a few years, the MTFC has strengthened that bond by positioning us to meet long-term grower needs."
At the four research centers, tractors, sprayers, orchard platforms, deer fencing, irrigation controllers and pruning equipment have been purchased. One significant investment is a small-scale apple grading line for use by researchers and MSU Extension educators, which also received support from the Michigan State Horticultural Society, the Michigan Apple Committee and MSU.
The grading line is able to quickly rate apples using high-powered imaging software. The data collected informs reviewers about color, weight, external blemish detection and internal damage. As both a grower and chair of the MTFC, Nugent sees research and outreach as a way to enhance the reputation of Michigan's tree fruit industry – both throughout the state and across the country.
"Specialty crops like tree fruit receive relatively little private sector support in terms of research, so we rely on our growers and on public research at places like MSU," Nugent said. "Because Michigan is a dominant player in the cherry industry, for example, the entire country really looks to MSU for answers to a lot of questions. We are a leading provider of that knowledge, and that's true of other tree fruits as well."
Korson added: "We have set the stage for the next generation of fruit growers to have a robust research partnership with MSU to address the challenges that will come. I am very proud of what we have been able to do. It will pay long-term dividends for the fruit industry."
This article was published in Futures, a magazine produced twice per year by Michigan State University AgBioResearch. To view past issues of Futures, visit www.futuresmagazine.msu.edu. For more information, email Holly Whetstone, editor, at whetst11@msu.edu or call 517-355-0123.