The World Bank's Maximo Torero visited AFRE on Thursday, September 27, to present a seminar titled, "Risk preferences and decision quality of the poor."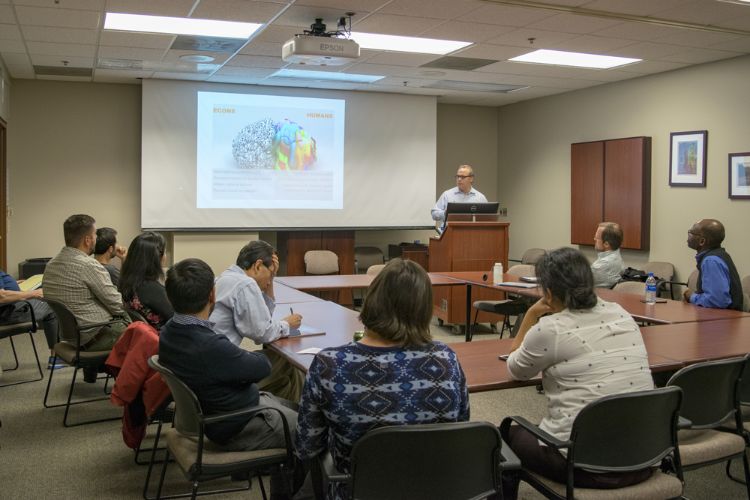 Maximo Torero, World Bank Group Executive Director for Argentina, Bolivia, Chile Paraguay, Peru and Uruguay, visited the Department of Agricultural, Food, and Resource Economics on Thursday, September 27. His seminar, "Risk preferences and decision quality of the poor," dug into risk preferences and decision making — suggesting that our choices are more random than we think.
"Historically, we've modeled decision making in black and white contexts," said Torero. "But our brains don't work like that. So we're looking into how inefficiency in our daily lives, in agriculture, in industry, can be explained by risk aversion and randomness of decision making."
Maximo has been the World Bank Group Executive Director for Argentina, Bolivia, Chile Paraguay, Peru and Uruguay since November 2016. Prior to joining the Bank, Maximo led the Markets, Trade, and Institutions Division at the International Food Policy Research Institute (IFPRI). His major research work lies mostly in analyzing poverty, inequality, importance of geography and assets (private or public) in explaining poverty, and in policies oriented towards poverty alleviation based on the role played by infrastructure, institutions, and on how technological breakthroughs (or discontinuities) can improve the welfare of households and small farmers. His experience encompasses Latin America, Sub-Saharan Africa, and Asia.
"Economists are here to make things simple," said Torero. "That's the way of thinking that drives all my work. We use high quality, technically sound methods to break something incredibly complex into something understandable and simple for policy makers."
Not only did Torero give a seminar, he also met with AFRE and Economics faculty members throughout the day.
"On one hand, Maximo is a very accomplished scholar who uses rigorous analysis tools and advanced models with all the bells-and-whistles in his research," said Eduardo Nakasone, AFRE assistant professor. "And on the other hand, he has substantial experience as a high-level policy maker. The combination of both provides him with unique insights on how to make high-quality research relevant to influence current policy debates in the developing world, and we were glad to have him speak with us."
Torero's campus visit was a welcome event on both sides, as he was able to visit his son, who is an undergraduate student in the Residential College in the Arts and Humanities at MSU. Currently working at the World Bank in Washington D.C., Torero received his Ph.D. from the University of California at Los Angeles (UCLA), held a postdoctoral fellow position at the UCLA Institute for Social Science Research (ISSR), and is a professor on leave at the Universidad del Pacífico and an Alexander von Humboldt Fellow at University of Bonn, Germany, and has won the World Award for Outstanding Research on Development given by the Global Development Network (GDN) twice.
Learn more about Maximo Torero and upcoming AFRE Seminars.