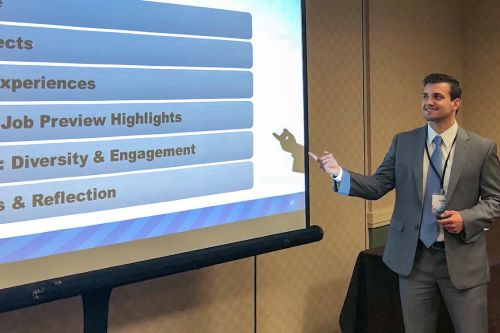 Agribusiness Management (ABM) and Environmental Economics and Management (EEM) senior Evan Toth doesn't sit back and ponder theories. Instead, he takes principles and ideas learned in class and immediately works them into real-world projects of his, from starting the Spartan Mountain Bike Club to excelling at his internship at PepsiCo Frito-Lay.
A Brighton, Michigan native, Toth came to MSU as an economics major and a wrestler. "After studying economics for a year I realized that I wanted something more specialized and switched my degree to Agribusiness Management," said Toth. "Part of that decision came from my time and experiences as a wrestler. Years of strict dieting while wrestling showed me the importance of food, what we eat, and how its produced, packaged, and sold."
Interning at Frito-Lay
After adding EEM as a second major, Toth was looking for a summer internship that allowed him to work independently and problem solve at a top-tier, environmentally conscious organization. The Sales Leader Intern position at Frito-Lay looked to be just that, and after connecting with their recruiters at the career fair, Toth accepted the Michigan-based position.
"I've absolutely loved my summer experience so far," said Toth, who is focused on a project that targets small-format urban stores such as gas stations, liquor stores, and small grocery stores. "My focus has been to ensure each store is fulfilling the requirements of their agreements and to perfect their product merchandising."
The detailed work for Toth varies from store to store, with some locations only needing small adjustments in their marketing techniques, while other stores need a complete layout reset. In this position, Toth is responsible for helping each individual location find success in selling Frito-Lay products.
"My internship has truly offered me an opportunity for application," said Toth. "I constantly need to problem solve and work with others to institute changes that will have a positive impact, and the ability to directly apply my coursework is priceless."
"I've been forced to think on my feet and make decisions on the spot. I've have learned to acknowledge when I need help and have confidence in myself so that when I do need help, I can reach out to others to ask for it," said Toth. "If I make a mistake during my work experience I could have a negative impact on Frito-Lay's business. On the other hand, I have the ability to make a positive impact on the corporation and help them to earn thousands of dollars in profit, which is challenging and thrilling."
Looking for Future Application Opportunities
Though Toth's internship is winding down, his drive for real-world application isn't going anywhere. A co-founder of the Spartan Mountain Bike Club at MSU, a fourth-year Resident Assistant, a representative at Moosejaw Mountaineering, and collaborator for the MSU Outdoors Club, Sierra Club, and Ski Club, Toth believes that in order to learn about the world and others, you have to be an active participant, on and off campus.
"Now that I'm entering my last few classes at MSU I can't wait to begin my career working in the field, putting my education and MSU experiences to good use," said Toth. "My end goal would be starting my own environmental consulting and sustainability firm. I feel many factories and warehouses, especially in the food industry, have tremendous opportunities for resource reduction — and I think my creative skills matched with my knowledge from our amazing ABM and EEM programs will allow me to make a real positive impact on the environment."
Toth will graduate in May with dual majors in Agribusiness Management and Environmental Economics and Management. "I'm so pleased to have found both EEM and ABM," said Toth. "Like most students, I wasn't positive what I wanted to study when I began at MSU. But focusing in on agribusiness offered me a way to narrow down the endless possibilities in the business realm, without closing any doors."