Understanding shelf-life testing for packaged food products
Helpful information from Alliance Analytical Laboratories based in Coopersville, Michigan.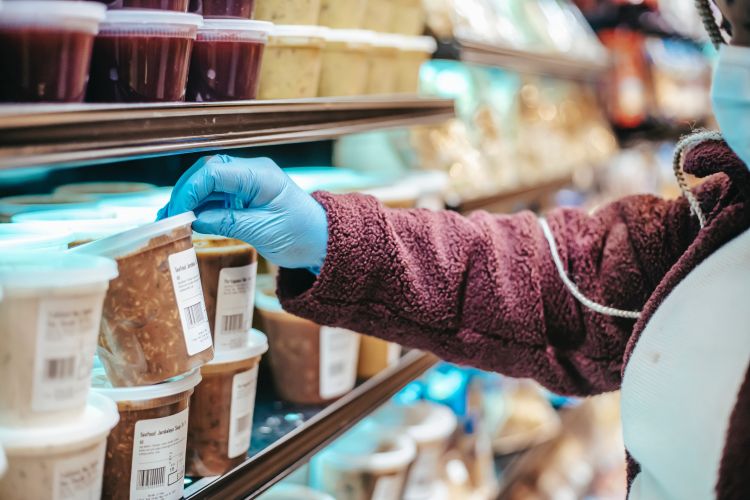 Michigan State University Extension's Product Center provides business counseling and specialized services for Michigan-based food, farming, and beverage businesses. Shelf-life testing is an important part of the product development process. Shelf-life testing determines how long the product can last on the shelf of a retail location. After the expiration date, stores will donate or discard products, because food safety and/or food quality standards must be met.
The MSU Product Center does not provide shelf-life testing. MSU Product Center counselors recommend food manufacturers contact a food lab to provide this service. The Michigan Department of Agriculture and Rural Development has a list of food labs in Michigan at this link.
Jeremy Runyan, with Alliance Analytical Laboratories, Inc., based in Coopersville, Michigan said, "There are a lot of variables that come into play for shelf-life testing depending on the product, formulation, processing steps, etc. In addition to the variables, there is no standardized method for shelf-life testing. Our lab tailors each study specifically to the product that is being tested to be certain it holds up to regulatory requirements."
Questions that food labs will ask
Some of the questions food labs will ask food manufacturers when developing a shelf-life study include:
What is the product?
Has the product been tested for pH and Aw (water activity)? If so, what are those values (if applicable)?
Does the product require refrigeration, is it frozen or is it shelf stable?
Is the packaging single-use or single serving?
Does the product go through a heating process? If so, for how long and what temperature?
Are the ingredients commercially processed?
What is the desired shelf-life of the product?
Types of shelf-life studies
Shelf-life studies are broken down into two categories: 1) Food Safety, which is directly concerned with potential pathogens and toxins which can cause illness in consumers; and 2) Food Quality, which is concerned with physical characteristics such as color, aroma, taste, and texture.
Runyan also shared that based on the answers to the questions listed above, food labs may design specific food safety testing methods for each individual product.
"For example, a granola bar product with a water activity (Aw) ≤0.85 is considered shelf stable. The food safety study for this product would be to monitor the water activity simply due to that specific value being the control and determination for shelf stability. If the expected shelf life is 3 months, the lab would monitor the product's Aw at 0, 1, 2, and 3 months and add a final testing point approximately 20-30% beyond the last test date. This is a "buffer" or a confirmation test point," said Runyan.
Another example Runyan gives is for egg salad—a high-risk product with a limited shelf life. He continued, "In this case, pH and Aw will not be tested because neither of these values is a control for specific pathogens such as Salmonella spp., Listeria monocytogenes, and potentially Staphylococcus aureus. The product must be refrigerated and held at a temperature ≤40°F. For this product, food labs would introduce regulatory recognized inoculum panels of Salmonella spp., Listeria monocytogenes, and Staphylococcus aureus into separate samples and quantitatively analyze them for the duration of time."
He continued: "This could be 7 days, 10 days, 14 days, 21 days, etc. The same rule applies to testing intervals, the confirmation date must be a minimum of 20% beyond the stated shelf-life. After the food lab has determined the food safety shelf-life of the product, food labs recommend that manufacturers conduct their own food quality analysis."
Additionally, food quality analysis is typically conducted by a food manufacturer. Food quality deals with changes in color, changes in flavor, or changes in the texture of a product. This type of testing cannot determine the food safety of a product, only food lab testing can do that. Manufacturers conduct food quality analyses by holding their products and examining them for discoloration, changes in flavor, and changes in texture. Food manufacturers know their products and are responsible for how the product looks and tastes.
Pricing for shelf-life studies
Regarding pricing for shelf-life studies, Runyan says that Alliance Analytical Labs and other food labs tailor each study and testing to the exact product. Food labs rarely have a set price for shelf-life testing. At Alliance Analytical Labs, for example, shelf-life studies will range from $400 to $800 for a typical shelf-stable product and 6 months of basic testing. He says that high-risk products that require challenge study assessments typically cost $900 to $2,000 (and above).
Connecting with your MSU Product Center counselor
The Michigan State University Product Center is a resource for Michigan-based packaged food and beverage manufacturers to develop business plans and understand licensing and regulatory steps for launching food and beverage products. Food and beverage manufacturers can request counseling from the MSU Product Center through the "Become a Client" link on the website. Beginning in July 2023, there will be a $100 application fee to join as a Product Center client.