Water system food safety inspections
There are several concerns regarding a water system inspection from a food safety perspective and compliance to the Food Safety Modernization Act Produce Safety Rule.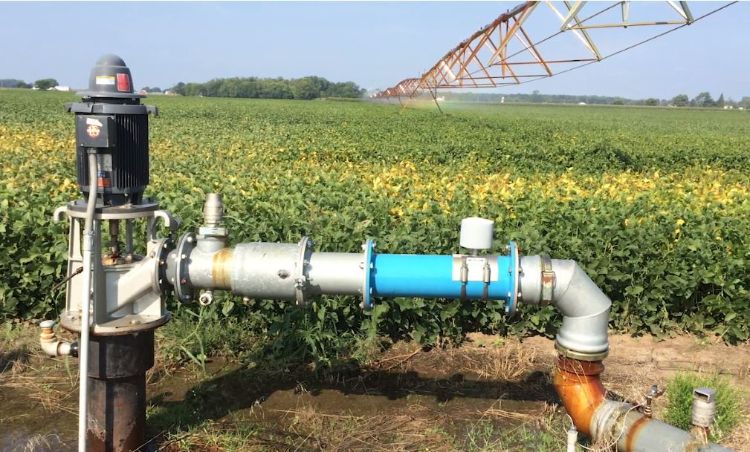 Inspecting irrigation water systems, much like monitoring fields for wildlife intrusion, is something that often happens without much thought to recordkeeping. Crops need water, so growers are always keeping an eye on and maintaining their irrigation equipment. When approaching irrigation from a food safety perspective, be it to meet requirements of good agricultural practices (GAP) or the Food Safety Modernization Act (FSMA) Produce Safety Rule, some key factors besides basic function need to be taken into account. This starts with thinking of the whole system, from the water source to the last emitter.
Why spend some time thinking about your whole system? It can help you make sure everything is in working order and it is now required under the FSMA Produce Safety Rule. For those already being audited by a third party in food safety or complying with GAP, these requirements will not be as in-depth as what growers are used to. The text of the FSMA Produce Safety Rule highlights several key components in §112.42(a):
112.42(a) At the beginning of a growing season, as appropriate, but at least once annually, you must inspect all of your agricultural water systems, to the extent they are under your control (including water sources, water distribution systems, facilities, and equipment), to identify conditions that are reasonably likely to introduce known or reasonably foreseeable hazards into or onto covered produce or food contact surfaces in light of your covered produce, practices, and conditions, including consideration of the following:
(1) The nature of each agricultural water source (for example, ground water or surface water);
(2) The extent of your control over each agricultural water source;
(3) The degree of protection of each agricultural water source;
(4) Use of adjacent and nearby land; and
(5) The likelihood of introduction of known or reasonably foreseeable hazards to agricultural water by another user of agricultural water before the water reaches your covered farm.
The considerations required under the FSMA Produce Safety Rule are qualitative in nature (i.e., is a water source very controlled by you, somewhat controlled by you or poorly controlled by you?) It requires the grower to make judgements to define the water sources. The other thing that a grower will see after following the criteria in §112.42(a) for a few years is the results likely will change very little if the water meets the water quality profile. These items serve to double-check everything that used to be true about the water system when the inspection was last conducted. It confirms that these things continue to be true.
To cover the last part of this requirement, an annual water system inspection can be conducted. Many parts of this inspection are likely wrapped up in the farm's day-to-day activities, and all you will need to do to comply is formalize things with a record. For example, your water system inspection will start by guaranteeing the integrity of the delivery system. These are usually obvious from pressure sensor monitoring. If pressure sensors show an unexpected pressure drop in the system, a grower's natural response is to go looking for the leak. Regular checks to ensure the function of the pressure sensors may help avoid going on wild goose chases looking for leaks that don't exist.
Apart from checking if pressure sensors are in working order, it is important to ensure check valves are functioning properly. This is only possible in those instances where a check valve is accessible. If the system you use does not have an accessible check valve, one should be installed when making equipment upgrades.
Another area of concern is the water intake area for surface water. In general, it must be kept "free of debris, trash, domesticated animals, and other possible sources of contamination of covered produce to the extent practicable and appropriate under the circumstances," according to §112.42(c) Checking for trash around the intake or any things the intake may have sucked to itself is essential to both meeting GAP requirements and the FSMA Produce Safety Rule.
If one of the sources of water is a well, it should be inspected as part of this annual inspection too. Look to ensure the wellhead is locked and the conduit pipe for the electrical is present and secure enough to prevent access of insects and other animals to the well. The same goes for the vent hole. It should be screened to prevent access. If a concrete pad exists, ensure that it isn't cracked, as this may be a sign that liquid is infiltrating the bentonite seal below it and swelling, placing pressure on the concrete.
Currently, the FSMA Produce Safety Rule water section is under review. It is important to understand, however, the requirements as they are currently proposed, as there are often key similarities between what was under review and what ends up being enacted. To find out more about water system inspections, check out this helpful Youtube video on water systems inspections created by Michigan State University Extension. If you have specific questions about water system inspections as they relate to the Produce Safety Rule or have difficulty performing one, contact the Michigan State University Extension Agrifood Safety Work Group at gaps@msu.edu or 517-788-4292.
Funding for this article was made possible, in part, by the Food and Drug Administration through grant PAR-16-137. The views expressed in the written materials do not necessarily reflect the official policies if the Department of Health and Human Services; nor does any mention of trade names, commercial practices or organization imply endorsement by the United States Government.