West central Michigan tree fruit update – August 24, 2023
This week has been hot and humid across the region. Peach and early apple harvest is underway. Pear harvest is around the corner.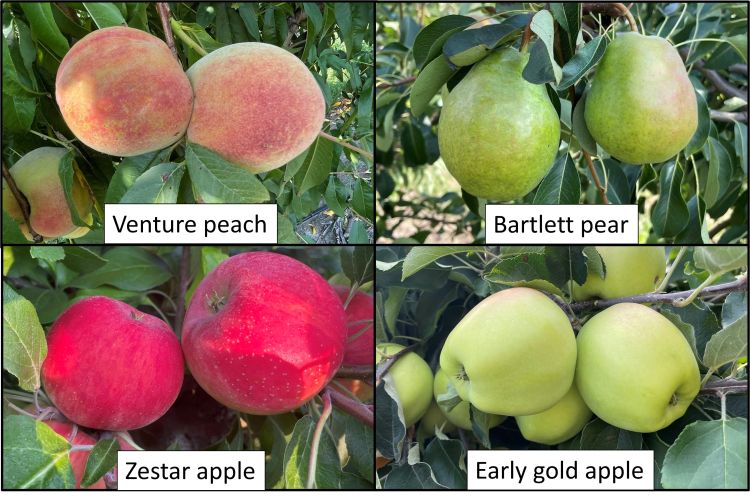 Weather update
The past few weeks have been hot and humid across the region with highs in the upper 80s and 90s over the past few days. Humidity has been high in the 70s and 80s over the past few weeks as well according to the Michigan State University Enviroweather station in Hart, Michigan. Temperatures will be slightly cooler over the next week with a gradual decrease in temperatures and highs in the upper 60s by Aug. 30. Low temperatures will dip down into the 50s over the next week.
Fruit of apple, peach and pear continues to grow steadily (Figure 1). Based on the Hart Enviroweather station for Aug. 24, current growing degree day (GDD) accumulation is 2,844 GDD42 and 1,860 GDD50.
Storm systems brought rain across the region on Aug. 6, 11-12, 14 and 17. Soil moisture has been low generally this season. Rainfall in August has helped replenish soil moisture levels compared to May and June, but rainfall from April 1 – Aug. 24 is down from the five-year average (Table 1). Slight chances of scattered showers are possible this week.
Table 1. Rainfall totals from Aug. 1-24, 2023; rainfall totals from April 1 – Aug. 24, 2023; and the five-year average seasonal rainfall from April 1 to Aug. 24 for Enviroweather stations in west central Michigan.

Station

Rainfall (inches)

Total rainfall (inches)

5-year average (inches)

Benona / Shelby

2.75

11.8

14.2

Elbridge / Hart

1.71

13.3

15.9

Fremont

1.72

12.8

14.3

Grant

2.41

12.6

15.1

Hart

3.00

11.5

15.4

Ludington

2.62

9.79

13.6

Mears

3.87

13.0

15.4

New Era

2.2

13.1

14.9

Shelby - East

2.47

13.7

17.0
Weather data was gathered from MSU Enviroweather.
Watch the full weather outlook from MSU meteorologist Jeff Andresen.
Soil temperatures are warm and maximum soil temperatures have been in the upper 70s and low 80s at 2 and 4 inches deep. Soil moisture at 4 inches deep is 5.8%. At 20 inches deep, it is 3.8%. A general consideration is that soil temperatures above 77 degrees Fahrenheit cause stress in roots, which may limit water and nutrient update. There is evidence that high soil temperatures above 86 F damage roots. Soils with higher percent sand tend to warm up faster than soils with more clay content.
Soil moisture also affects soil temperature. Dry soils warm faster than soils with higher moisture content. Soil and ground management systems that include various types of mulch coverage keep soils cooler and moister. More information about root stress, ground management systems and mulch application can be found below:
More information and reports on normal weather conditions and departures from normal can be found on the NOAA Climate Prediction Center website, NOAA U.S. Climate Normals website, NOAA Climate Normals Quick Access Page (which may be searched by region) and Midwest Regional Climate Center website.
Crop update
Apple varieties in Oceana County are sizing well. Some varieties such as Zestar, Honeycrisp and Minneiska are developing red color. Harvest of early apple varieties, such as Zestar, Paula Red and Ginger Gold, has begun for some growers. Predicted apple harvest dates are now available from Michigan State University Extension. Growers have summer pruned and began laying down reflective fabric to enhance red color development for early fresh market apple varieties. Cooler nighttime temperatures over the next week will enhance red color development.
Peaches continue to size and fresh market varieties are being harvested. Later processing varieties, such as Venture and Babygold, will be harvested soon. Venture peaches will be harvested at the West Central Michigan Research and Extension Center in Hart next week. Peaches are in Stage III growth. Stage III is a period of rapid growth of the skin and flesh of the fruit. This period is typically four to six weeks before harvest depending on the variety. The recent rains have enhanced fruit size over the last few weeks. Research has shown that, at this stage, additional water through irrigation results in larger fruit at harvest.
Pear fruit will be ready for harvest over the next few weeks. A full pear crop is anticipated this year, and pear varieties such as Bartlett, Gem and Cold Snap continue to size well. Growers are preparing for harvest toward the end of August and early September.
Pest and disease update
Current pests
In the west central region, continue scouting blocks to target hot spots for active pests in the orchard according to growth stage. Hot spots of woolly apple aphids, Japanese beetle and San Jose scale have been reported across the region.
San Jose Scale damage has been reported on fruit of apple and pear causing bright red spots. Scout to identify scale hot spots in the orchard. Second generation crawlers are still present.
Oriental fruit moth was trapped in Oceana County with an average of 13 moths per trap. Codling moth was also trapped this week with an average of only 1.7 moths per trap.
Dogwood borer was observed at an average of 0.3 per trap.
Lesser peachtree borer, American plum borer and peachtree borer were trapped in a tart cherry block in Oceana County, with four peachtree borers per trap, 23 lesser peachtree borers per trap, and six American plum borers per trap.
Adult obliquebanded leafrollers were also trapped this week with an average of 1 adult per trap.
Apple maggot adults were not detected at my trapping locations, but they have been reported in the region.
Current diseases
With recent rains, summer diseases such as sooty blotch and fly speck should be managed. The MSU Enviroweather model indicates adequate wetting hours for disease development at each weather station. For more information, check the summer disease model on Enviroweather for your local weather station.
Cherry leaf spot development has advanced rapidly in untreated trees at the West Central Michigan Research and Extension Center, and trees are largely defoliated. For treated trees where cherry leaf spot has been managed, cherry leaf spot lesion development on leaves is low.
Peach growers need to manage brown rot. Brown rot has been observed in orchards in Oceana County (Figure 2). With recent rains and high humidity, fruit are more susceptible to disease development, particularly for the three weeks leading up to harvest.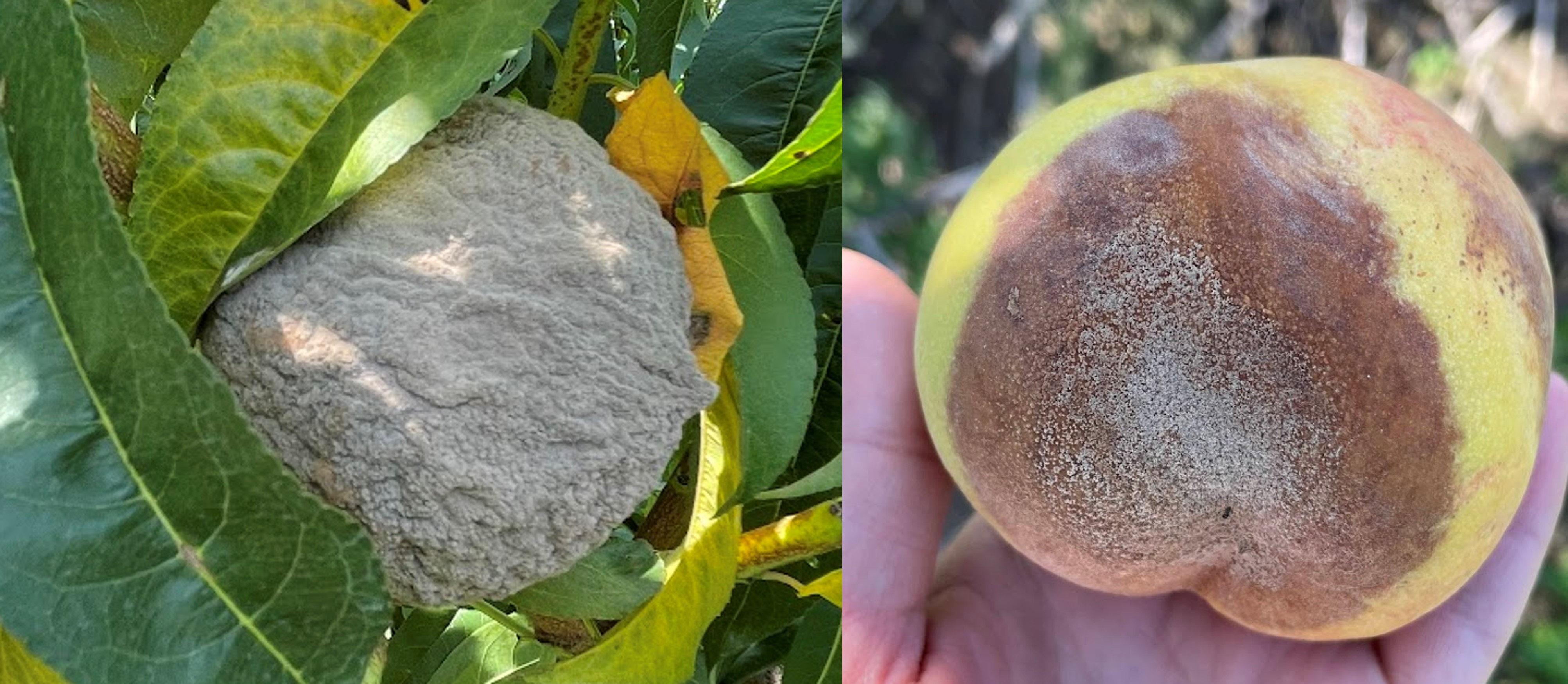 For pest and disease management recommendations, please refer to Fruit Management Guide (E-154) for product guidelines.
For more information about regional reports, please visit the Michigan State University Extension website.