West central Michigan tree fruit update – June 27, 2023
Rain brought some relief from dry, hot weather across the region over the past few days. Sweet cherry harvest has started for early varieties, and tart cherry harvest will begin after July 4.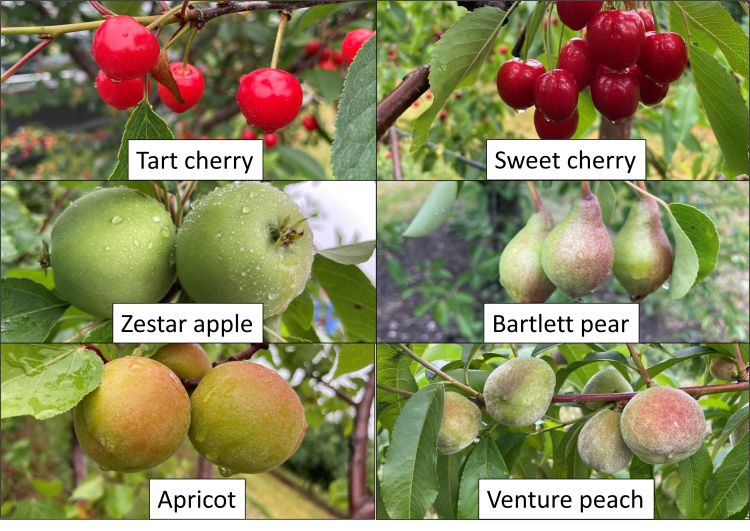 Weather update
The past week was hot and dry with high temperatures in the mid- to upper 80s according to the Hart Enviroweather station. Rain brought relief to the region on Sunday and Monday, June 25 and 26, respectively. This latest storm system also brought cooler temperatures with a high of 65 degrees Fahrenheit on Monday, June 26. This week, temperatures are forecasted to be hot again with highs in the mid-70s and low 80s. Based on the Hart Enviroweather station for June 26, current growing degree day (GDD) accumulation is 1,301 GDD42 and 781 GDD50. Fruitlets and new shoots continue to grow rapidly across west central Michigan.
Today, some areas had light rain in the morning. Poor air quality from smoke has been reported across west Michigan from Canadian wildfires.
Table 1. Current and five-year average GDD summary from March 1- June 27. Numerical integration was used for degree day calculations.

Station

2023 GDD Base 42 F

5-year Avg GDD Base 42 F

2023 GDD Base 50 F

5-year Avg GDD Base 50 F

Benona / Shelby

1253

1176

737

678

Elbridge / Hart

1300

1272

792

760

Fremont

1419

1362

887

826

Grant

1391

1366

861

826

Hart

1282

1255

766

742

Ludington

1207

1208

709

707

Mears

1252

1307

742

779

New Era

1348

1261

818

731
Weather data was gathered from MSU Enviroweather.
According to the Hart weather station, 0.42 and 0.31 inches of rain fell on June 25 and 26, respectively. Scattered rainfall was not heavy enough to replenish deeper soil moisture. Soil moisture at 4 and 20 inches deep is 9.9% and 0.6%, respectively. Soil temperatures have also cooled down by 10-15 F from 86 F on Wednesday, June 21, to 70 F on Monday, June 26. Chances of light rain are predicted later this week. The 8-14 day outlook is expected to be moderate and wetter than normal for this time of year. The rain has improved size and fruit quality overall. Growers should continue to irrigate to maintain adequate soil moisture for water and nutrient uptake, particularly for young trees.
Table 2. Rainfall totals from rain events on June 25 and 26, total rainfall from Jan. 1 – June 26, and the five-year average rainfall (not including 2023) for Enviroweather stations in west central Michigan.

Station

June 25 rainfall (inches)

June 26 rainfall (inches)

Total rainfall (inches)

5-year average (inches)

Benona / Shelby

0.63

0.42

8.54

10.5

Elbridge / Hart

1.02

0.21

9.34

11.7

Fremont

0.86

0.67

9.40

11.2

Grant

0.94

0.56

8.47

12.7

Hart

0.42

0.31

8.30

10.5

Ludington

0.78

0.27

5.90

10.4

Mears

0.29

0.51

8.82

11.1

New Era

0.69

0.50

10.2

11.1
More information and reports on normal weather conditions and departures from normal can be found on the NOAA Climate Prediction Center website, NOAA U.S. Climate Normals website, NOAA Climate Normals Quick Access Page (which may be searched by region) and Midwest Regional Climate Center website.
Watch the full weather outlook from MSU meteorologist Jeff Andresen.
Crop update
Apple varieties in Oceana County are sizing well. Average fruitlet size for Zestar was 51 mm. Minneiska average fruitlet size was 45 mm, and Honeycrisp average fruitlet size was 39 mm. Empire average size was 33 mm, Jonagold fruitlet size was 40 mm, and Gala fruitlet size was 31 mm. Some growers have been hand-thinning varieties that set heavier than expected, such as Gala.
Tart cherry fruitlets averaged 19 mm. Sweet cherry sizes ranged from 20 – 28 mm depending on the variety. Cracking has been observed on sweet cherries from recent rain events. Some products such as Parka and Rainguard can be applied to help minimize cracking and help strengthen the fruit cuticle. More information about cherry cracking and mitigation strategies can be found from an Oregon State University bulletin.
Peach fruitlet size for the variety, Venture, averaged 34 mm in size at the West Central Michigan Research and Extension Center (WCMREC).
Pear fruitlet size ranged from 27 mm for Bartlett pear at the WCMREC and 32 mm for cold snap pear at one location in Oceana County.
Pest and disease update
Pest cycles have generally been delayed this season due to hot, dry weather. Recent rains may bring out more pests in the next few weeks. Aphids and mites are still active in orchards.
Summer pests
American plum borer counts were zero per trap as of last week.
Codling moth counts were three moths per trap this week. This is likely still first generation codling moth. It may be a second group of first generation moths that were delayed by hot, dry weather over the past few weeks. Traps will be monitored to set the biofix date for the second generation, which will likely be in July.
Dogwood borer was observed this week with an average of 22 borers per trap. Mating disruption can still be used this season for dogwood borer if needed. Isomate DWB is an effective product to manage dogwood borer in tree fruit.
Obliquebanded leafroller was trapped this week at two Oceana County locations. With sustained catch at the WCMREC, a biofix date has been set for June 26.
Oriental fruit moth was trapped at 2.7 moths per trap in Oceana County.
Rose chafer was observed in orchards. This emergence timing is delayed from normal, which is likely due to the hot, dry weather. Rose chafer may be more active following recent rains. Adults feed on leaves and fruit. Damage can be more severe in sandy locations near the orchard edge and grassy areas.
San Jose scale is present in some orchards in the region. First generation crawlers were observed in mid-June. Targeting the first-generation crawlers will prevent mating and reproduction and will minimize the population of second-generation crawlers, which typically emerge in mid-August. For infested trees, targeted sprays or oils can be used to manage scale until crawlers develop a waxing coating. Monitor in blocks where scale was present on fruit in 2022. San Jose scale may feed on apple, pear, plum, apricot and sweet cherry. Review summer options for controlling San Jose scale.
Spotted wing drosophila (SWD) have been reported in Oceana County with one to two SWD per trap. With hot and dry conditions so far this season, SWD emergence was expected to be delayed. Hot and dry weather will keep SWD activity low during the day, but they will be more active during cooler times of the day in the morning and evening. Find more information about spotted wing Drosophila from Michigan State University Extension.
Disease update
American brown rot. Cracking from rain or wounding in sweet cherries leads to higher likelihood of brown rot infection. As fruit gets closer to harvest, susceptibility to brown rot increases. Consider if brown rot management is needed. Using Indar may not be effective, even at the highest labeled rate of 12 oz per acre. Previous research and resistance screening of American brown rot isolates in west central and northwest regions found that most screened fungal isolates had functional resistance to Indar. Find more information about this study. Effective materials for managing American brown rot include Merivon, Luna Sensation and Flint Extra. Full coverage of all rows will be important to manage this disease.
Apple scab. There was a scab infection period during the rain event on Sunday, June 25, and Monday, June 26. Spores were released and 17 spores per rod were found in Oceana County. Spore maturity is at 100%, and we are waiting for more rain and the final release of spores this season.
Cherry leaf spot risk has been low this season. There was an infection period reported June 25 and 26. No infected leaves have been reported yet.
Powdery mildew has been observed in apple and cherry orchards in the region. While apple scab and cherry leaf spot pressure are currently low, growers need to protect new growth from powdery mildew.
For pest and disease management recommendations, please refer to Fruit Management Guide (E-154) for product guidelines.
For more information about regional reports, please visit the Michigan State University Extension website.