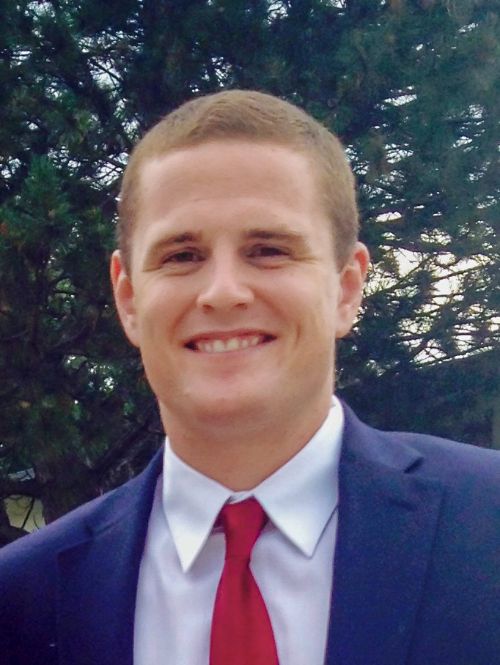 Corey Williams sells tomatoes. Or rather, he researches the market's needs, creates targeted business plans, and finds top talent for a value-added produce manufacturer that, among other things, sells tomatoes. An alumnus of AFRE's Food Industry Management (FIM) program, Williams has used and refined the business and people-centered skills he gained while in East Lansing to find himself leading R.S. Hanline Company's emerging Produce Brokerage Division.
"It's the people you surround yourself with that matter," said Williams. "And I learned that from the amazing faculty and staff within AFRE."
Williams found the FIM program mid-way through his college career and dove into the curriculum and student organizations as soon as he could, soaking in as much information as possible in classes and acting as president for the Food Marketing Association (FMA) his senior year. "FIM classes were some of the most helpful courses I ever took," said Williams. "I still use the sales skills, phone call tips, and budgeting frameworks Larry Zink taught us every day in my job."
That's the advice Williams has to give current students looking for opportunities within the food industry. "Rely on the faculty and staff within the department. I gained contacts, transferable sales skills, and connections to my current role by utilizing Larry and our advisors," said Williams.
"Corey took the classroom learnings from the 210, 410 and the sales course to heart about connecting with people, developing an understanding that is about the relationship," said Zink of Williams. "As President of FMA and a great student in the classroom, he understood the need for those people-centered skills. Without the relationship and connections made with colleagues, front line employees, and retailer and food services customers, those tomatoes and other products RS Hanline sells would just hang on the vine."
After graduating in 2013, Williams spent time as a Sales Associate at PepsiCo, where he picked up more industry experience at one of the largest food and beverage companies in the country. Always one to seize opportunities, Williams moved to a smaller-scale organization, where he could focus on personal experiences and broader business management.
In his current day-to-day responsibilities, Williams isn't using much food-specific expertise, but instead relying on the communication and business base he received from MSU, to be a key player in creating a whole new division of the Hanline Company. "I'm getting to think about the business as a whole and bring in people that understand our mission," said Williams of leading Hanline's Produce Brokerage Division. "It's an incredible opportunity for me that I wouldn't have had if not for the real-world skills I started pursuing while a student, and the attitude toward open doors that people like Larry encouraged me to have."
"Be fearless in your everyday approach towards life. Always remember, no question is ever a bad question."
Learn more about Corey Williams and the R.S. Hanline Company.