Winery owners are living the dream
First came the vision. Then Petoskey Farms Vineyard & Winery was established in 2014.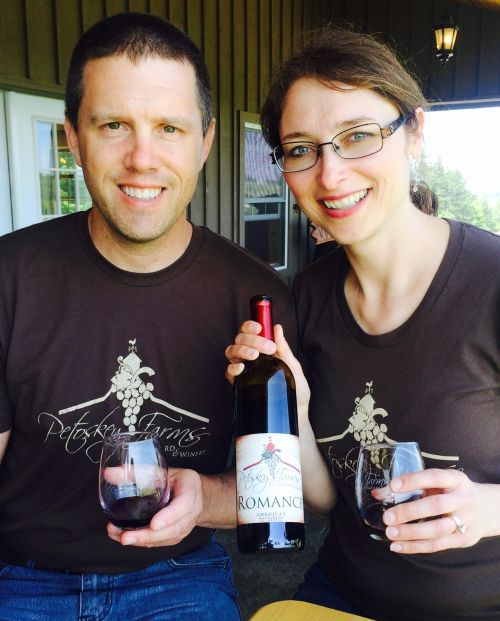 In planning since 2012, Tracie and Andy Roush await the first harvest of their own wine grapes. Owners of Petoskey Farms Vineyard & Winery have sought out resources and teamed with neighboring wineries to live and work in the grape and wine business.
The Roushs are part of a new breed of young farmers that are cropping up in Michigan. Their backgrounds in marketing and finance have been instrumental in their business planning. This was formalized during their initial work with Wendy Wieland and Joanne Davidhizar, Innovation Counselors with the Michigan State University Product Center.
The MSU Product Center offers business development assistance to start-ups through second stage companies working in the food, agriculture and natural resources areas.
Grand Traverse County-based Michigan State University Extension educator, Erwin "Duke" Elsner, assisted the Roushs early-on with site selection and soil fertility on their property.
Tracie participated in the 2013 Winery Development Conference sponsored by the Michigan Grape & Wine Industry Council and Michigan State University. "I was glad I went," said Tracie. "I met a lot of people and took it all in like a sponge." The Roushs also participated in online Viticulture and Enology Science and Technology Alliance (VESTA) classes, in partnership with the Michigan State University Institute of Agricultural Technology. They also attended grape and wine seminars through North Central Michigan College in Petoskey.
"The Roushs are dedicated, hardworking and smart, both about what they know and what they don't know. So many entrepreneurs suffer needlessly because they don't reach out to advisors, colleagues, etc., either because they are too busy or just reluctant to admit they 'don't know it all'. It has been fun to work alongside them to help suggest some answers to the questions their business journey has revealed," commented Wieland.
Andy and Tracie are active in the Northwest Michigan Bay View Wine Trail which has been an effective vehicle for attracting both seasonal and resident customers to their scenic location in the rolling hills outside Petoskey. The wine trail's nine member wineries are experiencing growth. This year, wine trail businesses project a 30 percent increase in sales through collaborative marketing efforts.
For information on marketing, managing or starting a food, agriculture, bio economy and natural resources business development, contact the Michigan State University Product Center website or 517-432-8750. Michigan State University Extension Innovation Counselors are available statewide for free business counseling.