Brent Ross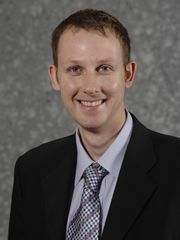 Department of Agricultural, Food, and Resource Economics
Associate Professor and Associate Chairperson for Undergraduate Programs
Telephone: 517-355-2266

446 W. Circle Dr., Rm 317B
Justin S Morrill Hall of Agriculture
East Lansing, MI 48824-1039
Area of Expertise:
Agribusiness Management
---
Degree:
Ph.D., University of Illinois
M.Sc., University of Illinois
B.Comm., University of Guelph
---
Publications on Google Scholar
Dr. Ross joined the MSU AFRE faculty in June 2008 as an Assistant Professor of Food Industry Management. He is appointed in the MSU tenure system. His primary research interests include the dynamics of entrepreneurship and the use of simulation methods to explore organizational phenomena in the agri-food system.
Current and previous research studies have focused on modeling the process of identification and exploitation of entrepreneurial opportunities in the agri-food system, the role of social capital in network formation and sustainability, financing alternative governance structures in agri-food industries, and business development in LDCs. In addition to his research, Brent also teaches courses in food industry management and food marketing. Prior to joining the AFRE faculty, Brent was a Visiting Assistant Professor of Strategy in the College of Business at the University of Illinois. He is currently working on Collective Entrepreneurship for Small and Medium-Sized Farms.
Research and Outreach Interests
Strategic management and the economics of entrepreneurship and innovation
New institutional economics and the use of alternative governance and marketing structures (i.e. contracting, direct marketing) in the food chain
Finance and governance issues associated with network formation and their sustainability
Value chain analysis in emerging and developing countries
Simulation methods, in particular system dynamics and agent-based modeling
Teaching Experience
AEC 857: Strategic Management in Agribusiness
AEC 932: Information Economics and Institutions in ANR