Balaton Recipes
"I have been testing Balaton® tart cherry in Michigan since its introduction in 1984. Through the years, family and friends have shared in my excitement for this new variety and have provided many of the recipes below. Certainly experiment with your own recipes. Just add a little sugar to Balaton® fruit and it is a wonderful ingredient."
"Jó étvágyat"
(Good appetite in Hungarian)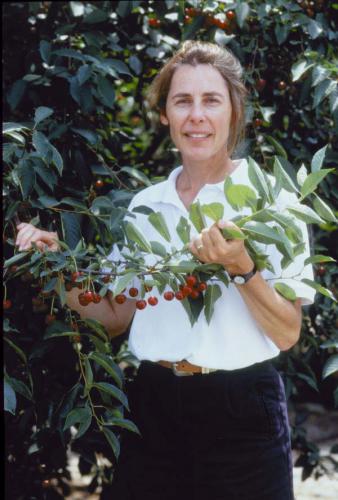 Above: Amy Iezzoni
If you have a favorite recipe and would like to share it, please send it to: iezzoni@msu.edu
Cherry Cream Cheese Cake
Ingredients: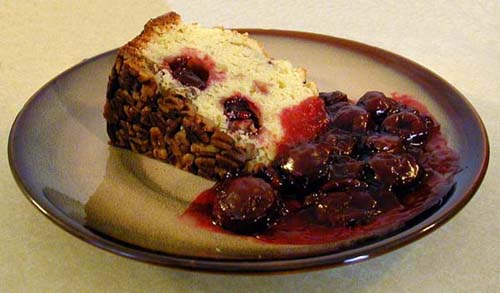 1 8-ounce package cream cheese, softened
2 sticks (8 ounces) unsalted butter, softened
1 ½ cups granulated sugar
1 ½ teaspoons vanilla
4 eggs
2 ¼ cups all-purpose flour
1 ½ teaspoons baking powder
1/8 teaspoon salt
1 cup of pitted fresh or frozen Balaton® tart cherries
¼ cup all-purpose flour
¾ cup chopped pecans
Directions:
Preheat oven to 325° F / 165°C
Cream the cream cheese, butter, sugar, and vanilla until smooth.
Beat in eggs one at a time.
Mix together 2 ¼ cup flour, baking powder, and salt.
Fold flour mixture into cream cheese mixture.
Dredge cherries in ¼ cup flour, fold into batter.
Sprinkle pecans over bottom of an ungreased, Teflon-coated 10-inch angel food tube pan. Bottom should be completely covered with pecans.
Spoon batter into pan on top of nuts.
Bake for about 75 minutes or until a toothpick inserted in the center comes out clean. Allow cake to cool in pan on wire rack. Ease cake out of pan and onto plate.
Cherry Sauce:
¾ cup sugar
4 tablespoons cornstarch
½ cup water
4 cups pitted fresh or frozen Balaton® tart cherries
¼ to ½ cup of Amaretto, optional
Cook ingredients over medium heat stirring constantly until mixture thickens, about 10 minutes. Remove from heat and stir in Amaretto.
Old Fashioned Cold Cherry Soup

(Hideg Meggyleves)
Ingredients:
3 cups cold water OR Juice from canned tart cherries (add cold water to make 3 cups)
½ cup granulated sugar
1 cinnamon stick
4 cups pitted fresh tart cherries or drained canned tart cherries (reserve the juice)
1 tablespoon cornstarch
¼ cup heavy cream, chilled
¾ cup dry red wine, chilled
Directions:

In a 2-quart saucepan, combine water (or cherry juice/water mixture), sugar and cinnamon stick. Bring to a boil; add the cherries. Partly cover and simmer over low heat 35 to 40 minutes if the cherries are fresh, or 10 minutes if they are canned. Remove cinnamon stick.
Remove 1/3 cup of warm liquid from the cherry soup; pour into a separate bowl. Whisk cornstarch into warm liquid; mix until thoroughly dissolved. Pour cornstarch mixture into the soup; stirring constantly, bring the soup almost to a boil. Reduce heat; simmer about 2 minutes or until clear and slightly thickened. Pour into a shallow glass or stainless-steel bowl and refrigerate until chilled. Right before serving, stir in cream and wine. Pour into soup bowls that have been pre-chilled.
Source: Dr. Miklos Faust [Nov. 22, 1988]