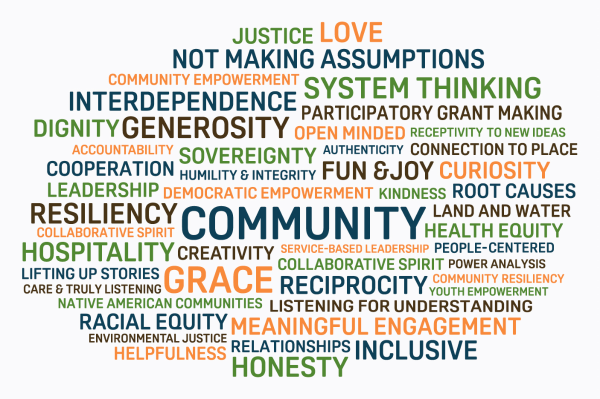 A Call to Build Trust and Center Values in Food Systems Work
DOWNLOAD
November 9, 2020 - Author: Sade Anderson, Kathryn Colasanti, Noel Didla, and Curtis Ogden
A Call to Accountability
In September of 2019, 70 people from across the U.S. came together to learn from each other about the work of coordinating state level food system plans. The initial intention for this gathering was to surface promising practices of developing and implementing food systems plans—meaning guiding documents, such as the Michigan Good Food Charter or the Vermont Farm to Plate Strategic Plan, that are developed with public input, set out a vision for the food system of a particular place, and identify high priority policies and strategies. Over the course of planning and hosting the three day convening, it became clear that a focus exclusively on technical practices was neither practical nor what participants were most interested in. Instead, it was the complex and adaptive process of bringing people together and the way in which we shared our time that most resonated with many participants.
To share more about the design and experience of the gathering, we—the facilitation team—first decided to write a reflection shortly after the event. Much has happened in the months that have followed. The urgency of our present moment in time can no longer be downplayed. The tumultuous events of 2020 have brought the long-standing inequities of our society into stark relief. Six months ago, we were prepared to inspire you to bring values and a focus on equity into your food systems work. Now, we are sending out a call to deep care and accountability to our fellow food system practitioners. If you are not actively working to counter white supremacy culture and structural racism, then your food systems work is in vain and you are reinforcing the status quo.
Many people have said, and will continue to say, "Equity is important—but don't forget the food system." But that attitude—the idea that equity sits in its own disconnected lane—is why 137 years after the Emancipation Proclamation, 66 years after segregation was deemed unconstitutional in Brown v. Board of Education, and 52 years after the Indian Civil Rights Act we are still marching for the rights of Black, Indigenous, and People of Color (BIPOC). Transformative change in the food system will not happen unless we work towards racial justice and equity. The very foundation of our mainstream food systems is laid with the legacy of stolen land, labor, and lives, and that legacy is in every corner of our country, including predominantly or exclusively white communities. One question we encourage those who live in such communities to ask is, "Why is this so? How did we come to be 'white' in the first place?" And importantly, "What happened to the peoples indigenous to this region?" Regardless of the racial composition of your community, we all need to work towards structures and policies that promote equity. Any community that implements equitable policies will help ensure such policies become standard everywhere. And when we prioritize the needs of the most impacted and marginalized among us, everyone benefits.
As a way to hold ourselves accountable to walking the path towards racial justice, we share here our reflections on two practices to advance equity that anyone can incorporate into their life and work: building trust and centering values, including racial equity. We describe what these threads looked like in a small national gathering—including both our personal experiences of the process, the practical event decisions we made, and what participants had to say. Our hope is to challenge you to consider all the ways in which your food systems work is either welcoming or exclusionary and either embodies equity or perpetuates "othering" and undermines the fight for racial justice. Our goal is to leave you with some reflections and some resources—ideas of steps you can take in the work you do and where to go to learn more.
---
The views expressed here are those of the authors and do not necessarily reflect those of Michigan State University.
Suggested Citation
Anderson, S., Colasanti, K., Didla, N., and Ogden, C. (2020). A Call to Build Trust and Center Values in Food Systems Work. Michigan State University Center for Regional Food Systems. Retrieved from http://foodsystems.msu.edu/resources/a-call-to-build-trust-and-center-values-in-foods-systems-work