An Annotated Bibliography on Structural Racism Present in the U.S. Food System, Seventh Edition
DOWNLOAD FILE
January 23, 2020 - Author: Rachel Kelly, Rich Pirog, Anel Guel, Jane Henderson, Kyeesha Wilcox, Taylor Wimberg, Vanessa García Polanco, Daniel Babayode, Kelsey Watson, and Emettra Nelson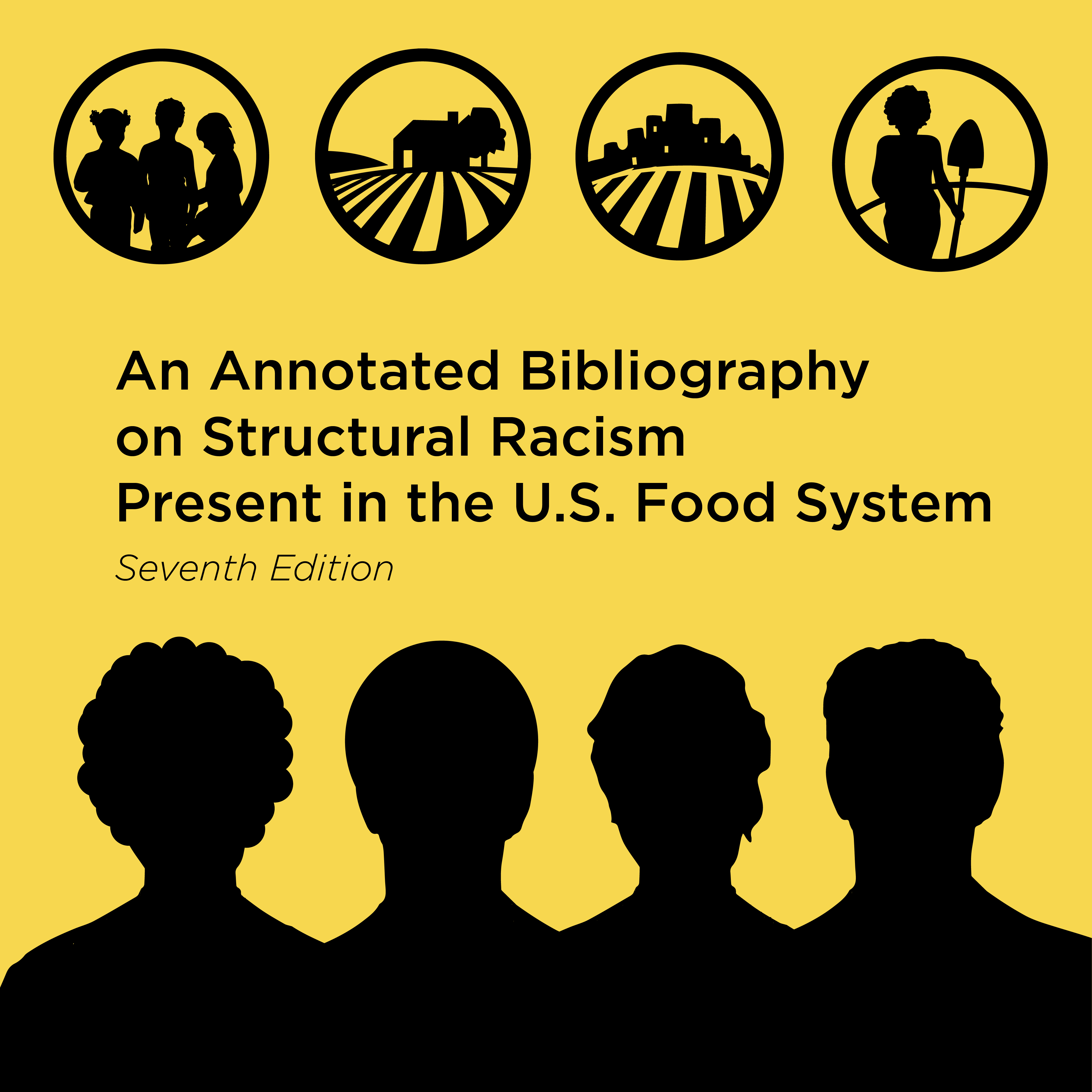 This annotated bibliography provides current research and outreach on structural racism in the U.S. food system for the food system practitioner, researcher, and educator.
Structural racism in the United States has been defined as the "normalization and legitimization of an array of dynamics—historical, cultural, institutional, and interpersonal—that routinely advantage whites while producing cumulative and chronic outcomes for people of color."
This resources identifies literature that links the social construction of Whiteness and its intentional or consequential impact on structural racism within the United States' local food movement. It is focused on recent peer-reviewed and gray literature* materials that are national, regional, and local in scope that included significant references.
The seventh edition contains 279 sources, including 10 new videos and 46 new journal citations.
Notably, a significant number of these new additions discuss food sovereignty within the frame of structural racism in the food system. In this current edition, our video curation includes recordings from webinars that focused on the intersection of food systems and racial equity.
A Zotero group library is available for the references cited in this document.
Zotero is a free software that lets users easily save, manage, and cite sources. You can create an online account at zotero.org or download the free desktop application, which allows you to sync with the group library and save documents to your computer.
Below is short tutorial video demonstrating how to use Zotero to access the citations.
---
To share feedback or suggest a resource for the next edition of this publication, please contact Rich Pirog at rspirog@msu.edu.
*Gray literature is the general name for scholarly or substantive information produced outside traditional commercial publishing and distribution channels. Common publication types include: theses and dissertations; technical reports; working papers; evaluation reports; conference proceedings; publications from NGOs, INGOs, think tanks and policy institutes; patent, and preprints.
---
This work was supported by the W.K. Kellogg Foundation.
---