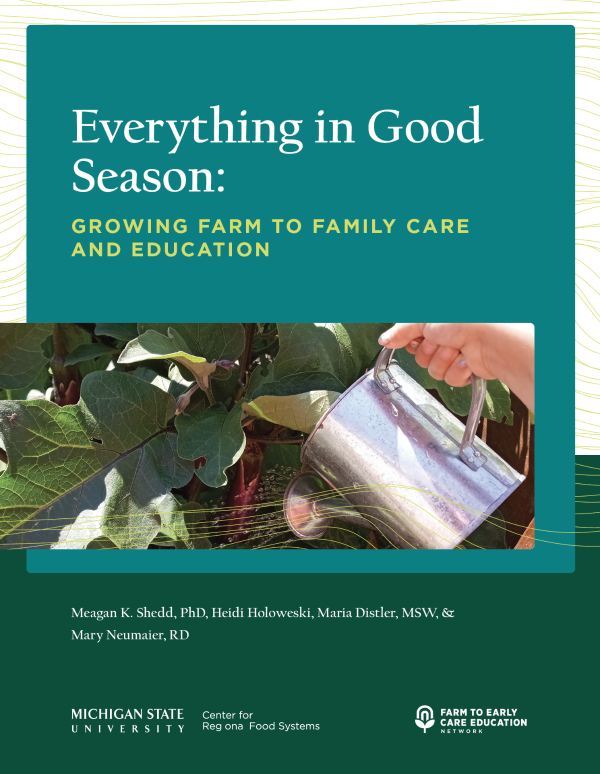 Everything in Good Season: Growing Farm to Early Care and Education
DOWNLOAD
February 28, 2023 - Author: Meagan K. Shedd, Heidi Holoweski, Maria Distler, MSW, Mary Neumaier, RD
Everything in Good Season is a farm to early care and education (ECE) guide geared toward home-based childcare settings. It brings together insights from ECE providers to share sourcing tips, seasonal recipes highlighting the Child and Adult Care Food Program (CACFP), and engaging activities. This free resource is specific to the needs of smaller groups of children in a home setting but can also be used as inspiration for groups of any size.
Within this guide, homecare providers will find engaging activities like Bean Plant Dress Up and Worm Delight, along with kid-friendly recipes, such as gingered carrots. Guidance is also provided on how to incorporate gardening into early care and education settings during each season.
This resource was co-authored by the National Kidney Foundation of Michigan. Funding for this work comes from the W.K. Kellogg Foundation and the Association for State Public Health Nutritionists.
Suggested citation:
Shedd, M.K., Holoweski, H., Distler, M., & Neumaier, M. (2023). Everything in good season: Growing farm to early care and education. Michigan State University Center for Regional Food Systems. http://foodsystems.msu.edu/everything-in-good-season
¡Ahora en español! Everything in Good Season (Todo en buena temporada) ofrece a los proveedores familiares de cuidado infantil actividades divertidas, recetas y recursos perfectos para seguir el Farm to Early Care and Education (La agricultura en la atención y la educación tempranas) durante todo el año.