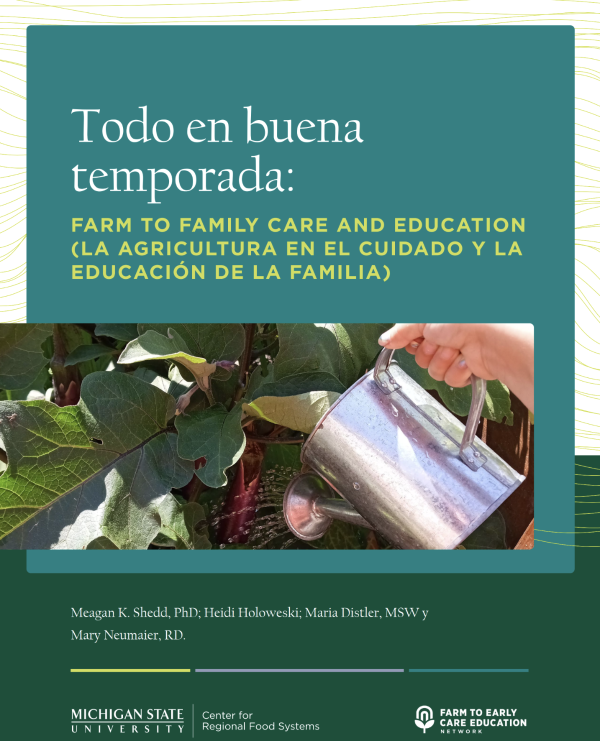 Todo en buena temporada: La agricultura en la atención y la educación tempranas
DOWNLOAD
May 23, 2023 - Author: Meagan K. Shedd, Heidi Holoweski, Maria Distler, MSW, Mary Neumaier, RD
Everything in Good Season (Todo en buena temporada) es una guía de farm to early care and education (ECE) (La agricultura en la atención y la educación tempranas) orientada a entornos de cuidado infantil en el hogar. Reúne los puntos de vista de los proveedores de ECE para compartir consejos de suministros, recetas de temporada destacando el Child and Adult Care Food Program (CACFP, Programa de Alimentos para el Cuidado de Niños y Adultos) y actividades interesantes. Este recurso gratuito, ahora traducido al español, es específico para las necesidades de grupos pequeños de niños en el hogar pero también se pueden utilizar como inspiración para grupos de cualquier tamaño.
En esta guía, los proveedores de cuidados en el hogar encontrarán actividades divertidas como Disfrazarse de Frijol y Deleite de Gusanos, junto con recetas para niños, como zanahorias al jengibre. Además, se ofrece una guía de cómo incorporar la horticultura en ambientes de atención y educación tempranas en cada estación.
La National Kidney Foundation of Michigan (Fundación Nacional del Riñón de Michigan) ha contribuido a la producción de este recurso. Este trabajo está financiado por la W.K. Kellogg Foundation (Fundación de W.K. Kellogg) y la Association for State Public Health Nutritionists (Asociación de Nutricionistas de Salud Pública Estatal).
Cita sugerida:
Shedd, M.K., Holoweski, H., Distler, M., & Neumaier, M. (2023). Everything in good season: Growing farm to early care and education. Michigan State University Center for Regional Food Systems. http://foodsystems.msu.edu/everything-in-good-season