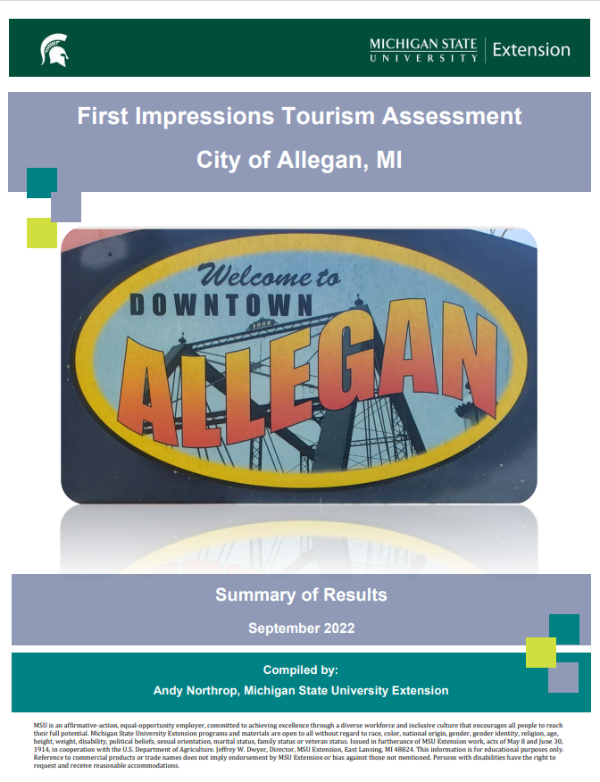 First Impressions Tourism Summary Report - City of Allegan, September 2022
DOWNLOAD
September 19, 2022 Author: C. Northrop
The First Impressions (FI) program was developed in 1991 by the University of Wisconsin Extension to help communities learn about their existing strengths and weaknesses as seen through the eyes of first-time visitors. The FI program has been used to help communities across the U.S. and Canada inform economic initiatives or further develop community goals and has been modified over the years by various Extension services based on different needs. Michigan State University (MSU) Extension adapted this program from West Virginia University Extension Community, Resources, and Economic Development (CRED) team via a multi-state grant provided via the Northeast Regional Center for Rural Development in 2014. MSU Extension's First Impressions: Tourism Assessments (FIT) is a unique version of FI for our state and, since inception in 2016 has continued to provide Michigan communities with a plethora of data and suggestions based from first-time visitor perspectives and experiences.
FIT is a comprehensive community assessment conducted by unannounced visitors in a host community. FIT helps participating communities learn about their strengths and weaknesses through the eyes of first‐time visitors. It empowers leaders and stakeholders to develop an action plan to improve their communities based on new perspectives and suggestions from first‐time visitors. These action plans ultimately strengthen the quality of life for residents and visitors. FIT has proven to be the catalyst needed to launch and expand small town tourism across Michigan. Launched in 2017 as a solution to encourage community-driven tourism, FIT has provided rural leaders and their stakeholders opportunities to collaborate around suggestions from first‐time visiting tourists.
The Michigan Economic Development Corporation provided funding for the City of Allegan to undergo the FIT program as part of their Redevelopment Ready Certification effort. The City of Allegan, Michigan began participation in the FIT program in early 2022. The results of FIT assessment and key findings were presented to the Allegan community in September 2022.