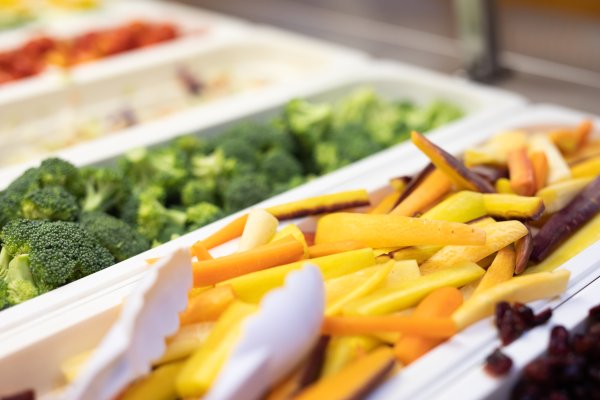 Michigan Farm to School: Serving Up Local Foods
DOWNLOAD
November 4, 2019 - Author: Colleen Matts
Farm to school centers around efforts to purchase and serve local foods for school food programs.
Farm to school also provides students with hands-on educational activities, such as school-based gardens, taste tests, and farm field trips.
Why farm to school?
Kids can benefit from increased access to a wide variety of fresh local foods and opportunities to learn about healthy food choices.
Schools can support local farmers and the local economy.
Farmers and food businesses can diversify their markets by tapping into growing demand from schools.
Communities can support the Michigan Good Food Charter initiative. Learn more at michiganfood.org

.
Who is involved?
School food service professionals, farmers, food hubs, processors and distributors have been working together to improve the availability and distribution of local foods for school food programs.
State government, community organizations, agricultural commodity groups, researchers, school administrators, students, parents, and community members are supporting efforts to make farm to school the norm rather than the exception in Michigan.
Michigan Farm to School Resources
Sign up for the Michigan Farm to School Listserv and access our guides and resources at the Michigan Farm to School website: mifarmtoschool.msu.edu.
For food service directors and professionals:
For farmers:
For educators:
Additional Farm to School Resources
10 Cents a Meal for Michigan's Kids and Farms is a state-funded program that provides participating schools with match funding to purchase and serve Michigan-grown fruits, vegetables and legumes. Visit tencentsmichigan.org to learn more.
Cultivate Michigan is the local food purchasing campaign of the Michigan Farm to Institution Network that helps institutions find, use, promote and track Michigan featured foods. Go to cultivatemichigan.org for more information.
National Farm to School Network is an information, advocacy, and networking hub for communities working to bring local food sourcing, school gardens, and food and agriculture education into schools and early care and education settings. Visit farmtoschool.org for tools, resources, news, and more.