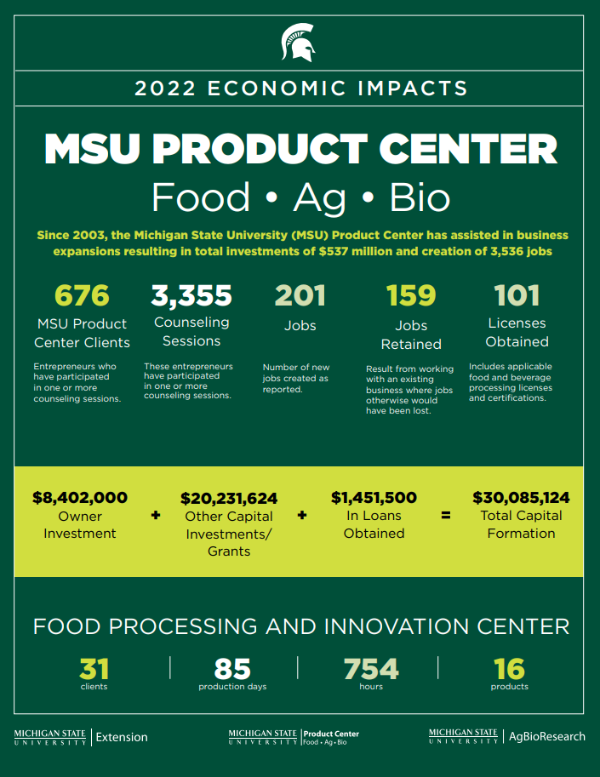 MSU Product Center 2022 Economic Impacts
DOWNLOAD
July 21, 2023
Since 2003, the Michigan State University (MSU) Product Center has assisted in business expansions resulting in total investments of $537 million and creation of 3,536 jobs.
By the numbers
676 MSU Product Center Clients: Entrepreneurs who have participated in one or more counseling sessions.
3,355 Counseling Sessions: These entrepreneurs have participated in one or more counseling sessions.
201 Jobs: Number of new jobs created as reported.
159 Jobs Retained: Result from working with an existing business where jobs otherwise would have been lost.
101 Licenses Obtained: Includes applicable food and beverage processing licenses and certifications.
Dollar value impacts
$8,402,000 Owner Investment
$20,231,624 Other Capital Investments/Grants
$1,451,500 In Loans Obtained
Total Capital Formation: $30,085,124
Food Processing and Innovation Center
31 clients
85 production days
754 hours
16 products
Core services
Venture Development
The MSU Product Center provides vital venture development services for new and emerging businesses. Innovation counselors across the state deliver one-on-one counseling to clients and assist with developing concepts and business plans, navigating the regulatory process and accessing the supply chain.
Thanks to the MSU Product Center's close relationship with MSU campus staff and faculty, clients can access specialized services such as product classification and process authority review, nutritional labeling, food science, food processing and safety expertise, and packaging assistance.
Food Processing and Innovation Center
The Food Processing and Innovation Center is the nation's leading independent commercial food development, processing, packaging, and research facility. The center's real-time production environment supports the creation of vibrant new food products. Businesses big and small rent the state-of-the-art facility, which features the latest in processing and packaging technology to help reduce their risks and discover ways to take their operations to the next level. Product made in the Center comply with Food and Drug Administration and U.S. Department of Agriculture (USDA) regulations.
Accelerated Growth Services
Accelerated Growth Services works with established businesses that want to improve their market performance. The MSU Product Center helps clients meet the high-level food safety and certification required by retailers. These strategic planning services also assist companies in charting a course for business expansion.
Strategic Research Group
The Strategic Research Group serves a broad and diverse client base. Market analysis, feasibility studies and economic impact reports provide clients with the data they need to make key decisions.
Making It In Michigan
The Making It In Michigan Conference and Marketplace Trade Show is an annual event designed to assist food business entrepreneurs. The conference provides educational sessions with a focus on starting and expanding food businesses. The trade show offers a venue for entrepreneurs to showcase their products to retail buyers.
2023 Award Winners
Entrepreneur of the Year Award
Hummus Goodness
Hannah Awada and Lara Lozser
hummusgoodness.com
Value-Added Agriculture Award
Fat Baby Hot Sauce, LLC
Nate Mehren and Terry Wolter
fatbabyhotsauce.com
Start-Up to Watch
Downey's Potato Chips
Kali Bagley
downeyspotatochips.com
Barrier Buster Award
Hallstedt Homestead Cherries, LLC
Phillip and Sarah Hallstedt
hhcherries.net
Young Innovator Award
Last Mile Cafe
Arick Davis
lastmile.cafe
Director's Award
Bobbie Morrison
USDA Rural Development