MSU Tollgate Farm Stewards Teen Leadership Programs
MSU Tollgate Farm Teen Leadership Programs provide a safe place for social, emotional, and physical growth. The Stewards Teen Leadership Program is grateful to be able to offer the 2022 stewards and stewards-in-training teen leadership program for youth ages 13-19.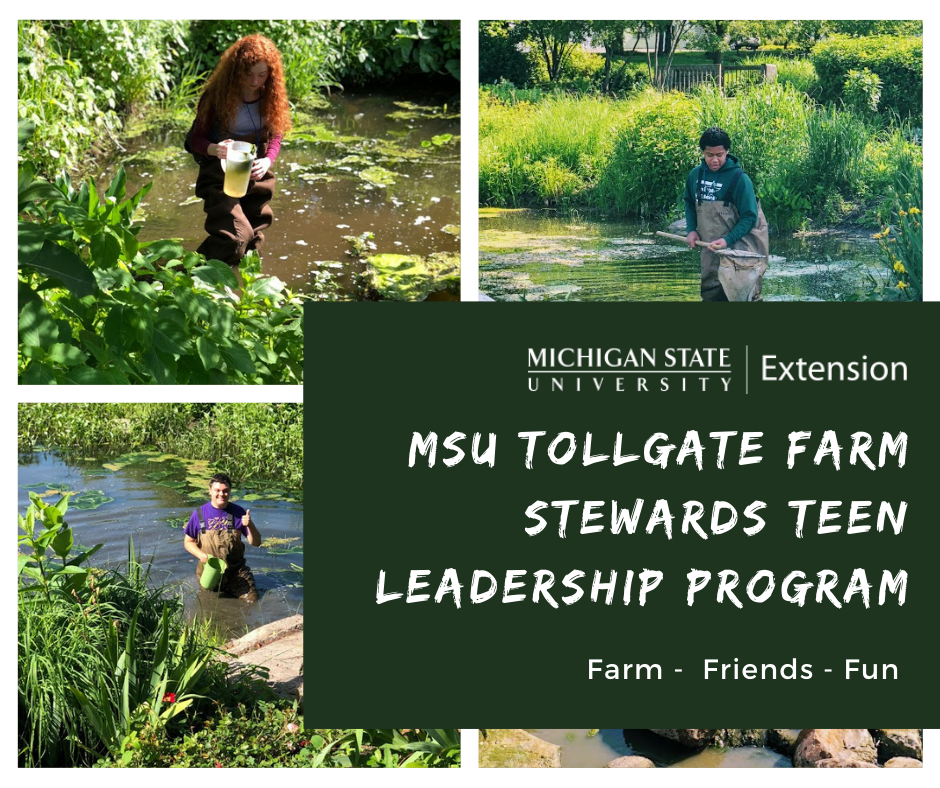 What is a Steward? A steward is a person whose responsibility it is to take care of something. This experience offers teens a chance to enrich, mentor, and lead campers while gaining valuable leadership and life skills. In a positive educational environment, teens experience the responsibilities associated with potential career paths before entering college. The Tollgate Camp Teen Steward (15-19 yrs) and Tollgate Steward-in-Training (13-14 yrs) positions are for teens interested in gaining experience working with campers in the farm setting.
The Stewards-in-Training (SIT) program is the start of the progressive Tollgate Teen Leadership Program. Stewards-in-Training are 13-14 years of age and must have the ability to commit to one full week of camp and no more than 4 weeks. SITs serve as role models for campers during activities. Each SIT is scheduled to work with the camp group best suited to their age and interests. Stewards-in-training pay $180 per week for in-person SIT camp week.
The Stewards program is for teens 15-19 years of age as volunteer assistants to the educational leaders and role models for both SITs and campers. Stewards must commit to at least two full weeks of camp. Stewards develop a deep understanding and knowledge of the farm and our educational camp program. Stewards develop skills which can be called upon as they move forward through their academic and work careers. First year stewards are asked to submit a resume and complete a 20-minute virtual interview.
Important dates for stewards and stewards-in-training in 2022:
Mid-December Registration opens
Early May New steward Interviews (May 10 and May 12)
June 24 - 25, 2022 9 am Friday - 2 pm Saturday Mandatory Overnight Orientation and Camp Training
June 27 - Aug 26 Summer camp season
August 4, 2022 4:30 - 9 pm Midsummer Celebration and Leadership Training


MSU Stewards Sustainability Leadership Institute
SSLI is an extended environmental leadership program which focuses on building up young leaders interested in making a difference in the world around them as they explore principles of sustainability. Through youth voice and choice, teen stewards meet throughout the school year as they help mentor peers through this advanced youth leadership summit. Incorporating a mentorship model, a multi-day outdoor wilderness team-building adventure, leadership roles at the steward leadership trainings and at camp, a completion certificate, and a capstone sustainability action project, this action-packed program focuses on educating for sustainability. For those interested in learning more or applying for this fun and exciting leadership experience, email koehle43@msu.edu.
For questions regarding the MSU Tollgate Farm Stewards Teen Leadership Program or the Stewards Sustainability Leadership Institute, please contact Tollgate at 248-701-9956. Ellen Koehler, Tollgate Farm Education Manager and Stewards Teen Leadership Program Coordinator at koehle43@msu.edu
4-H is a learn-by-doing, fun, educational program, helping youth in their growth and development and compliments experiences received at home, school and other organizations. As a member of 4-H, there are many other opportunities to get your youngster involved, including approximately 50 4-H clubs in Oakland County where members work with a large variety of project areas, including agriculture, aerospace, community service, horses, science and technology, and more. Questions regarding 4-H? Contact Deb Morgan at morga194@msu.edu.