Good Food, Good Health!
Hospitals promote wellness by offering healthy local food to guests.
September 1, 2013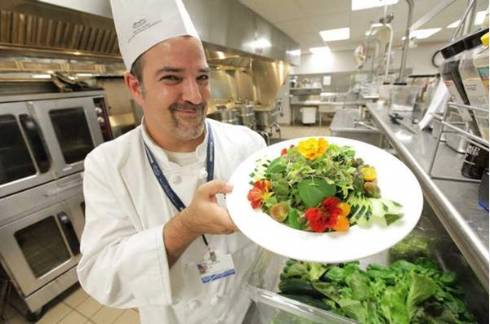 By Katy Joe DeSantis, Michigan Good Food Charter Intern
In 2011, Henry Ford Health System transformed the way they fed patients, employees and visitors to their hospitals by providing healthier and more wholesome food options. The added bonus? Their new culinary wellness model is providing an example for other institutions through their use of locally sourced, sustainable products on the menu.
"Henry Ford Health System has been a leader among Michigan hospitals engaging in a national campaign that leverages the substantial purchasing power of the healthcare sector to support the development of a sustainable food system," says Hillary Bisnett, Program Director and Michigan Regional Organizer at the Ecology Center. "The health systems have really taken a comprehensive and innovative approach to procuring local and sustainable foods while educating staff, patients and visitors as well."
After doing away with deep fat fryers, trans-fats, and fry shortening altogether, Henry Ford now offers customers a menu that focuses primarily on fresh vegetables, fruits, lean proteins and whole grains, many of which come from local sources. The meals come from fresh ingredients and are made to order, with organic and local options available when possible. These healthy choices for guests and inpatients help the hospital support the suggestions for better health offered by its physicians, and support the food service staff who find that buying local helps to keep their ingredients fresh and healthy.
According to John Miller, System Director, Culinary Wellness for Henry Ford Health System, sourcing products locally allows the hospitals to custom tailor healthier options for their menus.
"In the instance of our bread, we asked the [local] provider to change the recipe to make it healthier by reducing sodium, and they accomplished this for us," he said. In addition, produce harvested locally has less distance to travel before it reaches diners' plates, keeping it fresh and allowing it to retain more of its nutrients. "As for produce, we are purchasing product that comes to us sooner from the fields," said Miller. "Time is the enemy when it comes to nutritional integrity of the products."
According to the organization, at least 85 percent of the milk used by Henry Ford is purchased from Michigan dairy farmers. Ruhlig Farms & Gardens out of Flat Rock and Milano Bakery based in Detroit, provide produce and fresh baked goods for the hospitals' meals.
In addition to Michigan producers, Henry Ford Health System also acquires some of their sustainable and organic products from other Midwest farms such as The Chef's Garden in Huron, OH, one of the leading growers of artisanal produce in the nation. "It supports the local economy," said Miller. "I have found that local companies are very nimble and have been able to accommodate our particular needs."
Henry Ford West Bloomfield also sources healthy organic fruits and vegetables for its café and patients from about as local as it gets – the hospital grounds themselves. Home to one of the first hospital-based organic greenhouses, Henry Ford uses its own hydroponically-grown certified organic fruits and vegetables to feed employees, patients and guests.
In addition to providing local produce, the greenhouse also offers various resources to connect with the local community and help visitors understand the healing power of healthy food. Workshops, tours, a demonstration kitchen for lessons about preparing healthy food, gardening classes, various educational programs and patient therapy classes are all offered to strengthen Henry Ford Health System's overall message of wellness through good food.
On top of serving up local food as part of their own menu, Henry Ford Health System provides a space for local vendors to sell their products to those visiting the hospital as well. The West Bloomfield location hosts a seasonal farmers market once a week with a variety of vendors; Avalon International Breads, a triple bottom line bakery originating from Detroit's Cass Corridor, has a permanent storefront inside the lobby of Henry Ford Hospital in Detroit.
Although some might assume that providing such a large institution with locally sourced, organic food would be pricey, the costs are not much different than conventional food sources. According to Miller, costs are kept low by standardizing recipes and ingredients, as well as minimizing the variance in product purchases. This helps the organization leverage volume buying power with local companies.
"We utilize a system culinary value analysis team comprised of chefs, directors, and managers from the various facilities," he said. "We meet monthly to identify standardized products and vendors to be used by all sites."