Good Food Life: Betti Wiggins
Executive Director, Detroit Public Schools Office of School Nutrition
January 6, 2015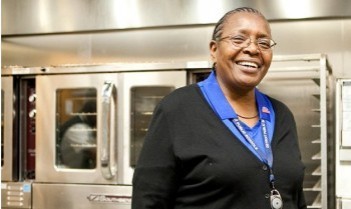 What is your role with the Detroit Public Schools?
BW: I am the most senior administrator responsible for operating and managing child nutrition programs in 131 schools within the city of Detroit.
How do the Detroit Public Schools work towards the goals of the Good Food Charter?
BW: Our work includes monthly purchases of locally grown fruit and vegetables for our school meals menu, providing school gardens at 76 schools to promote agriculture education, establishing a junior master gardener programs at high schools to encourage gardening and horticulture among teens.
What do you find most exciting or inspiring about what you're doing?
BW: To be able to promote good food and then to have children request the items or prefer the good food items.
What opportunities do you see for moving towards the goals of the Michigan Good Food Charter and where do you see those leading in the next five to ten years?
BW: Having our law makers pass the 10 cent per meal reimbursement for any school meal that is prepared using Michigan grown or processed food item(s). This would encourage K-12 schools to make a coordinated effort as a group to include local grown or processed foods in their meals; thereby benefitting Michigan and our farmers by having more money circulating through our agricultural economy.
What is one thing you've learned through your experience with working towards the goals of the Good Food Charter that you'd like to share with others?
BW: Working in partnership and collaboration with individuals or groups to achieve a mutually shared goal is the key to success for all.
More information on a 10 cents per meal initiative for schools to source local food for their meals can be seen in a pilot project carried out by the Michigan Land Use Institute.