Good Food of the Future: The Impact of Urbanization
What are the consequences of urbanization? How should we factor in these changes as we develop a food system based on good food that is healthy, green, fair and affordable?
May 1, 2013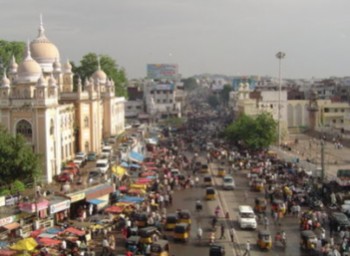 By Jude Barry, CRFS Food System Specialist
Populations across the world are growing and migrating into cities. By 2050, the United Nations estimates the world population will reach nine billion people (two billion more than today) and more than three quarters of people will be living in cities. Of those living in the United States, they predict that 90% will be city-dwellers by 2050.
What are the consequences of this urbanization? How should we factor in these changes as we develop a food system based on good food that is healthy, green, fair and affordable?
Mexico City, a vast city with a current population of 25 million has serious air quality problems partly due to a high altitude, climate and many pollutants. By 2050 there are predictions that Mexico City will have a population of 60 million. Questions regarding how populations in urban centers like this will access water, good food and healthy living conditions are of growing interest to many researchers and policy makers across the world.
Michigan State University is a leader in a new international program called "Global Innoversity – Metro Food, Metro Ag." Global Innoversity is made up of innovation coalitions from seven of the world's metropolitan regions. Areas represented include Detroit (USA), Hyderabad (India), Johannesburg (South Africa), Nairobi (Kenya), Sao Paulo (Brazil), The Netherlands and Singapore.
The delegate body representing these parts of the world met in Detroit in February 2013 and developed a concept and working agreement with a long term goal to: "significantly and measurably enhance the capacity of the world's metropolitan regions to meet current and emerging food, agriculture and resource needs in new and sustainable ways." Michigan State University also hopes to be involved in the development of an Innovation Center facility in Detroit that acts as a demonstration center for addressing energy, food and water issues as city populations grow.
The Community Food Systems Research and Innovation Cluster based in Detroit is known as FoodPlus|Detroit. Dr. Rick Foster, Kellogg Chair of Food, Society and Sustainability in the College of Agriculture and Natural Resources at Michigan State University, has been a key partner in FoodPlus|Detroit from the early stages. He says, "Food production must double using less water and energy than is used today. Inner-city food systems need to meet challenges that do not currently exist." He goes on to explain "Detroit is creating some exciting new economic food opportunities on all scales."
According to Dr. Foster, one example of this opportunity is the 1600 gardens in Detroit that are situated on about 300 acres of land, providing both economic and social innovation. Another example is represented by Detroit Public Schools, which currently has an annual nutrition services budget of $248 million and is expanding its campaign for purchasing local food through developing land to grow food for school meals. The estimated 40,000 acres of vacant or abandoned land also creates "huge potential for large and small economic enterprises to invest in food production for the urban environment," says Dr. Foster.
Dr. Foster hopes to see Detroit leading urban food production and demonstrating new technologies and infrastructure to other cities across the United States and the world. FoodPlus|Detroit plans to establish a new non-profit organization this year that is owned and operated by Detroiters.