HEALTHY Muskegon
One community's health initiative is working to impact its younger residents in meaningful, lasting ways.
January 2, 2014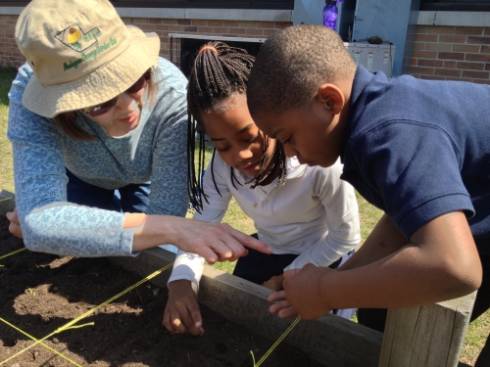 By Katy Joe DeSantis, Michigan Good Food Charter Intern
Through a three-year, $676,000 grant, a West Michigan-based initiative has been providing new opportunities for families and children living in the City of Muskegon and Muskegon Heights to increase their access to healthy, local foods. Beginning in 2012, the HEALTHY Muskegon initiative began providing local schools, community gardens, farmers, educators, food producers and others with the awarded funds to improve the health of residents in their communities. After a year, evidence of the work is already showing.
The grants awarded to the HEALTHY Muskegon initiative (HEALTHY is an acronym that stands for Healthy Eating and Access – Local Teams Helping Youth) were administered by the Community Foundation for Muskegon County (CFMC) in partnership with Morse Marketing Connections, LLC and are supported by the W.K. Kellogg Foundation.
The CFMC helps donors, grantees and advisors identify what is needed by residents to improve their communities, and create ways for grantees to execute their plans. In this case, the Foundation's commitment to promoting healthy lifestyles in Muskegon through education, prevention, health programs and various projects inspired their involvement in this project.
Along with CFMC, Morse Marketing Connections (MMC), LLC, was instrumental in developing the concept and applying for and receiving the grant funding from the W.K. Kellogg Foundation. MMC is focusing primarily on improving food access and health outcomes for underserved youth in these communities. They have developed a re-granting program that is distributing $240,000 of the awarded funds back into the community in the form of programs that benefit youth specifically.
"MMC and CFMC are overseeing grantee projects and developing a community food network that offers learning opportunities for the community," said Marty Gerencer, principal of MMC. "We are also responsible for program progress and assisting the community to ensure the sustainability of the work beyond the life of the grant."
The local grantees selected include: the Coalition for Community Development, Community enCompass, Fruitport Lions, Kids' Food Basket, Muskegon Public Schools, Pioneer Resources, and Public Health - Muskegon County.
"Based on the written application and the in-person presentation, funding decisions were made on organizations that best targeted children in Muskegon and Muskegon Heights and in addition proposed a project that is likely to be sustainable beyond the three year grant," said Gerencer.
Community enCompass, a community development organization in the area, works to transform downtown neighborhoods and strengthen the local community through a variety of programs. They received HEALTHY Muskegon funds to help support a farm to school-type program offered to Muskegon summer school students.
With their funds, they increased the reach of McLaughlin Grows Urban Farm, a farm that has produced over 9,000 pounds of fresh vegetables and employed and trained over 60 neighborhood youth over the past four years. Before receiving grant money through this initiative, the farm had been operating on a half acre of land and most of the produce went to a Community Supported Agriculture (CSA) program. Since being awarded grant money, Community enCompass has been able to purchase another plot of land and develop a new farm. The farm has since been able to double in size and bring healthy food to Muskegon youth through a partnership with another grantee, Public Health – Muskegon County.
This collaboration resulted in the Growing Goods program, an effort to engage the youth of Muskegon Middle School in community gardening, civic action and healthy living. Students participating in summer school are able to work at McLaughlin Farm for the first half of the school day, learning to garden, harvest and prepare fresh produce. The produce is then served as part of the students' daily meal.
"There was a demand for community partnership," said Sarah Rinsema-Sybenga, Executive Director of Community enCompass. "This effort created a bridge between what the kids are doing on the farm and what they are eating."
High school students are hired at the beginning of summer to work on the farm before the summer school program starts. They help lead the younger students and act as mentors in the Growing Goods program. "It's a cycle of kids producing food for themselves," said Rinsema-Sybenga.
Through healthy youth engagement and community collaboration, the project provides academic assistance, nutrition education and garden to table skills to Muskegon Public School students to reduce youth risk for a variety of negative health behaviors. The program brings together high school peer leaders and middle school students in a summer school program to work together in a mentor-type relationship. These older students work with the youth on farms and in kitchens and classrooms to teach skills like communication, decision-making, goal-setting, and stress management in these types of environments. The students also work together on creating a sustainable business model for moving the produce from the gardens they work in to the tables they eat at during the summer in Muskegon Middle School.
Another grantee collaboration occurs between the Fruitport Lions' Love Community Garden and Kids' Food Basket. The Shoreline Branch of the Fruitport Lions created Love Community Garden as a space for gardening, urban farming, summer youth programming and other ways to help the local neighborhoods. Through HEALTHY Muskegon funding, they were able to build a hoop house to extend the growing season. As of September 2013, the project yielded over 460 pounds of fruits and vegetables. Much of this produce was sold at a farmers market or distributed to neighbors, and some was donated to Kids' Food Basket, another HEALTHY Muskegon grantee that brings nourishing food to over 600 children in the Muskegon area who might otherwise go hungry.
Kids' Food Basket helps feed Muskegon children through a program called Sack Suppers, in which well-balanced meals are distributed within classrooms at 32 different sites during the school year, and at local parks weekdays during the summer. This program provides opportunities for volunteering within the community, and gives youth a chance to serve each other, as over 25 percent of the hours volunteered come from youth age 18 and under through their Kids Helping Kids program. To date, Kids' Food Basket has served 22,290 Sack Suppers to children in the Muskegon area.
According to Gerencer, planning is already underway for the second year to help engage even more Muskegon and Muskegon Heights youth. Several other new food-related projects are emerging in the area, including a new downtown farmers market, downtown retail grocery store, and several other farm to school efforts. "The project has been very well received by the community, and the grantees have already made tremendous strides in the first year of their funding," said Gerencer.
The hope is that these projects and collaborations will continue to provide healthy food access to youth in the area for the long-term.
For more information about HEALTHY Muskegon, visit Community Foundation for Muskegon County's website, or connect with the HEALTHY Muskegon team on Facebook.