Kaleamazoo Chips: A Michigan Success Story
Kaleamazoo Chips is one of many food businesses that is 'making it in Michigan.'
September 14, 2015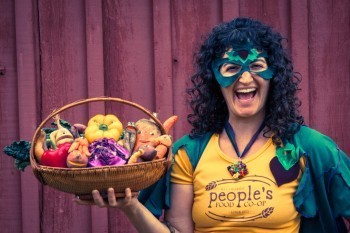 By Sherri Sharp, Sharp Marketing Associates
Hether Frayer was wondering a few years back what to do with all the kale that was filling her CSA box each week. So, she began to experiment in her Kalamazoo kitchen with different kale chip recipes. Hether had a simple goal in mind to take a boring "superfood" and convert it to a tasty snack packed with all the nutritional goodness the leafy green vegetable is so well known for. After two years and countless test batches, Hether perfected a kale chip that is light and airy, but features a bold flavor.
Kaleamazoo Chips are dehydrated, which means all the health benefits in the kale remain after the production process is complete. They come in two flavors, "Lemony Kick-It," that features a clean, citrusy bite and "Lime Coconut," featuring shreds of organic coconut and hints of organic lime juice. Kaleamazoo Chips also sells spice packs for each flavor, containing the proprietary blend of spices in just the right amounts for the do-it-yourselfer to bake a batch of kale chips in their own home.
The MSU Product Center and the Making it in Michigan Conference and Trade Show were valuable resources for Hether Frayer in developing Kaleamazoo Chips. "My MSU Product Center Counselor, Mark Thomas, has been an invaluable resource. He has helped with labeling, business planning, and HAACP planning." She also noted that, "The Marketplace Trade Show was a fun opportunity to talk to buyers and make connections with other food producers."
As much as possible, Hether sources the kale from small, local, sustainable farms. Profits from the sale of Kaleamazoo Chips go to fund "Fresh Food Fairy Nutrition Education," a program Frayer founded that makes healthy food and eating well a fun, positive experience for young people. Kaleamazoo Chips just moved into their own kitchen last April, and are well positioned for growth within Michigan.
For more on the MSU Product Center and the services they offer new and emerging businesses in Michigan, visit http://productcenter.msu.edu/.
The annual Making it in Michigan Conference and Trade Show will be held on November 10, 2015 in Lansing. For more information or to register, see http://productcenter.msu.edu/miim.
Photo courtesy http://freshfoodisfun.com/freshfoodeducation/.