Out of the Cottage and Into the Kitchen
Detroit Kitchen Connect offers space, network for local food entrepreneurs.
August 1, 2013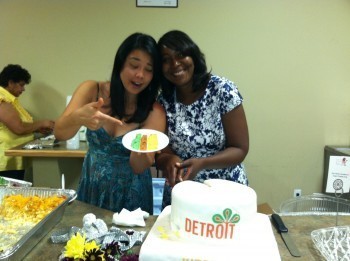 Starting up a small, local food business typically presents an array of challenges for budding entrepreneurs. Often one of the biggest hurdles is finding an affordable licensed kitchen space to in which to create the product. Add in trying to maintain a successful triple bottom line (where the pillars of people, planet, and profit are of equal significance), and the struggle becomes even greater.
Enter Detroit Kitchen Connect.
FoodLab's principles and mission on paper.
Launched on July 25, 2013 Detroit Kitchen Connect (DKC), a collaborative project between Eastern Market Corporation and FoodLab Detroit, gives triple bottom line food entrepreneurs in the Detroit area the opportunities and resources they need to connect with local community members and organizations that have kitchen space to lend.
"Our members have been clamoring for reliable and affordable access to commercial kitchen space, and we're thrilled to be working closely with Eastern Market to finally fill this need," said Jess Daniel, Director and Chief Enabler of FoodLab Detroit. "We see this as just a beginning. These first few kitchens create the space for existing entrepreneurial energy to blossom."
As in many large cities, Detroit already has a number of licensed commercial kitchens that are either unutilized or only in operation for several hours a day. These often belong to local community organizations or churches, many of which are willing to offer them up for use to other members of the community, especially those trying to contribute to the local economy, as many of these small business food entrepreneurs are. Detroit Kitchen Connect creates a network between these "kitchen partners," and the local food entrepreneurs that wish to use their space.
Sandra Ramocan of Matrix Human Services, a community organization offering up space for Detroit Kitchen Connect, said, "Providing folks with access to a reliable commercial, licensed kitchen is a resource that can put folks on the pathway of entrepreneurship. Together we're helping entrepreneurs to overcome a tremendous barrier to entry by providing a resource so that they are able to make a living doing what they love. We're giving folks a hand-up…not a handout."
Although these kitchen partners are willing and eager to lend out their kitchen space for up and coming entrepreneurs, many lack the capacity to manage and support those who need their available spaces. Detroit Kitchen Connect provides the management and technical assistance for this growing network of kitchen partners and small businesses. FoodLab Detroit will work with Eastern Market to provide workshops and other startup services to these groups as well.
FoodLab Detroit is a network of triple bottom line food entrepreneurs in the Detroit area who joined together to pool information, resources and support, as well as organize technical and financial assistance among themselves and related partners. A self-proclaimed "community of food entrepreneurs committed to making the possibility of good food in Detroit a sustainable reality," the businesses in this network are not only trying to increase their own profits, but do so in accordance with the Michigan Good Food principles that stress the importance of food being fair, affordable, healthy, and green.
Eastern Market Corporation, a prominent hub of local and diverse food in Detroit, has also helped to launch DKC. Although the creation of a new community kitchen and food processing hub is already underway at the Market, Dan Carmody, President of Eastern Market, noted the importance of building this network of smaller commercial spaces from the ground up.
"We believe that locally and within Michigan we have the opportunity to create hundreds of new food businesses that can strengthen the local economy," he stated. "While the Community Kitchen under construction in Shed Five at the market is an important facility for us, we know that there is the need for a variety of low-cost kitchen spaces to accommodate current demand. This project helps us build the management capacity for kitchens across Detroit and allows our kitchen to hit the ground running when it opens later in 2013."
For now, the food entrepreneurs have access to two licensed commercial kitchen spaces: one at Ss. Peter and Paul Orthodox Cathedral in Southwest Detroit, and the other within Matrix Human Services in the Osborn neighborhood. Detroit Kitchen Connect Kitchen Coordinator Devita Davidson says that DKC is seeing to it that these spaces be used to keep Detroit's vibrant culinary culture strong and connected.
"We envision a network of kitchens where all feel welcome because we believe good food is about more than just local ingredients, it's also about celebrating and preserving culinary traditions and making sure businesses are owned and run by people rooted in our neighborhoods," she said.
Applications for entrepreneurs interested in kitchen access are available at the DKC Web site: www.detroitkitchenconnect.com. Applications are currently available, and applicants will be notified of acceptance on a rolling basis. More information about FoodLab Detroit and the DKC project can be found at www.foodlabdetroit.com or on Facebook at www.facebook.com/FoodLabDetroit.