Q & A with the Co-Directors of Award-Winning Documentary The Kings of Flint
Q&A with Troy Hale and Geri Alumit Zeldes, Co-Directors of Award-Winning Documentary The Kings of Flint
June 3, 2013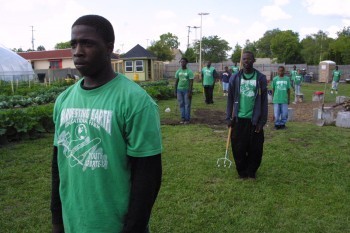 Faculty members at MSU's College of Communication Arts and Sciences Troy Hale and Geri Alumit Zeldes are gaining increased attention for their documentary based on one Flint couple's efforts to revitalize their city through urban farming. Since beginning to film in 2009, their project, The Kings of Flint, has gained widespread attention from media outlets such as NPR, The Chicago Tribune, and USA Today.
We caught up with the co-directors on their Emmy-nominated documentary.
How did the idea for the film come about?
GAZ: Stephen Arellano, who I met when I was in high school in Flint, was then a project director for the Ruth Mott Foundation. He told us about Jacky King, a farmer in Flint who was a walking and talking sound bite. Troy and I decided we needed to meet Mr. King, so we drove to Flint and met him at the Kings' Harvesting Earth Education Farm, where we shot this video. As you can see, Jacky lived up to the hype —he is indeed a walking and talking sound bite.
TH: We always hear such negative things about Flint. This was a positive story about Flint today and Flint in the future. Flint is a US city that was in decline far before all of our other current cities with issues. We figured if the Kings could help turn around a city…then maybe it could help other similar cities as well.
Tell us a little about the film.
TH: The film follows Jacky and Dora King. They run a karate studio and teach kids self defense. They also operate an urban farm right across the street. If a kid could not pay for their karate lessons, the Kings would allow the student to work on the farm as payment. Through that, many students have really developed a love for urban farming. The Kings are teaching these kids about responsibility, hard work and the economics of doing something like this. They are keeping these kids off the streets and giving them real world knowledge.
GAZ: Another part of this film captures a back and forth between Mayor Dayne Walling and the Kings over whether urban farming is a realistic tool to revitalize the city. The Kings also talk about how they would like to be self sustaining and not have to depend on grants.
What was your favorite part of the filming process?
GAZ: I always felt a little bit better about my hometown after I hung out with the Kings. I always felt a little better – period. The Kings are eloquent, hard working AND hilarious. My favorite parts [of this process] consisted of listening to their stories and their hopes for their students and their farm.
TH: Finishing! Ha! That is always a good feeling. The reason we make films like this is to tell interesting stories. To be able to capture Jacky, Dora, and their students on camera in a way that an audience member feels for them — that is a great feeling. We love heading out the door and meeting new people.
Was there anything you learned that surprised you?
TH: Yes. I was very surprised that these kids in downtown Flint now have dreams of being farmers with their own land. They understand that the old Flint jobs don't exist anymore and they will have to do something else. It's great to see people have a positive outlook on what Flint can become.
GAZ: The economics of food surprised me. Stephen Arellano and Erin Caudell talked about how nearly $1 billion of fresh produce is brought into the Flint area from outside of city limits, even from outside the country. They talked about the potential of farmers in Flint to capture a fraction of that market.
What has been the reaction to the film?
TH: The film recently has been getting a lot of attention. Originally, we had a great reaction from film festivals, and the Michigan Association of Broadcasters awarded the film "Best Documentary." The Kings of Flint also won an Award of Excellence from the Broadcast Education Association, aired all over on Michigan PBS stations, and was nominated for an Emmy.
Recently, we have focused on a brand-awareness campaign for the film, targeting people that would be interested in this type of project. We have sent information about the film out to a number of urban farming organizations to get attention to our Facebook page.
To learn more about Kings of Flint, visit the film's Facebook page.
To purchase a DVD copy of the film, click here.