Race and Food Sovereignty - an on-going conversation
A recent panel on Race and Food Sovereignty hosted by the MSU Center for Regional Food Systems brought in leaders from around the state to speak on how their organizations are working toward food sovereignty in their communities.
December 8, 2015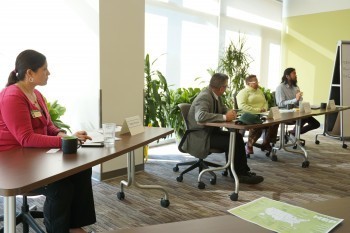 By Karen Sturdivant, MSU Center for Regional Food Systems
How does your agency or organization play a role in helping the people in your community achieve food sovereignty? This was one of the questions asked of panelists in the Michigan State University (MSU) Center for Regional Food System's (CRFS) panel on Race and Food Sovereignty held on October 26, 2015. CRFS hosted this panel for staff and affiliates to discuss how race figures into food sovereignty work across Michigan as part of its ongoing effort to embrace racial equity as a key quality of sustainable food systems. The panel included Shane Bernardo, Outreach Coordinator of Earthworks Urban Farm, Detroit; Lisa Oliver-King, Executive Director of Our Kitchen Table, Grand Rapids; Luis Garcia, Director of MSU's Migrant Student Services; and moderator Emily Proctor, Tribal Extension Educators with MSU Extension.
The US Food Sovereignty Alliance defines food sovereignty as "the right of people to determine their own food and agriculture policies and the democratization of food and agriculture." It goes on to say that "food sovereignty goes well beyond ensuring that people have enough food to meet their physical needs. It asserts that people must reclaim their power in the food system by rebuilding the relationships between people and the land, and between food providers and those who eat." 
 This definition and emphasis on the locus of power were reflected in the comments panelists shared at the event.
The first person to respond to the question of how their organization plays a role in helping people in their community achieve food sovereignty was Luis Garcia. He introduced the audience to MSU's College Assistance Migrant Scholars Program (CAMP), which offers individuals with migrant or seasonal farm work backgrounds a unique opportunity to begin an undergraduate program in MSU. Garcia noted the need to look at where food comes from and who is producing it when considering food sovereignty. He stressed the importance of education for the migrant population and discussed how education provides a vehicle for students to become critical thinkers and to create a space of hope. Garcia noted, "Often we say we want change, but we say it in only one language," which excludes important segments of the food system, such as the many migrant farm workers, from conversations about how to improve that system.
Shane Bernardo spoke to challenges to achieving food sovereignty in communities like Detroit, and ways to overcome them. Bernardo began by noting that race involves interpersonal, systemic, and structural elements, and that a food sovereignty framework needs to consider political and embedded power issues, including white privilege. He shared the view that the power structure must listen to the citizens residing in communities they seek to impact, rather than issue superficial prescriptions for change. Bernardo's organization, Earthworks, partners with other organizations in Detroit, like the Detroit Black Community Food Security Network, to include a racial equity lens in all their work. He believes that growing as much food locally as possible can help develop the community behind our food and the restore the connection between the people and the land.
Lisa Oliver-King spoke of the need to collaborate and interact with other organizations whose goals closely aligned with her agency, Our Kitchen Table. Oliver-King said "all of us are plagued with challenges of food. We are all responsible for a food system that works for all parties involved." She also spoke of the need for honesty in collaboration, and transparency about the intended outcomes, sustainability, and capacity of each partner for the project. The most successful partnerships will involve true collaboration and balance between partners, and meeting youth and other partners at their "table," rather than simply inviting them to come to yours.
The Panel on Race and Food Sovereignty afforded attendees the opportunity to meet a few of the many leaders in the local food movement in Michigan, and acknowledge and engage with them in a meaningful conversation around race and food sovereignty. It was made clear that there are organizations in Michigan that are dedicated to the concepts and goals of food sovereignty for their community. The path to food sovereignty, however, is not without its challenges. Race and social status negatively impact some communities' attainment of food sovereignty and great effort must be expended to ensure that all people have access to food that is healthy, green, affordable, and grown without the exploitation of anyone in that process. CRFS will continue to explore and engage in these issues to help achieve that good food access for all.