Reviving a Family Business, Meeting a Neighborhood Need
Three entrepreneurs who are trying to open a new store with healthy, high-quality food in the city. Their efforts align with the charter goal of increasing access to good food.
June 1, 2012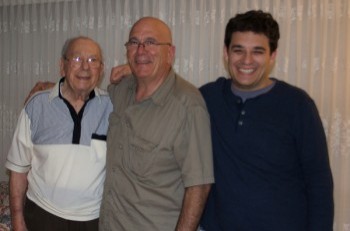 Fedele "Phil" Saverino opened "Phil's Market" on Detroit's East Side in 1940 at the age of 28. Specializing in fresh meats, deli, groceries and catering, it remained a strong Detroit neighborhood fixture with the help of his son, Frank Saverino who eventually expanded the business in Warren during the 80s. After almost 60 years, the family store was sold to new owners in 1998.
In 2011, at age 29, I moved to Detroit to commit to my dream of opening a new, cutting-edge grocery store. I wanted to re-found my grandfather's Phil's Market back in the big city — the old-school neighborhood grocery store with a new-tech approach to success.
The former liquor store currently being renovated for a full-service urban grocery store.
Photo courtesy of Jared Saverino.
With the influx of young creative talent, entrepreneurs and hopeful people moving into the city, Detroit's historic neighborhoods are beginning to look like the promised land for small retail start-ups. With major building renovations under way, financial incentives to live Downtown and a new sense of revival and renaissance on everyone's minds, Detroit has proven to be a fascinating place to live and start a business.
I knew that Detroit posed some very unique challenges to a new food business, even though fresh groceries were not easily available to residents. Opening a grocer that would satisfy both the needs of the Detroit residents as well as attract new dollars from suburban commuters would be challenging to a traditional supermarket. However, I was already of the mindset that there was a smart, compelling solution to success as an urban grocer. Traditional just wouldn't cut it.
After getting lots of positive feedback and encouragement from local residents and organizations, I entered the small business incubator at Wayne State's TechTown group. TechTown, it turned out, had been trying to collaborate with the Fair Food Network's efforts to raise awareness and create change in Detroit's access to fresh food. I was invited to an informational meeting which had attracted the attention of several other potential entrepreneurs with interest in the food business. This is where I met Eleni Zaharopoulos and Jenile Brooks. We quickly realized that the three of us had similar visions and complementary skills. All three of us were passionate about an urban neighborhood grocer. Eleni had recently acquired a vacant party store at county auction and both Jenile and I had already begun developing similar online ordering solutions for grocery delivery services.
The three of us contacted each other and the rest is history. Plans for a partnership happened soon after over iced coffees in a Detroit basement kitchen. We are presently in the process of restoring a vacant liquor/lotto corner store in Detroit's North End neighborhood as well as fundraising to support that effort at www.indiegogo.com/phils.
The 2,000 square foot liquor store will be converted to sell fresh fruits, vegetables, breads baked in the city, gourmet cheese, dairy, locally-made specialty items, bulk grains, spices and a full selection of affordable baking and pantry items. We will not be selling soda products, tobacco or alcohol. We will enjoy a near proximity to Detroit's historic Produce Terminal as well as the famous Eastern Market. We will be offering on-demand grocery delivery service to Downtown offices and select neighborhoods Monday through Friday.
Our goal is to create a dependable grocery delivery network throughout the city as well as to promote home-cooked meals and fresh ingredients to neighborhoods with few fresh options. We will be putting healthy food within walking distance for many Detroiters.
In addition to serving as a quaint, hip retail grocer, the restored building will serve as a base of operations for grocery delivery services to downtown and other neighborhoods. Customers will be able to purchase their groceries online and have them delivered to their downtown office or neighborhood home. Bringing the spending power of the suburban commuter to bear on Detroit's fresh grocery industry through downtown offices will be unique to our company.
The three founders:
Jared Phil Saverino grew up in Royal Oak. After many years of changing majors in college and dabbling in various internet startups, he realized that his roots were still his biggest inspiration. At age 29, Jared committed to bring the old family business back to the big city of its original founding .
Eleni T. Zaharopoulos is an interdisciplinary artist originally from Queens, New York. The daughter of self-started immigrants, she couldn't escape her entrepreneurial heritage, and purchased a convenience store in Detroit last fall with the plan of turning into a neighborhood grocery store.
Jenile Brooks was born and raised in Detroit, MI. After pursuing freelance work as a film producer in New York, Jenile set out to create a new documentary about Detroit's food insecurity issues in 2010. In the midst of preparations, she decided to be part of the solution instead of merely highlighting the problems.