The Ottawa County Food Policy Council - Making Waves on Michigan's West Coast
The Ottawa County Food Policy Council was born through the need for a more collaborative approach between businesses and organizations that were working separately on food related issues.
May 24, 2016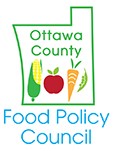 The Michigan Local Food Council Network brings together food councils to build their individual and collective capacities to work on food and food policy issues. The Michigan Good Food Newsletter will highlight the work of local food councils across Michigan in this series, "Working Together for Good Food."
By Kathleen Reed, MSU Center for Regional Food Systems
Council Creation
The Ottawa County Food Policy Council (OCFPC) began in 2011 as a collaborative effort among Ottawa County organizations as a way to address food security and food access issues present in the county. Rather than continuing to work separately on related issues, businesses and organizations came together in order to best affect change in their communities.
To help the Council begin to prioritize and address food issues, a strategic plan was created. These six goals made up the OCFPC 2012-2015 Strategic Plan:
- To improve level of collaboration between food resource providers.
- To improve food quality in the non-profit food distribution system.
- To increase food resources to meet dietary restrictions, health and medical conditions, and ethnic preferences.
- To expand access to farmers markets.
- To address food availability for children outside of school days – including weekends, summer, and longer school breaks.
- To strengthen the Council: including marketing, promotion, and fundraising. The Food Council's website came out of this priority.
Impact on Local Communities
In 2011, no farmers markets in the county accepted food assistance payments. Now, all major farmers markets in Ottawa County accept Double Up Food Bucks (DUFB) and Bridge Cards. In 2015 alone, the Holland Farmers Market had $45,000 in sales from Bridge Card and DUFB. The Council is currently working to have food assistance programs be accepted by roadside stands and farm stands as well.
Increased collaboration between food resource providers throughout the county has resulted in an increased sharing of resources and information. For example, the Holland Food Depot provides local pantries with a place to pick up their food orders without having to drive to the nearest Feeding America site 40+ miles away.
Over the past year, seven food pantries have adopted a healthy food pantry policy. This initiative has pantries soliciting healthier food donations and highlighting specific foods in the pantry. Recipes for using these fresh foods are available at pantries enabling people to not only have access to these products but also have the knowledge to use the food effectively.
Another example of effective collaboration in the county is the volunteer-run Holland Community Garden. This garden, recently expanded through the installation of a hoophouse, donates freshly grown produce to two area food pantries and one community meal site. The garden grew approximately 5,000 pounds of food last summer, and with the hoophouse the organizers hope to be able to grow fresh and healthy food for the food pantries and meal site year-round.
Moving Forward
In January 2016, a new 2016-2018 Strategic Plan was completed. This new Strategic Plan brings to focus three main priority areas:
- To eliminate hunger in Ottawa County.
- To bring about healthy eating for all.
- To increase the sourcing of local food in Ottawa County.
As the Ottawa County Food Policy Council moves forward in their efforts to influence the food climate, they are engaging the communities and individuals who are directly impacted by these changes. Council representatives meet quarterly with individuals to receive feedback and input on the work being done. In doing this, the Council hopes that they are achieving their goals in a way that is meaningful and impactful in the communities most affected.
Interested in Learning More?
For more information on the Ottawa County Food Policy Council or to become involved in Council work, please visit their website at ottawafood.org or contact Council Coordinator Lisa Uganski at luganski@miottawa.org or 616-393-5770.
For more information on the Michigan Local Food Council Network and resources please visit the MSU Center for Regional Food Systems website.
Council logo courtesy www.ottawafood.org